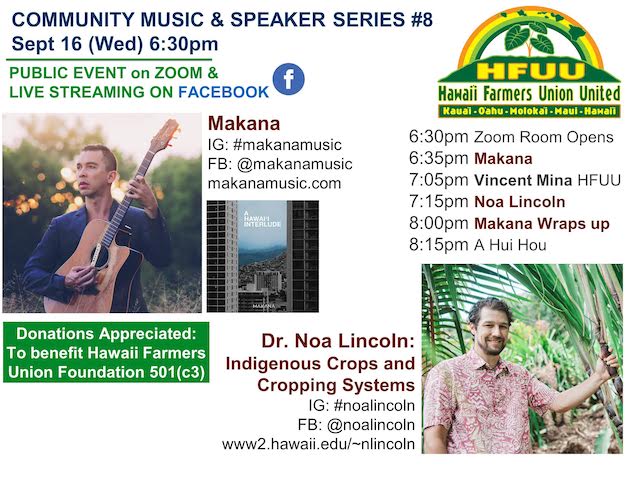 HFUU Together #8: Makana & Dr. Noa Lincoln
HFUU Music & Speaker Series #8: Makana & Dr. Noa Lincoln, Wednesday 9/16
Join Zoom Meeting
https://us02web.zoom.us/j/4506916693
Aloha HFUU Ohana,
We hope you and your loved ones are safe and well!
HFUU is excited to announce #8 in our music & speaker series, with the Na Hoku award-winning musician, Makana, and Dr. Noa Lincoln. This is a PUBLIC event, please feel free to share with your family and friends!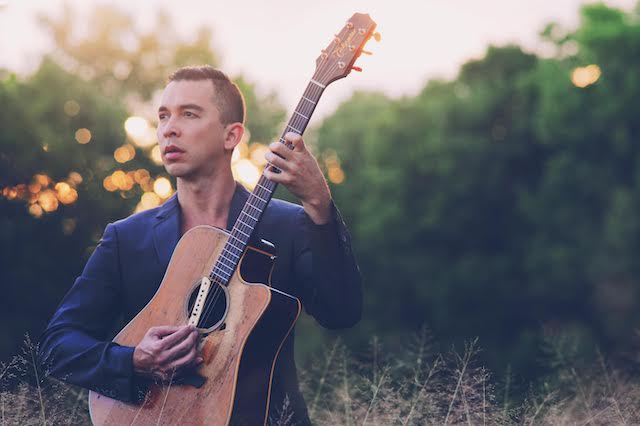 MAKANA – Na Hoku Ki Ho'alu Legacy Award Artist
Born and raised in Hawaii, his guitar playing has been featured on three Grammy-nominated albums, including the soundtrack of the Academy-Award winning film "The Descendants", starring George Clooney. In 2008, he was the second runner up in Guitar Player Magazine's Guitar Superstar competition eliciting praise from judges Steve Vai, Joe Satriani, and Elliot Easton. In 2012, he was awarded one of Hawaii's top musical honors: a Na Hoku Ki Ho'alu (Slack Key) Legacy Award (Hawaii's "Grammy") by the Hawaii Academy of Recording Arts.
Makana began singing when he was seven years old, took up 'ukulele at nine and began learning the indigenous art of slack key guitar at eleven. A protégé of slack key guitar legends, including Bobby Moderow Jr. and the late master Uncle Sonny Chillingworth, Makana has dedicated his life to perpetuating as well as evolving the traditional Hawaiian art form of slack key guitar. From this tradition, Makana has evolved his own dynamic style, coined "Slack Rock": slack key infused with elements of bluegrass, rock, blues and raga. Makana's playing has garnered praise from such guitar luminaries as Kirk Hammett (Metallica) and Pepe Romero (Spanish Flamenco Master).
His debut album "Makana" was released in 1999; it won the Best World Music Album Award at the Hawaii Music Awards. It was followed by "Koi Au" in 2002 ("A landmark musical statement" – Star Bulletin) and "Ki Ho'alu: Journey of Hawaiian Slack Key" in 2003. Soon thereafter Makana contributed to the Grammy-nominated albums "Hawaiian Slack Key Kings I & II". In 2008, his first all-original release "Different Game" came out and in 2009 he released a 20th anniversary slack key guitar instrumental compilation, "Venus, and the Sky Turns to Clay". Ripe was released in 2013 and funded by fans through the online crowd sourcing platform Kickstarter. It was produced by multi-platinum producer Ron Nevison (The Who, Led Zeppelin, Rolling Stones) and renowned producer Mitchell Froom (Crowded House, Elvis Costello, Bonnie Raitt), with arrangements by Grammy-award winning keyboardist, composer, and arranger Jeff Bova (Celine Dion, Michael Jackson, Eric Clapton). Makana has toured with or opened for acts such as Jason Mraz, Santana, Elvis Costello, Paul Rodgers, Sting, No Doubt, Jack Johnson, Chris Isaak, John Legend and more. For more information: https://en.wikipedia.org/wiki/Makana_(musician)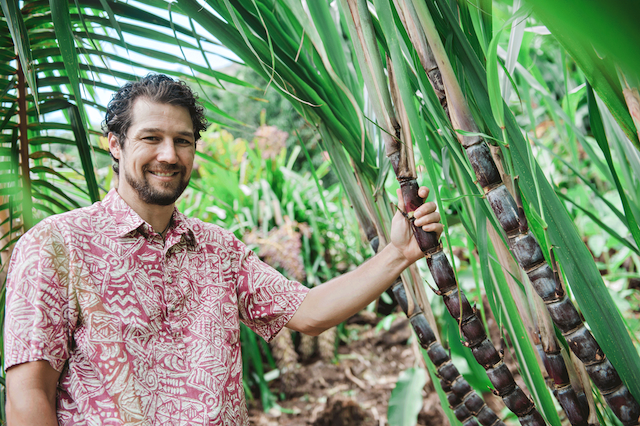 Dr. Noa Lincoln: (Taken from https://manoa.hawaii.edu/biocultural/)
Noa Lincoln is kanaka maoli (Native Hawaiian) and kama'aina (native born) to Kealakekua on Hawai'i Island. His childhood consists of unique training by Hawaiian elders in la'au lapa'au (ethnobotany) and traditional management methods for agriculture and ocean resources. Dr. Lincoln completed his formal trainings at Yale University (ʻ03) in Environmental Engineering and Stanford University (ʻ13) in Biogeochemistry and Social Ecology. He has worked and studied across the Pacific Rim in California, Costa Rica, Brazil, New Zealand, Tahiti, and the Marquesas, among other places. Much of his applied training through mentorship has focused on the installation of cultural values into management systems, often through the development of multiple bottom line assessment tools.
Dr. Lincoln has and continues to research a broad spectrum of areas, including forest ecology and management, restoration ecology, archaeology, personal values and sense of place, and terrestrial biogeochemistry within both natural and human dominated systems (i.e. agriculture). His primary focus, however, is on indigenous cropping systems and their interaction with human societies in both the past and the present. Using development pathways on islands as model systems for understanding the complex interaction between humans and their environment, Noa builds upon the important work of the human biocomplexity project (see Kirch 2010 for a good summary). By working with modern day restoration efforts Noa also seeks to define the role that these systems have today, including their impacts on culture, education, environment, and food.