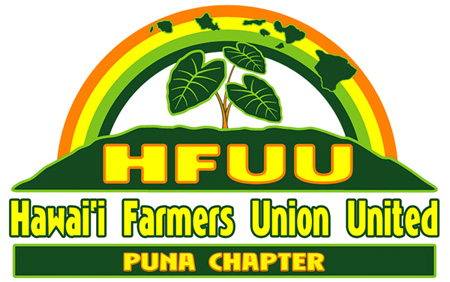 Chapter Notes: The Puna Chapter is on Hawai'i Island.
Meeting Schedule: Monthly on the 2nd Monday of the month at Hawaiian Sanctuary with potluck whenever possible and/or on Zoom when public gatherings are not allowed pursuant to the mayor's updated proclamations. See "HFUU Puna Chapter" page on Facebook for meeting notices and details.
Agenda is Varied: please check the calendar on the HFUU website or your email for updates.
Meeting Location: Hawaiian Sanctuary – Laka Lounge
13-

3194 Pahoa Kalapana Rd (Highway 130), Pahoa, HI 96778


Hawaii Island (Puna District)
Only about 1 Mile South of Pahoa Town.
Turn into the driveway at Mile Marker 12!
Puna Farmers and Land Description
According to the 2012 Hawaii State Agricultural Baseline Study, Puna supports the tropical fruit tree market in the retailing of fruit trees to individual landowners who plant small stands of fruit trees for home and neighborhood use. This decentralized form of farming rarely shows up on any tally of food production and is a growing segment of the Island's local food supply. Small farmers on W.H. Shipman lands, in the Volcano area, and scattered elsewhere throughout the district, produce dry land taro, potatoes, pineapples, tomatoes, strawberries, and an assortment of vegetables that are primarily sold to the local market through retailers and farmers markets. There is also a growing amount of small backyard gardening and subsistence agriculture done in the vast agricultural subdivisions where residents have ample land to contribute to their own food self-sufficiency.
A private venture is growing jatropha on 300 acres near Kea'au. The jatropha bean is high in oil content and can be processed into a biofuel. If yields are sufficient and harvesting practices can be perfected, this new crop could be expanded to aid in the State's drive towards energy self-sufficiency. There are also several aqua cultural ventures in the district, including one that produces oyster fry for export to commercial producers around the country.
Farms in Upper Puna, from Mountain View to Volcano are scattered broadly. There is a cluster of small farms at the back of Wright Road in Volcano Village that has a long history of truck farm and flower production. The number of active farms in the area has fallen in recent years but there are several small farms producing red potatoes and other truck crops that are not grown elsewhere on the island. Proximity to the Kilauea Volcano and its volcanic emissions has had a negative impact on some crops in recent years but there is significant potential in this upper elevation micro-climate to produce food varieties that don't grow well elsewhere.
Underlying most of Puna's agriculture is a land settlement pattern that was shaped by the subdivision of both public and private lands into some 40,000 parcels from ½ to 50 acres in size. Although this rather unplanned parcelization presents challenges for modern land use and infrastructure development in the region, it also offers a rich opportunity for small landowners to participate in farm activities and to flourish or fail without seriously impacting the vitality of the diversified production of the region as a whole.
The large, sub-standard subdivisions, including Hawaiian Paradise Park, Hawaiian Acres, Fern Forest and others, are of sufficient size to support small agricultural endeavors both for subsistence and small scale commercial farm activity. There is no way to be certain that all of the properties highlighted in this figure are currently making a meaningful contribution of the Island's food self-sufficiency, although the potential for small-lot, decentralized agricultural productivity is apparent.
Hawai'i-Puna Chapter Leadership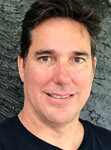 President, Steve Lund, is also the owner and founder of Hawaiian Sanctuary, an eco-educational retreat and healing center. For the last decade, the Hawaiian Sanctuary family has been committed to rebuilding the soil and natural habitats to welcome the birds and healthy, abundant foods. Since 2012, Hawaiian Sanctuary has held non-profit 501(c)(3) status and has offered free and low-fee classes to the community through a variety of health and wellness programs, including Yoga and Hula, our current Plant Aloha sustainable farming classes. These classes provide the interns and the larger community with a hands-on curriculum promoting the preservation and propagation of staple food crops and native Hawaiian plants species using techniques such as Permaculture and Korean Natural Farming. The Sanctuary is also a cacao farm from which Steve makes bean-to-bar chocolates. He holds two certifications in permaculture, and two in natural farming (one with Master Cho and one with Kim ChongSuk Chang). He also received a natural farming certification from JADAM (Jayonul Damun Saramdul). He has graciously offered Hawaiian Sanctuary as a venue for the Puna Chapter's Members Meetings.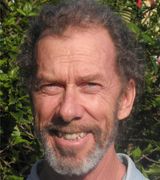 Director, Bob Bogle, During a career spanning forty years through a gift for innate inquisitiveness and playful curiosity, Bob has discovered impactful topics of discussion and human realization. His main love and passion are in facilitating group and individual dialogue related to inspiring connection and communication through Compassionate Conversationeering on emotionally relevant topics and innovative ideas to foster mutual growth. Officially Bob's career began in 1975 as a Plane Captain servicing jets on the flight deck of an aircraft carrier in the USN. Next was civilian life as an Aircraft Mechanic, Rocket Technician, Senior Technical Trainer with a large Space Systems company, Large Business Model Communication Improvement Team Builder and Facilitator, Strategic Planning Consultant, Real Estate Sales and Property Consulting, Automated Entry Control Systems Design, Install, Service, Permaculture Design Trainer and Herbalist, Organic Farm Manager, Vocational Trainer and Circle of Men Group Facilitator for Incarcerated Men, Improvisational Instinct Counselor and Mediator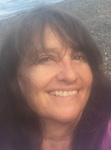 Director, Julia McCormick, is Owner/Operator of Wild Things Hawaii Farm; a creator of unique Hawaiian chocolate, coconut, mamaki/medicinal teas and spices. Julia enjoys slowly growing, producing, and selling the most delicious healthy medicinal chocolate teas, and sugar free chocolates.  One of her goals is to help heal diabetes & blood pressure epidemic through the epicurean world of Hawaiian Chocolates!  Julia believes now, more than ever, it is time to find help for any ailment through medicinal plant arsenals. She holds 2 certifications in Permaculture Design, Korean Natural Farming and Hawaii Beginning Farmers program as well as a bachelors degree in Recreational Therapy from Northern Arizona University.
Minor in Dance Therapy.