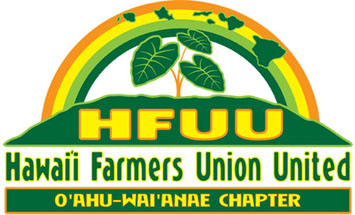 Chapter Notes: Known as the food basket of Oʻahu, the Wai'anae Coast is proud to be a new chapter of HFUU formed in September of 2016. The Wai'anae Coast holds some of the most historically and contemporary active farming communities on Oahu. Wai'anae has the largest population of native Hawaiians and is home to several well known establishments concerned with farming, food, health, and education including the Wai'anae Comprehensive Health Center, MAO's youth leadership program, Kahumana Organic Farms and Cafe, Naked Cow Dairy, Ka'ala Farms, Hoa'Aina O Makaha Farm and a range of stores and restaurants that support farmers directly. The mission of our chapter is to bring regional strength to the Wai'anae community through creating and supporting a diverse, sustainable, and cohesive farming community. Come support local agriculture by meeting farmers, community leaders, special guest speakers, and like-minded individuals at our monthly meetings. Bring a dish to contribute to our delicious potluck dinners. This is a family friendly event and is open to anyone and everyone.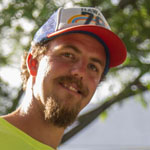 President, Christian Zuckerman is the farm manager and long-term community member of Kahumana Organic Farms. Christian was raised in Wai'anae and feels a deep connection and commitment to supporting the Wai'anae Coast. After graduating in 2012 from the University of Puget Sound, Christian returned home to Wai'anae and has been an active farmer and supporter of the community ever since.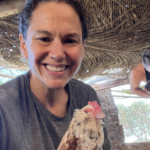 Board Member & Membership Chair, Synnora Regehr is a small scale poultry farmer raising chickens for companionship (silkies and polish), meat (cornish cross and heritage dual purpose) and eggs. With too many breeds to list, she specializes in creating a rich variety of colored organically fed eggs from pasture raised hens. She also raises jumbo Japanese quail, rabbits, and ducks for meat, and does it all on a small country lot on the westside of O'ahu. You can imagine how much work it is to keep it all working well. She is a huge advocate for creating food security.
We live on islands and as we all know, when the ships don't make it here on time or pandemics happen, we see how quickly supplies dwindle. Hawai'i once supported a population not much smaller than we have today. We can get closer to that again by being efficient and utilizing garden spaces better. She has three super awesome kids who help her with everything. Her son just turned 18 and is a seasonal wildland firefighter in WA in the summer and a lifeguard the rest of the year. He also helps her care for the birds and build the mobile tractors. Her middle daughter is 16 and her involvement is using my eggs in her baking. Her youngest daughter is 9 and a total bird addict like her mom. Synnoraʻs non-farming hobbies are scuba diving, picking up other people's litter and her dogs (2 rottweilers and a corgi). She is happy to help with any questions about backyard homesteading, lessons learned, quail, duck, meat and egg laying chickens.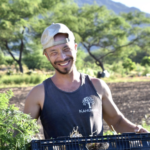 Vice President, Keliʻi Gannet was born and raised in New Jersey. His mom is from Honolulu and worked for the Airlines, his Dad from brooklyn and owned small family business. He is the youngest child of three, with an older brother and an older sister. He graduated Fordham University with BA in Anthropology, then studied abroad in China and taught english the year after graduating. Moved to Oahu permanently March 2012 and started full time in agriculture in November. He spent 2017-2019 working in Massachusetts for a small family farm and bartending winter at an affiliated farm to table restaurant. He has been back in Waianae since 2020.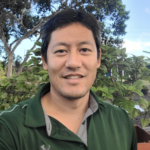 Secretary, Joshua Silva is an Associate Extension Agent with the University of Hawaii Cooperative Extension.  Born and raised on Oahu, he earned his Bachelor's degree in Natural Resources and Environmental Management, and Master's Degree in Tropical Plant and Soil Sciences.  Josh has done research projects in soil mapping, fertilizers, and agroforestry in Pohnpei, Micronesia.  Currently, he assists west Oahu farmers and growers with any issues from pests and disease management, soil fertility, food and pesticide safety, and applied research (cover crops, hydroponics, CRB control, etc.).  Feel free to contact Josh if you need any assistance.