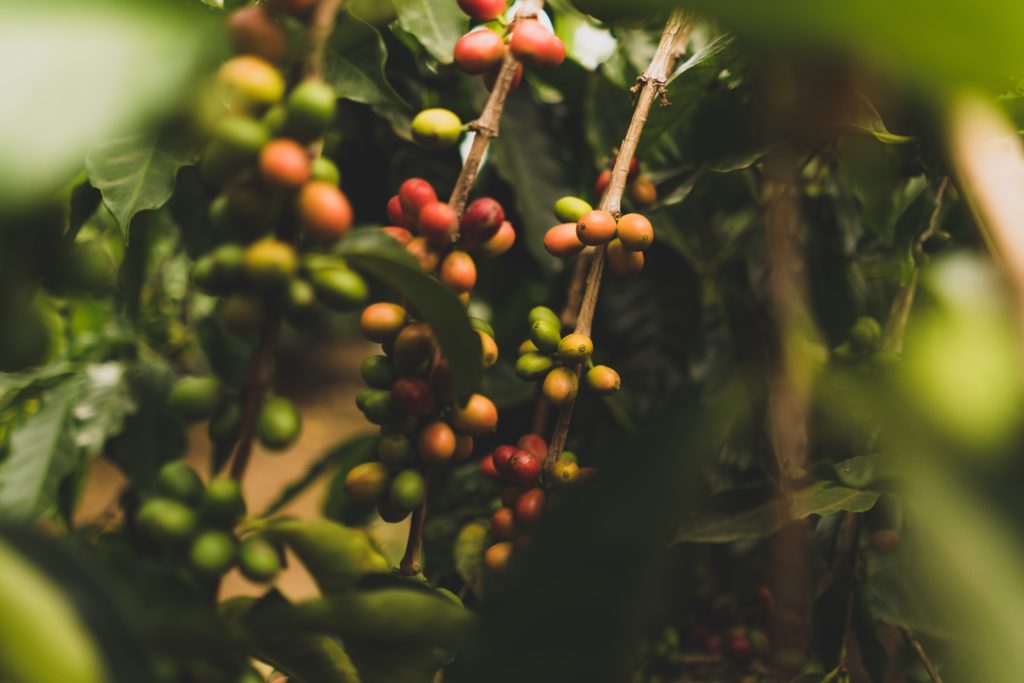 DOA Urged to Prevent Misleading Coffee Labeling
A coalition of 30 local, state, and national organizations, officials, and experts concerned with the misleading labeling of Hawaii produced coffee blends called upon the Department of Agriculture (DOA) to discuss the conduct of a new study on the matter by commencing a public meeting.
The study, mandated by law, will include proposals for new legislation. It is aimed at reexamining current rules that allow coffee blends with as little as 10% genuine content from a geographic region such as "Kona" to prominently display that geographic region on the label when the product contains mostly cheaper coffees from other parts of the world.
The co-signors, ranging from the Hawaii Farmers Union United to the Washington, D.C. based Consumer Federation of America, urged the DOA to examine the impact of requiring coffee blends to contain at least 51% coffee from any specific geographic region promoted on the label.
"Ultimately it is the individual consumer who bears the impact of the current labeling law that allows blends with as little as 10% genuine content to be labeled with Hawaii regional names," stated Vincent Mina, President of the Hawai'i Farmers Union United.  
"There are countless farmers who are outraged that products prominently promoted as "Kona" coffee primarily consist of inferior, cheaper imported substitutes. Hawai'i brands across the board are being subject to misleading labeling and need protection," said Mina.
Speaking to Mina's concern, see the recent article from SF Gate headlined "How US Businesses Are Cashing In On The 'Made In Hawaii' Label." 
The letter told the DOA, " . . . we note that the law requires the department's study to be 'independent.' We urge the department to take this to mean that the authors of the study must have no prior financial connections to members of the coffee industry."
The letter urging the DOA to hold a public meeting stated, "We look forward to working and consulting with the department as it designs its independent study, hears from stakeholders, and drafts its recommendations for legislation."
The co-signors of the letter include:
Local and State Organizations
Heather Kimball – Hawaiʻi County Council Member, District 1 (Hāmākua)
Rebecca Villegas – Hawaiʻi County Council Member, District 7 (Kona)
Holeka Goro Inaba, Ed.D – Hawaiʻi County Council Member, District 8 (North Kona)
Wendy Laros – Kona Kohala Chamber of Commerce
Shawn Steinman, PhD – Owner, Coffea Consulting
Miles Mayne – Ka'u Coffee Growers Cooperative
Will Lydgate – Hawaiʻi Cacao & Chocolate Association
Farsheed Bonakdar – Kona Cacao Association
Jen Johansen – Cyanotech Corporation
Sandra Gibson – Kona Sea Salt & Sea Salts of Hawaiʻi
Representative Amy A. Perruso – House District 46 Representative
Nicole E. Lowen – House District 6
Vincent Mina – Hawaiʻi Farmers Union United
Ken Love – Hawaiʻi Tropical Fruit Growers
Cheryl Ka'uhane Lupenui – The Kohala Center
Harmonee Williams – Hawaiʻi Good Food Alliance
Saleh Azizi, PhD – Hawaiʻi Food Hub Hui
Dana Shapiro – Hawaiʻi Ulu Cooperative
Nathan Trump – Hawaiʻi Macadamia Nut Association
Christian Zuckerman – Kahumana Food Hub & Organic Farms
Maureen Datta – Adaptations Food Hub
Megan Fox – Mālama Kaua`i
Kukui Maunakea-Forth – MAʻO Organic Farms
Kaiulani Sharon Odom – Roots Cultural Food Hub & Cafe
Jamie L.Ronzello – Sustʻāinable Molokai
Noa Lincoln, PhD – CTAHR, University of Hawai'i at Manoa
Henry Curtis – Life of the Land
Anne Frederick – Hawaiʻi Alliance for Progressive Action
National Organizations
Thomas Gremillion – The Consumer Federation of America
Sophia Murphy, PhD – The Institute for Agriculture and Trade Policy
Lisa L. K. Kleissner – KL Felicitas Foundation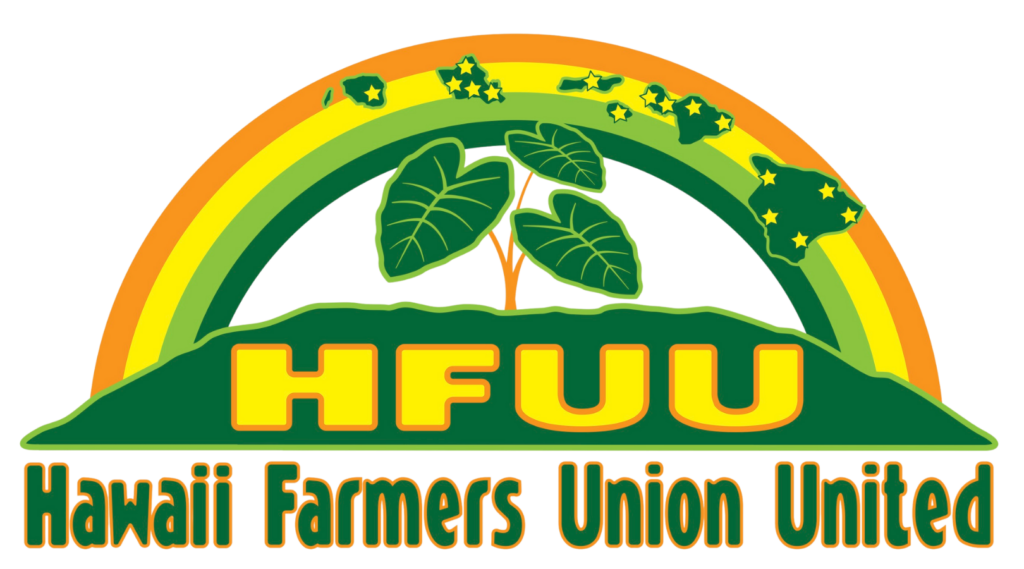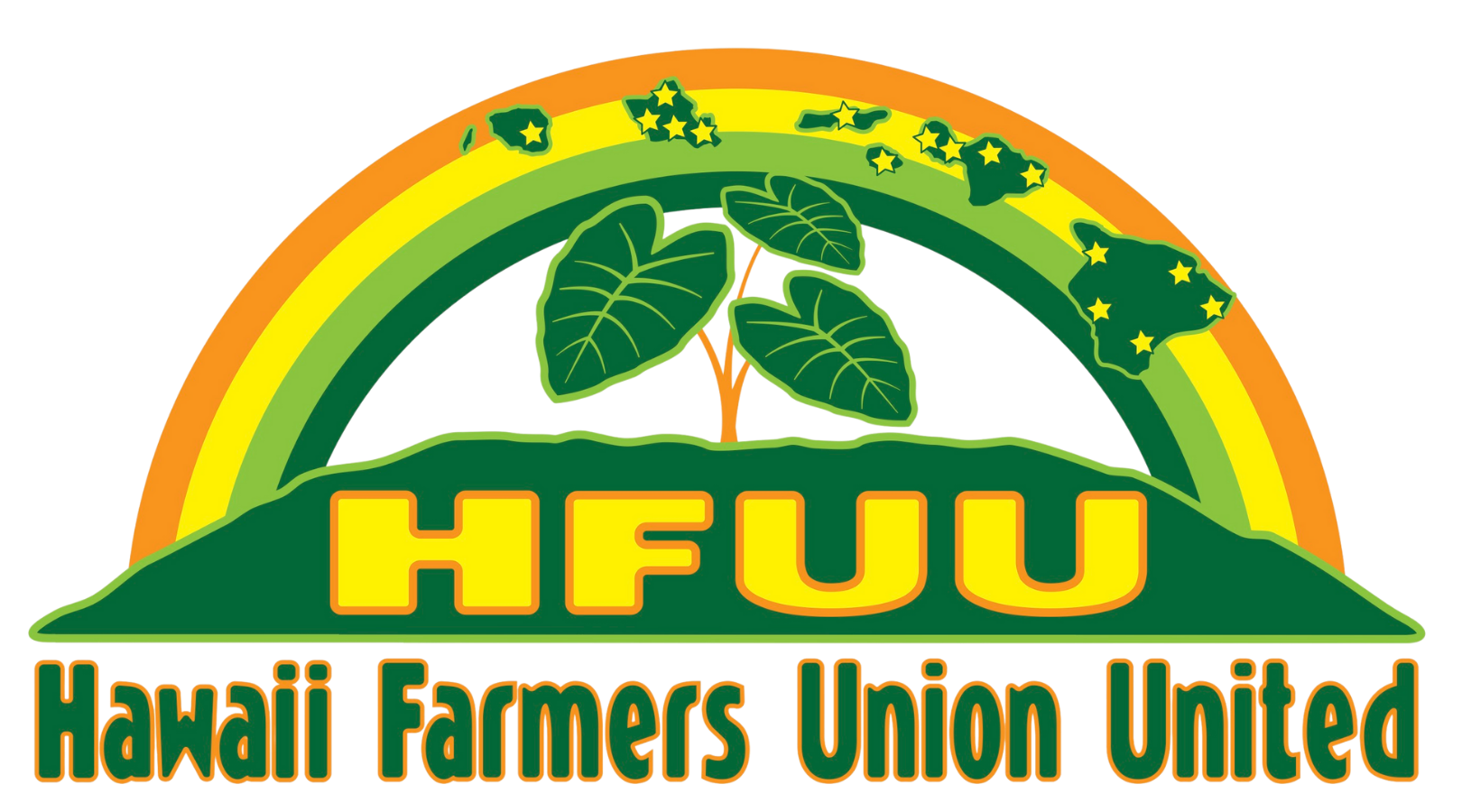 HFUU is composed of 15 Chapters across the Hawaiian Islands. We are represented with a seat on the Hawaii Board of Agriculture.
Our Members are Farmers Union made up of farmers, gardeners, and folks that purchase and consume locally produced products!
We are a grassroots producer-driven organization with leadership demonstrating support for family agriculture as the basis for thriving rural communities. Those communities, in turn, are vital to the health and economic well-being of the entire U.S. economy.
For more information, please visit our website or contact us today!