Maui-Mauna-Kahalawai-Chapter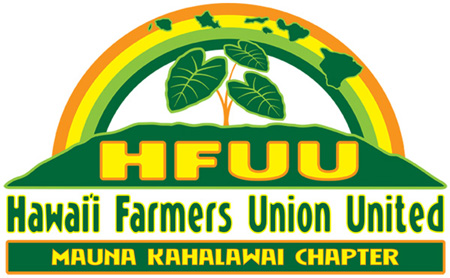 Chapter Notes: Commonly referred to as the "West Maui Mountains," Mauna Kahalawai is in fact a single mountain that spans across Maui's north, central, and west side communities. Our chapter serves farmers and community members within this district, which also includes the sacred Nā Wai ʻEha ("The Four Waters) that flow on the windward side of Mauna Kahalawai.
Despite a mild climate and year-round growing season, Hawai'i currently imports an estimated 90 percent of its food. We believe that a multitude of diversified farms that implement regenerative food production techniques will create a resilient, vital, and productive agricultural system to better feed Hawaiʻi's people.
We are proud to support HFUU initiatives including the Farm Apprentice Mentoring (FAM) program, Regenerative Business Development classes, and volunteer work days on local farms.
In addition, we host monthly locavore potlucks that include chef presentations, educational speakers, and networking opportunities.
You donʻt have to be a farmer to join us! Backyard gardeners, curious community members, and anyone who is concerned about where our food comes from are welcome.