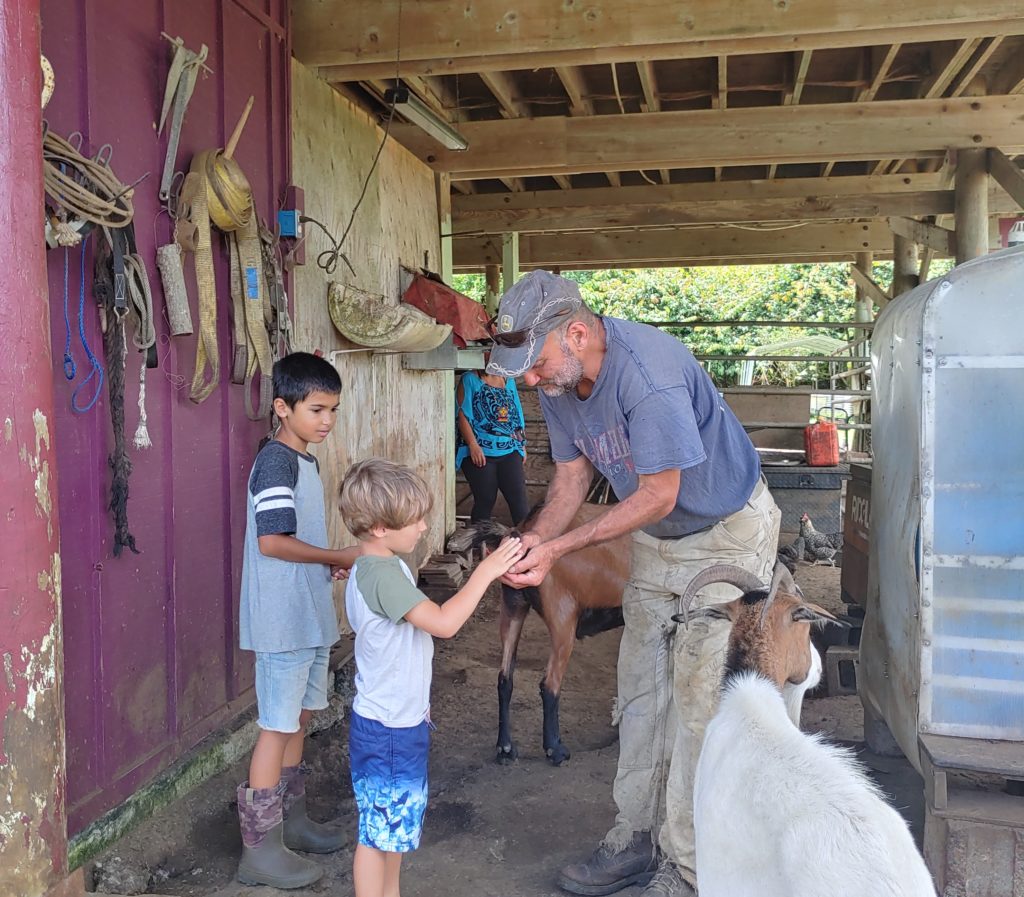 Possibilities Rather than Claiming Perfection
Wandering through the fenced off garden beds made of upcycled materials and underneath a couple shade and greenhouse structures, there were beds of kalo, luffas, poha berries, squash, herbs and tomatoes. Several members of the East Hawai'i Chapter gathered to tour the regenerative farm and animal sanctuary of Seeger Institute at Eden Farms Hawai'i (Seegerinstitute.com) on Saturday August 20, 2022.
We listened as Gary described his vision of regenerative circular food systems and his intention to invite a conversation about possibilities rather than claiming perfection of his exact methods.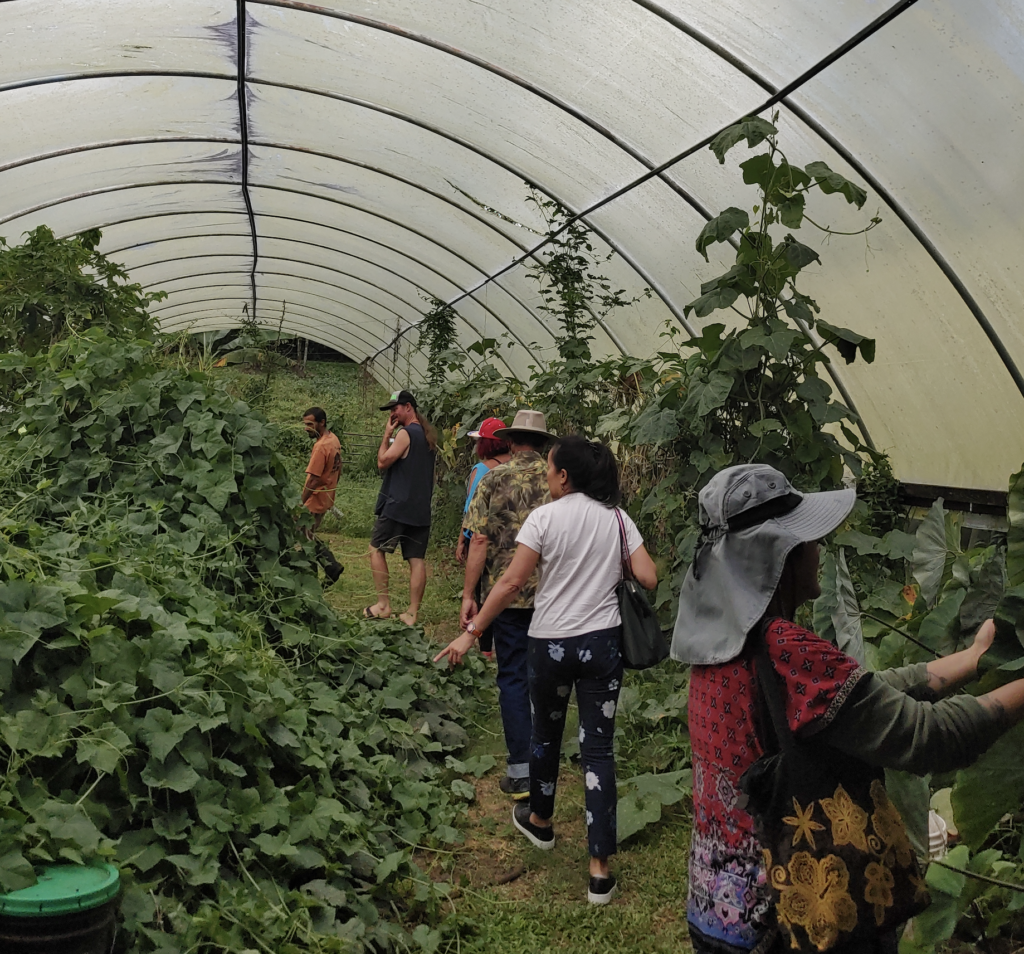 Gary offered luffa seeds and guava tree starts to the group while explaining his collaborative arrangements with local businesses to incorporate commercial leftovers such as fish scraps to build robust soil biology and food waste to utilize as supplemental animal feed. He then introduced a local community member he partners with on projects who also collects, processes and propagates indigenous seeds such as highland koa and native sandalwood trees for reforestation. We were shown these precious seeds that had been collected and listened to their wish for native forests to thrive on hillsides, abundantly flowing like waterfalls.
Friendly horses, goats, pigs, chickens, donkeys, sheep, dogs and cats all roam free and graze pastures throughout the majority of the farm. Many were initially rescued during the 2018 lava eruption and now had birthed a new generation or two of their own to create the estimated one thousand animals on the property. Several creatures came to join us for the tour, asking for affection or food, trotting alongside as we walked to a goat milking station and chicken coop made of scrap construction materials and up towards the highpoint of the farm where a tilapia pond delivers through gravity the water fertilized by the fish to gardens and trees lower in elevation. 
Our group stood between the tilapia pond and a living accommodation to learn about Gary's current green energy systems including solar panels, a methane digestor and a rocket stove which efficiently uses minimal fuel for cooking. Gary then unveiled a surprise for the two keiki along for the tour, a baby duck clasped in his hands that he allowed each of them to pet. Next we moved through the food forest zones of the farm where swales and berms direct water to 'ulu, banana and other trees growing in the fields. Lastly we explored the farm dwellings and student housing structures built with upcycled materials and designed with proximity for both community and privacy in mind.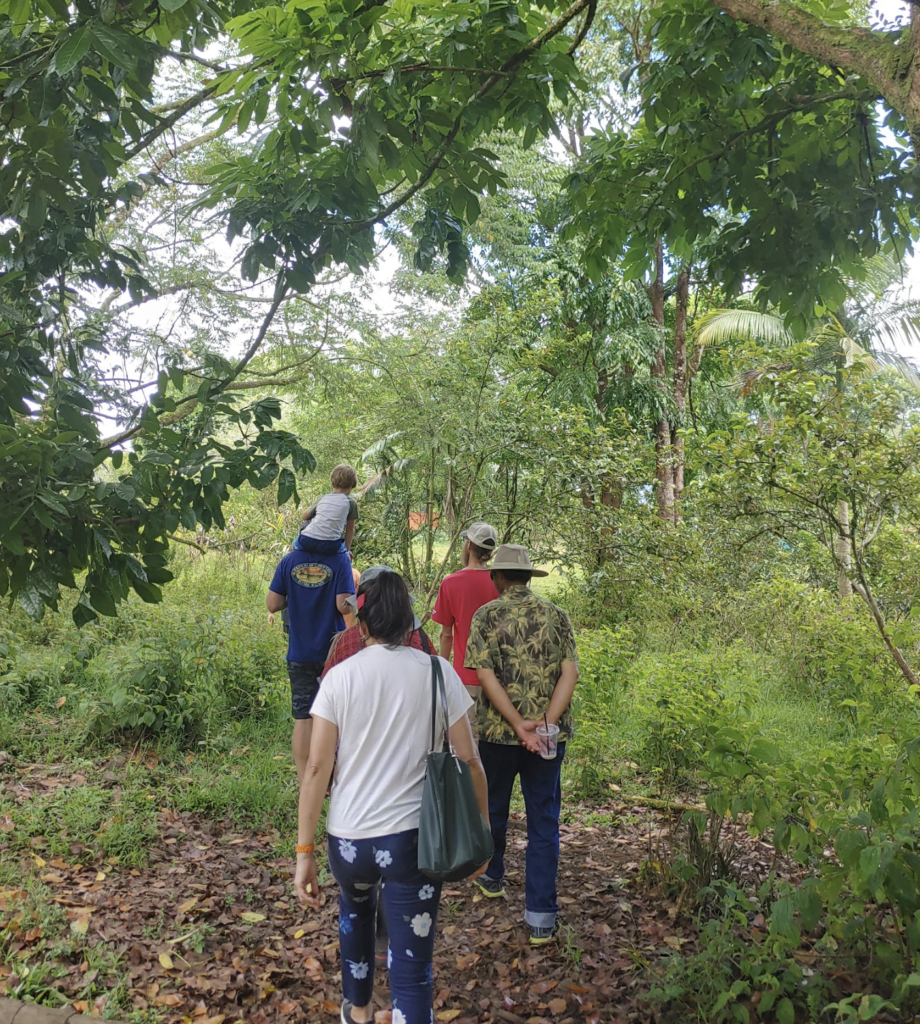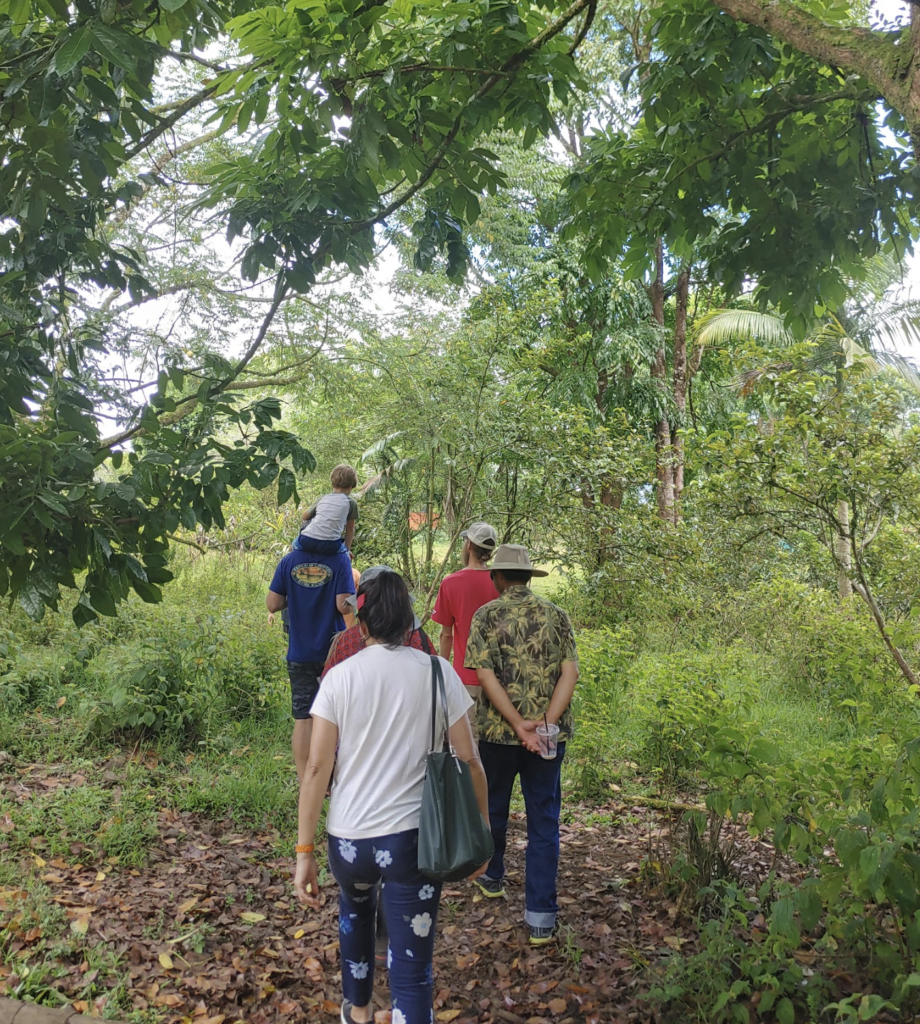 It is Gary's hope to be part of developing new community models and leaders through dynamic and engaging agricultural education that fosters a sense of purpose and an understanding of how essential regenerative food systems are to our collective future. The tour ended with gratitude for the experience and conversation amongst attendees about the nuances of raising goats, growing certain crops, finding reliable farm workers or volunteers, and accessing investment and funding. After exchanging thanks and contact information, we parted ways to enjoy the rest of the sunny day.

Courtesy of
Odysseus, Rebekah and Michael
Board of Directors
East Hawai'i Chapter
Hawai'i Farmers Union United
Opportunities like these across our Hawai'i Chapters gives our members a place to connect and share knowledge that is an important part of building a strong network as we continue to build a thriving and balanced agricultural system.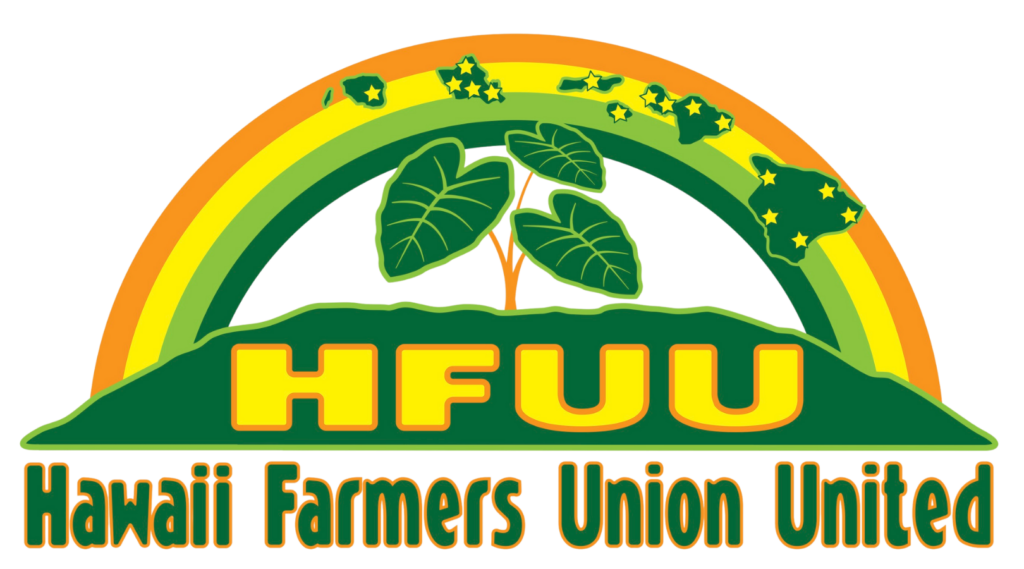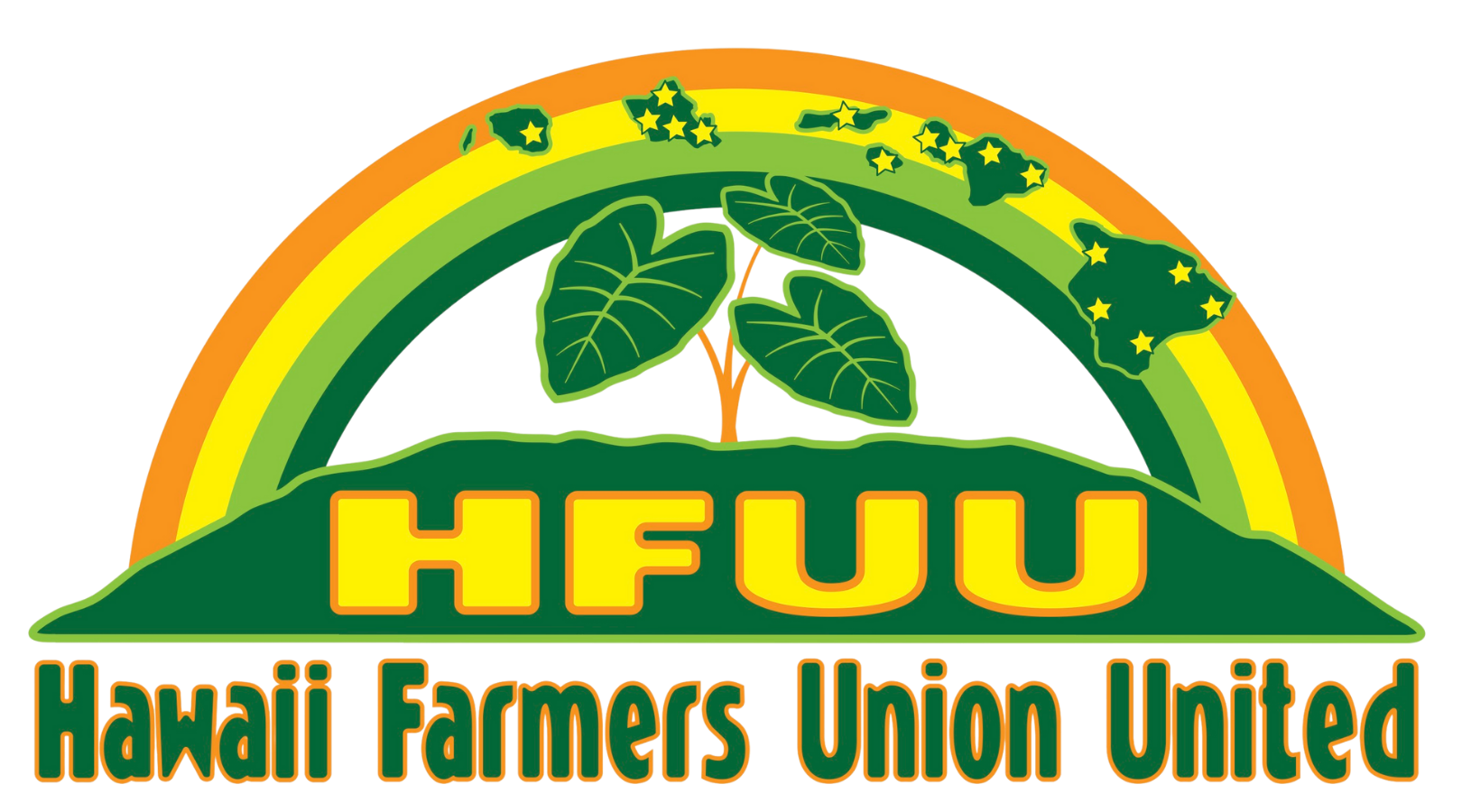 HFUU is composed of 15 Chapters across the Hawaiian Islands. We are represented with a seat on the Hawaii Board of Agriculture.
Our Members are Farmers Union made up of farmers, gardeners, and folks that purchase and consume locally produced products!
We are a grassroots producer-driven organization with leadership demonstrating support for family agriculture as the basis for thriving rural communities. Those communities, in turn, are vital to the health and economic well-being of the entire U.S. economy.