Cohort 9 Now Accepting Applications
Applications due by November 1st, final decisions made by November 15th and classes begin November 29th
Do you feel called to give back to the 'āina?
Do you feel called to serve your community by growing food?
Do you feel called to care for animals and our islands eco-systems?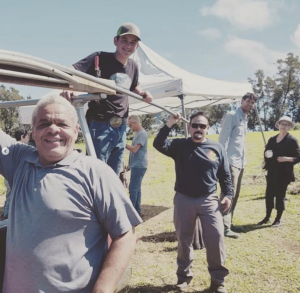 "Visiting each farm made it so much more enjoyable and educational. Everything sinks in when you're on site. The connections we made were priceless." - Christopher Barth, Cohort 7
"After each lesson and farm visit I have gained knowledge and invaluable experience which has helped me to narrow down and create a plan that is workable for me." - Angie Wilton, Cohort 7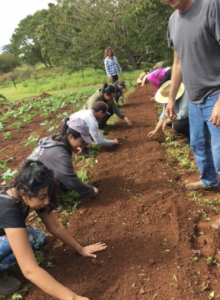 "The FAM program gave me ideas on how to implement my future goals. I learned that focusing on what can grow in Hawai'i and growing with the intent to create food stability is a real possibility." -Harpreet Purewall, Haiku
"FAM has helped me create a more integrated farm plan by adding agroforestry in the fullness of all its possibilities and not just planting trees, but all the multiple layers underneath the main canopy." -Jeannine Goetter, Wailuku
What apprentices are saying
"FAM is a really well thought-out, intentional regenerative farming education experience. It allows for someone who may have no background in farming the support and practical knowledge through mentorship and curriculum to really aid in making informed decisions about a realistic business in farming future on Maui and in Hawaii in general. This program has pivoted me to consider growing crops I originally would not have any idea of its value and how much growing a diverse array of crops would mean by adding to the food systems in this state." - Deidra Moore
What Apprentices Are Saying:
"The FAM program helped me, and is still actively helping me, to find my path in the farming world. Because of the FAM program I know what direction to go in, I found funding for an internship I did, I have mentors, peers and an understanding of the principles of sustainable agriculture." - Madelyn Desjardins
What Apprentices Are Saying:
"Using the soil building strategies I learned while attending FAM Phase 2 my farm is seeing positive results. Utilizing green waste from the farm that's broken down to compost, as well as water cabbage that grows abundantly, we are layering this in raised beds creating healthy soil without a need to purchase topsoil.   I'm working on creating a Permaculture design similar to those of our mentors. Although I'm not farming full time our farm income has doubled in the past two years vs previous years as a direct result of techniques passed on from the amazing FAM Mentor farmers. Can't thank them enough!" - Vicky Shortell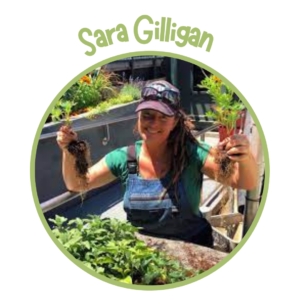 Sara brings over 20 years of farming experience to the program. She has a diverse background working on farms cultivating a wide variety of crops including fruit trees, native plants, wine grapes, medicinal herbs, and every vegetable you can think of. Sara is certified in permaculture, medicinal herbalism, has a BA in Ecological Agriculture and is thrilled to be a part of forwarding sustainable agriculture on Maui.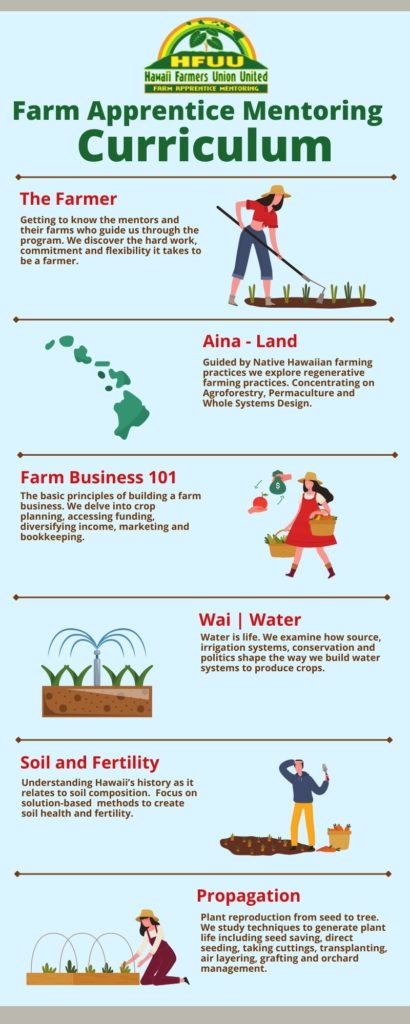 About The Farm Apprentice Mentoring Program
Program History
The FAM program was created with the vision to empower the next generation of farmers with the knowledge, skills and abilities to be successful farmers here in Hawai'i.
At the quarterly chapter meetings, it became more obvious that there was a need to educate and support our next generation of farmers who aligned with HFUU's values. HFUU and the FAM program focuses on providing sustainable and regenerative agricultural practices to attract farmers who appreciate the land and want to support our local communities. Through the awareness of necessity to support the next generation farmers, the Farm Apprentice Mentorship program was created in 2015 by the board of the HFUU. Hawai'i Farmers Union United supports the State of Hawai'i's strategy of greater food security and agricultural self-sufficiency through increased local food production. In Hawai'i, we are proud to be the most isolated archipelago in the world. Our ancestors cultivated lush gardens that supported a population of 1 million people at its peak long before shipping containers were invented. Today much of that legacy is lost and in fact 90% of all food is imported! Hawaii regional food production helps reconnect people to the 'āina— the source of the food they eat— and the people who grow it. 
The program started with 10 graduates in 2015 and has developed to graduate 24 apprentices in 2020. In 2016, The Maui County Office of Economic Development funded a 5-month FAM planning process that guided the development of the program to include a 10 module curriculum used today. The program has also recently added an on-farm immersion component, and a Continuing Education and Training award of a Certificate of Professional Development through the University of Hawaii College's Office. The program is continuing to develop and we invite you to become a part of sustainable and regenerative agriculture on Maui!
Program Structure
The Farm Apprentice Mentoring (FAM) program is a signature program of HFUU and HFUF, its Foundation, a 501 (c) 3. FAM integrates Hawaiian cultural practices of sustainability and land management with a whole systems approach to agriculture. FAM program modules are delivered by certified instructors from the UH Maui College Office of Continuing Education (OCET), and the Sustainable Living Institute of Maui (SLIM). Each of the classes are followed by an on-farm immersion as information learned in the classroom is applied on a working farm. Upon completion of Phase 1, apprentices who have satisfied levels of attendance and learner outcomes, receive a Certificate of Professional Development from the UH-Maui College OCET.  The program is designed to be taken in two phases. The first phase involves class work and on-farm immersion with mentors to help build farmers skillsets and knowledge. The second phase requires farmers to complete the first phase, and then helps with more specialized and hands on training. This program also utilizes a cohort system to ensure there is peer support and a collaborative atmosphere!
Due to COVID, the 2021 cohort was the first to be completely hosted online via Zoom for classroom sessions, and access to the new online learning platform that houses recorded class sessions, content and quizzes. This allows apprentices to have access to the content and rewatch previous lecture videos during the entire program!
The Cohort
Within the realm of education, the Cohort system has proven itself to be effective for creating a mutual support system among peers. The FAM program utilizes this system, and it has proven to be a success. Apprentices exchange information, pitch in at each other's farms, share ideas about sales and marketing, and they share food, laughter, and knowledge together. They are, in essence, a FAMily. Cohorts size continue to grow annually, but do not exceed 25 to ensure highly engaged apprentices. 
Supporter & Funders
Mahalo Nui Loa to all of our supporters! Many of these classes are provided in partnership with the UH Maui College Office of Continuing Education (OCET), and the Sustainable Living Institute of Maui. Without their support, this program is not possible.
The FAM program was been funded by the County of Maui, the Atherton Family Foundation, and the four Chapters of HFUU over the years.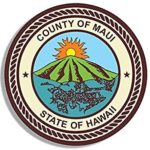 Questions? Comments?
Connect with FAM Director Sara Gilligan