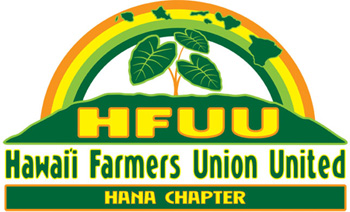 Chapter Notes: The Hana Chapter serves farmers in the East Maui communities of Keanae, Hana, Kipahulu and Kaupo. With its remote location, East Maui relies on a self-sufficient agricultural lifestyle, with abundant production of vegetable crops and fruit orchards, as well traditional taro farming, and many tropical flower farms as well. The opportunities and challenges are unique for East Maui farmers, and we welcome everyone to join the chapter to share knowledge and experience, and work together to support the needs of our farmers. Issues that we address include support for the Hana School garden, invasive species information, cooperative marketing, and "made in Hana" branding. The Hana Chapter has also taken the lead in rat lungworm disease response in East Maui, including forming the East Maui RLW Task Force and offering farm visits to help growers with slug and rat vector control.
Meeting Schedule: Our general membership meetings are held every other month on the first Wednesday of the month (February, April, etc.). Our chapter board meetings are held on the first Thursday in alternating months.
Meeting Time: 4:00pm - 6:00pm.
Meeting Location: General membership meetings rotate among member farms, with farm tours and locavore potlucks. Board meetings are held at Hana Tropicals Oasis.
President, Mikala Minn, was born and raised in Hana, Maui. Currently employed as Volunteer Coordinator/Outreach Education at Mahele Farm (Hana's Community Farm), a project of Ma Ka Hana Ka 'Ike and Kahanu Garden. Acting President of HFUU Hana Chapter since October 2015. Food Review writer for Hanaside News.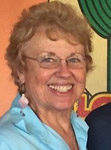 Member Chair, Terry Kristiansen, has lived in Nahiku for over 25 years, enjoys farming vegetables and supplying Hana with fresh cage-free eggs from happy chickens. With horticulturist husband, they operate a vacation rental and provide tours of their botanical collection.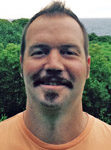 Director, Matthew Van Paepeghem, is the manager at Mama'alawe Farms where they mainly focus on fruit and have over 30 varieties of fruit trees primarily focused on Durian and Citrus. At Mama'alawe Farms we do everything organically and hope to be in full production in the next few years. Matthew has been at the farm for the last 8 years after the previous 15 years in corporate sales.
Vice President, Brad Taylor and his wife, Mariah De Leon, are the owners of a 15 acre tropical fruit, flower and cacao farm in the middle of the rain forest in the village of Nahiku. Brad grew up on a ranch and a farm in Northern California. Caring for the land has always been a passion for Brad, and he delights in creating an environment where the plants, the critters and the people all grow and thrive. Brad deeply appreciates farming in the heart of the Maui rain forest where he can work the land with deep affection and respect for both the ancestral spirit and the generations yet to come. Prior to moving to Hawaii, Brad was a commercial builder and is a licensed building, plumbing and electrical contractor. Brad is also an avid heavy equipment operator.
Secretary/Communications, Scott Crawford has worked as the Executive Director since 2002 for the Kipahulu Ohana, a Hawaiian nonprofit which operates Kapahu Living Farm, a traditional wetland taro farm managed through a partnership agreement with Haleakala National Park; and also operates Kipahulu Kitchen, the only shared-use (and off-grid) certified commercial kitchen in East Maui. Scott also serves on several other boards including the Mayor's Hana Advisory Committee to the Maui Planning Commission, the Hana Cultural Center and Museum, and Na Mamo O Mu'olea. Scott is originally from Colorado, and plays bass guitar.