2020 Hawai'i Farmer Heroes
Thursday, Nov. 12 at 2:15 PM: Farm Tours Session #1
Maui Bees: Mark & Leah Damon
Mark and Leah Damon have operated Maui Bees Inc as a family business in 
Kula, Hawaii for the past 10 years. When they first met, Mark and Leah combined their shared passion for bees and wholesome organically grown food to create a joint farming venture that was an immediate hit with the local community. They produce first quality garden fresh produce, organically fed pastured eggs and amazing Maui Honey, all available at their Kula farm stand.

WEBSITE: Maui Bees
Thursday, Nov. 12 at 3:00 PM: Farm Tours Session #2
Hawai'i Taro Farm: Bobby & Juanita Pahia
BIO: Bobby is the Farm manager at Hoaloha Farms, which supplies Star Noodle, Old Lahaina Lūʻau, Aloha Mixed Plate, as well as Leoda's Kitchen &  Pie Shop in Olowalu, with kalo and other crops. Raised in rural O'ahu, Bobby moved to Maui in the '80's to work for UH College of Tropical Ag & Human Resources. Today Bobby grows 24 heirloom kalo varieties on his Waikapū farm.
Moloa'a Organica'a: Ned & Marta Whitlock
BIO: In the year 2002, on land that had been fallow for 20 years with the prior history of papaya, pineapple and sugar cane cultivation. Ned and Marta Whitlock began an organic farm on 28.5 acres with a simple vision of restoring the land and one day providing their growing family and the people of the island with all the organic food and exotic tropical fruit that they would ever need. Armed only with tools and tractors that they shipped to Kauai in two sea containers, and an undying passion to farm, they began to carve their dream out of the densest sea of invasive guinea grass. As they began selling excess food that they did not need at farmers market and using the profits from these initial gardens to expand, Ned and Marta were able to fund the infrastructure and planting of new orchards, and piece by piece, establish more gardens and plant more orchards.
Since its inception in 2002, Moloa'a Organica'a has become known by locals and tourists alike as one of the most consistent growers of high quality organic produce and exotic tropical fruit on the Garden Isle. Today, nearly every square foot of the 28.5 acres is densely planted with the most astonishing variety of tropical fruits, organic produce, medicinal herbs, and native edibles. Moloa'a Organica'a attends five farmers markets weekly, and provides fresh produce and fruit to over a dozen health food stores, resorts, and restaurants including, Papaya's, Harvest Market, Hukilau Lanai, Healthy Hut, Hoku, and many more.
WEBSITE: Moloa'a Organica'a
Thursday, Nov. 12 at 4:30 PM: Farm Tours Session #3
Ho'omana KNF Pig Farm: Hanalei Colleado
Small Kine Farm: Fung Yang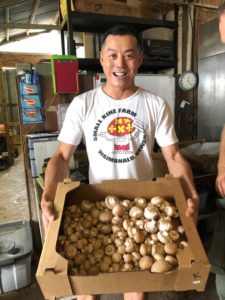 How does a green recycling company give rise to an USDA certified organic mushroom farm? The organic material from our recycling operation makes for fine compost, which happens to be perfect for growing mushrooms! Thus Small Kine Farm was born. Not only are we the only Portabella farm in Hawai'i, but by using our own compost and a high-tech pasteurization and growing process, we have been able to produce safe, high-quality mushrooms with better taste, texture and a longer shelf life than Mainland competitors…they even LOOK better.
BIO: In 2006, Mr. Fung Yang began operating Oahu Community Recycling (OCR). Immediately he saw the need for a more efficient recycling program on Oahu. With his vision and determination, Mr. Yang turned OCR into the only private curbside recycling business on Oahu. From OCR, Small Kine Farm was developed in 2008. By using organic waste material (from OCR) and a high-tech pasteurization and growing process developed with the help of the U.S. Department of Agriculture, Small Kine Farm has become the only portabella mushroom farm in Hawaii. The farm is USDA Certified Organic and is continually working towards creating a self-sustaining local food system for Hawaii.
WEBSITE: Small Kine Farm
FACEBOOK: Small Kine Farm
INSTAGRAM: Small Kine Farm
Friday, Nov. 13 at 2:15 PM: Farm Tours Session #4
Kahanu Aina Greens: Vincent & Irene Mina
BIO: We are a family farm here in Wailuku Maui. We grow four different baby greens in a plant based compost. Sunflower, Green Pea, Kaiwari Radish and Wheatgrass. 
FACEBOOK: @kahanuainagreens
Friday, Nov. 13 at 3:00 PM: Farm Tours Session #5
Kahumana Organic Farm & Hub: Christian Zuckerman
Birds with Arms Farms: Reba & Devin
Birds WIth Arms Farms is a 4th generational tropical fruit farm spanning over 25 acres in Haiku Maui. We specialize in Mangosteen , with 7 acres in production, while integrating Peach Palms as a food crop , that we sell to local markets and restaurants. While we are not in the orchard, we spend our time cultivating our sugarcane and juicing it at the Upcountry Farmers Market. Through regenerative practices, we utilize sustainable ways of growing fruits while feeding our soil.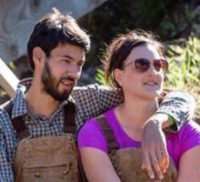 BIO: Vice President, Reba O'Day, along with her partner Devin Lopez, owns and operates Birds With Arms Farms, a third generation tropical fruit farm, focused on mangosteen, spanning 25 acres in Haiku, HI. She also represents Hawaii in the Beginning Farmer Institute class of 2018 through the National Farmer's Union. Reba and Devin run a booth at the local farmers market selling fresh pressed sugarcane juice and raw hearts of palm as well as sprouts and any other produce in season. You can find her on Instagram @farmerreba or on Facebook at Birds With Arms Farms and read her blog on the website birdswitharmsfarms.com.
WEBSITE: birdswitharmsfarms.com
FACEBOOK: @OlaponoFarmsMaui
INSTAGRAM: @farmerreba
Friday, Nov. 13 at 4:30 PM: Farm Tours Session #6
Hawai'i Nexus Hemp Farm: Ray Maki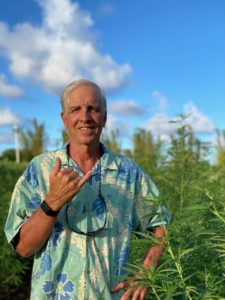 BIO: Ray Maki is a Hawaii Licensed hemp producer and processor with 30 years of commercial organic production experience on the island of Kauai. He is currently producing hemp oil products under the brand "Hawaii Nexus". Ray is the owner of "Permaculture Kauai"and is a certified Permaculture designer, consultant, educator and nurseryman. He is the President of The Hawaii Hemp Farmers Association and sits on the board of the Moloaa Irrigation Coop.
Hawaii Royal Hemp: Gail & Cab Baber
A conversation with Hawaii pioneer food and hemp farmer Clarence A. Baber who helped trailblaze the organic, regenerative agricultural landscape in the islands for the last 40+ years. His focus on the use of effective microorganisms and soil building were decades ahead of his time. Always a collaborator, like his microbes, he co-founded the Hawaii Organic Farmers Association, Hawaii Island Hemp Council, and the first CSA 30 years ago and coordinated a statewide effort to pass Hawaii's first hemp farming bill. Cab has mentored dozens of young farmers, worked with the State to prove the value of high-yield regenerative techniques such as mulching and no-till farming, and had the largest organic tomato operation in the State.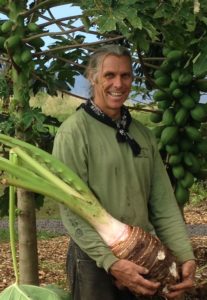 BIO: Clarence (Cab) Baber has farmed in Hawaii for 40+ years. He co-founded the Hawaii Organic Farmers Association and is a pioneer in the modern use of fermentations and microbes to build soil, manufacturing EM bokashi for 25+ years. In 1990, Cab co-founded the Hawaii Hemp Association to advocate for island sustainability and growing hemp to transition from sugar. Between 2013-2016, Clarence worked to pass hemp legislation in Hawaii, coordinating with farmers, industry experts, law enforcement and the University of Hawaii. In 2015 Cab was invited to the launch of the University of Hawaii's pilot hemp project. He and his wife received the first license to grow hemp in Hawaii in 2018 and founded Hawaii Royal Hemp Inc.  Cab has consulted on hemp grows in four states and Canada.
WEBSITE: Hawaii Royal Hemp