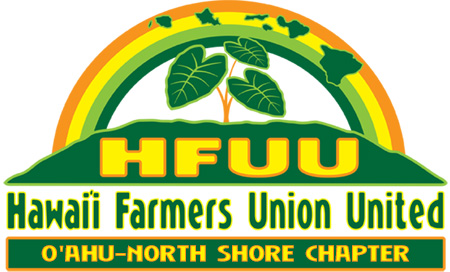 Mission
The mission of our chapter is to cultivate working relationships and opportunities between our NS farmers and markets and support local initiatives that are shaping the future of agriculture in our North Shore community. As part of this mission, a large focus of our work is serving as the action arm for the North Shore Community Land Trust Food Summit.
About North Shore Chapter: 
In 2019, our HFUU-North Shore Chapter historically elected an all-woman board. As the HFUU chapter for the North Shore of Oahu, we are fortunate to contribute to a community with a rich agriculture heritage and during an important time in which we move out of the plantation era and towards more small, diversified farms on the North Shore.
Our membership consists of a diverse representation of committed farmers, fishermen, resource managers, systems planners, value-added processors, chefs, business owners, educators, and grant writers. We work closely with the UH College of Agriculture students, CTHAR Agriculture Extension Agents, and the Go Farm program.
As an "All Women Board" we focus on the many ways growing food in our community nourish our families and greater community. This focus is reflected in our chapter projects and subcommittees (add link). Many of these projects strengthen connections between our farms and businesses, health & wellness community and identify opportunities to support the next generation in shaping the identity of agriculture.
There are many community-organized initiatives contributing to our growing local food movement on the North Shore. Our chapter is fortunate to steward some of these initiatives which include: North Shore Community Land Trust Food Summits, Kokua Foundation 'Aina Is Program (see our resources page).
Member Benefits:
When you join HFUU you are becoming a member of National Farmers Union which began in 1902 as an advocate for the family farmer, predating trade unions (which HFUU is not). We are advocates of agricultural education, legislation, & cooperation. North Shore Oahu is a chapter of the Hawaii Farmers Union United which is a chapter of NFU.
Hawai'i Farmers Union United is affiliated with the National Farmers Union and is recognized and respected as a voice for farmers, ranchers, and fishermen throughout the Hawai'ian Islands.
Hawai'i Farmers Union United empowers its members to earn a prosperous living through regenerative stewardship of our lands, waters and communities.
We assert that a multitude of smallholder diversified family farms that implement regenerative techniques in growing and raising our food will create a resilient, vital and productive agricultural system to better feed Hawai'i's people.
List of Discounts available to card carrying members (links to state HFUUHI.org website)
Monthly Meetings
Our meetings are consciously designed as a four-part series to: 1) provide fun learning opportunities with our agriculture extension agents; 2) promote inspiration and business/marketing support and opportunities through guest speakers and connection to resources; 3) organize our ag community around collective projects; and 4) foster social and working relationships that grow our farms, businesses and overall sense of community.
Meeting Schedule: 3rd Monday of each month.
Meeting Time: 6:30 pm – 8:00 pm
Meeting Location: We rotate our meeting location to various host farms and local food establishments to foster exposure and relationships. Please join our newsletter and social media to receive our meeting notices.
Come support local agriculture by meeting farmers, community leaders, special guest speakers, at our monthly meetings. Bring a dish to contribute to our delicious potluck dinners. This is a family friendly event and is open to all kinds of farm lovers and supporters.
Resource
We focus on the many ways we grow food in our community, to nourish our families and the greater community.
Farmers
Training - Go Farm Program & Upcoming Workshops (see calendar)
Social Media & Marketing Services
Buyers
Farm Link Hawaii
NS Economic Vitality Partnership
Buy Local
Farms (list of farms and associated links coming soon)
Farmers Markets
CSAs
Distributor- Farm Link Hawaii
Grocery Stores
Chefs
Nutritionalist
Partners, Subcommittees, Project Portfolio
We are proud to support HFUU initiatives including the Farm Apprentice Mentoring (FAM) program, Regenerative Business Development classes, and volunteer work days on local farms.
[Update coming soon]
Accomplishments
Organize farmer appreciation dinners at Loko I'a Fishpond and Mohala Farms
Partnered with Mohala Farms to host a Family Harvest Hour
Local broadcast with our HFUU All-Women Board and NS farmers with 808 Video (update)
Provide stipends and exposure for our NS farms and local chefs by hosting our monthly meetings at these establishments
Developed a project portfolio from the NSCLT Food Summit and a growing "farmers wish list" from our monthly meeting feedback
Helped facilitate a farmer-tended garden demo site for the Farm to Barn Cafe by linking the business owner and farmers
Secured shared office space through a close partnership with North Shore Community Land Trust
Planning retreat with HACBED
Workshop on designing effective & intentional meetings
Establish Farm to Barn as a future site for other UH ag extension agents and Go Farm program events
Drafted a survey to identify needs and opportunities for our NS farms, island-wide distributor services and local markets
President, Brynn Foster, is the Founder of Voyaging Foods, a bakehouse & miller of canoe-plant flour based food products. Named 2019 "Island Innovator of the Year" (voted by Hawaii Venture Capital Association). Raised in California, graduated from Pepperdine University, Brynn moved to the islands to be closer to her heritage. She grows canoe-plants on their family's 7-acre homestead with her husband and children to combine her passion for indigenous knowledge, her Hawaiian heritage and food sovereignty.
Vice President/Communications, India Clark: After graduating from UH with her Masters in Urban and Regional Planning, India supported the development of community-based food and energy resilience plans, policies and training programs through her work with with the University of Hawaii Hawaiʻinuiaʻkea School of Hawaiian Knowledge Loli Aniau, Maka'ala Aniau (Climate Change, Climate Alert) "LAMA" program, UH William S. Richardson School of Law's Island Climate and Policy Center (ICAP), the NOAA Pacific Services Center, the Golden Gate National Park Service, and the U.S. Department of Agriculture Natural Resource Conservation, the Waipio Valley Taro Farmers Association on Hawaii Island, and Olohana Foundation. She is currently enjoying her role as a mother and living on the farm as part of the Waihuena "Farmily", connecting with community through the weekly CSA, hosting community work days and learning about old world and medicinal cooking techniques using the diversified crops from the farm.