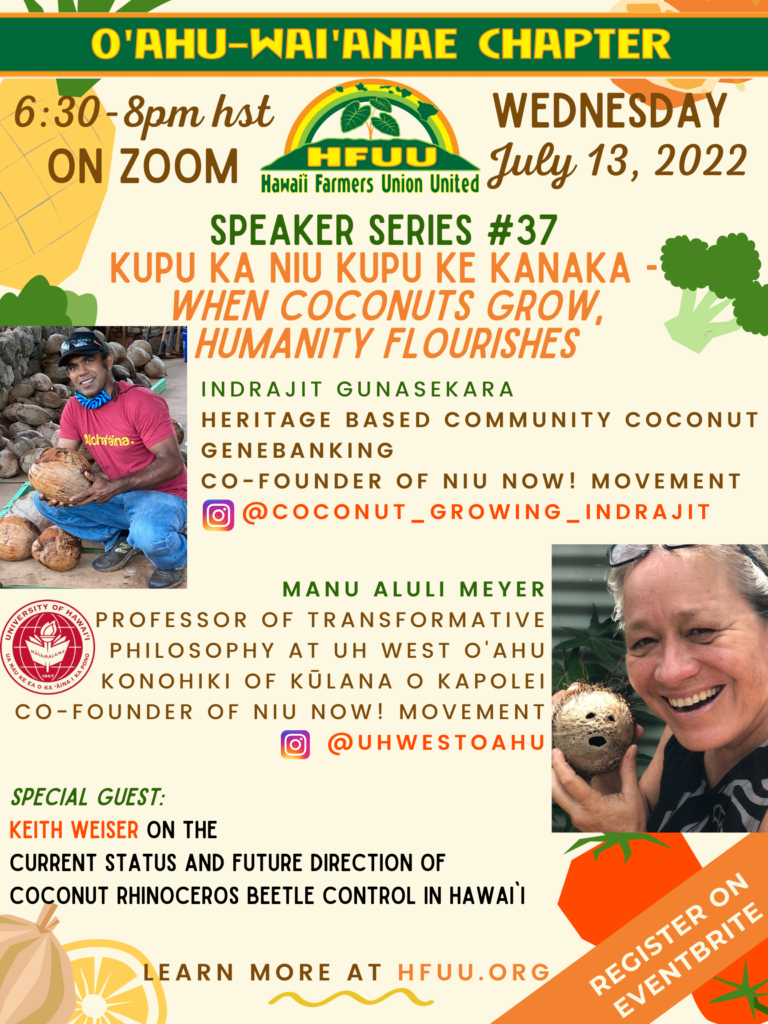 Speaker Series #37 | When Coconuts Grow, Humanity Flourishes w/ Indrajit Gunasekara & Manu Aluli Meyer
Speaker Series #37 | Kupu Ka Niu Kupu Ke Kanaka – When Coconuts Grow, Humanity Flourishes with Indrajit Gunasekara and Manu Aluli Meyer.
**Special guest Keith Weiser will speak on the current status and future direction of Coconut Rhinoceros Beetle control in Hawai'i.
Indrajit Gunasekara is native to Southern Sri Lanka and has been in Hawaii for 20 years. He has an unbroken line of connection (3,000 years) to the use, purpose and spiritual function of the coconut. His love and knowledge of the niu has activated the Niu Now movement focusing on the coconut as a vital food resource. He is currently working on developing the Heritage Based Community Coconut Genebanking to keep niu diversity alive and appreciated. He is currently employed at UH West Oahu as a Financial Aid Advisor.
Instagram: @coconut_growing_indrajit
Manu Aluli Meyer is a professor of transformative philosophy. She and her ʻohana are dedicated to food security, cultural rejuvenation, and healing work through hoʻoponopono. She works with Indrajit and a bunch of community folks (niunates) to bring forth niu nurseries, uluniu (coconut groves) and ʻike niu (coconut knowledge) so that we can prepare Hawaii to be ready for the change that is already here. Manu is employed at UH West Oʻahu as the Konohiki of Kūlana o Kapolei – A Hawaiian Place of Learning.
ALSO FEATURING: Keith Weiser, Deputy Incident Commander of Hawai'i Coconut Rhinoceros Beetle Response Current status and future direction of Coconut Rhinoceros Beetle control in Hawai`'i: Coconut Rhinoceros Beetles (CRB) are a threat to the health and productivity of several palm species and crops in Hawai`i.
The CRB response has been engaged in trapping, damage surveys, host palm treatments, and identification and destruction of breeding sites to limit the spread and impacts of CRB. This talk will present range and population updates, current and future control actions, and best management practices.