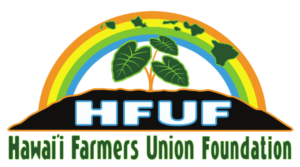 Primary Exempt Purpose and Programs
Mission and Programs
 The Hawaii Farmers Union Foundation's mission is to support the sovereign right of farmers to create and sustain vibrant and prosperous agricultural communities for the benefit of all Hawaii through various scientific, educational and charitable activities.
PROGRAMS - Past and Present
Current Programs:
Ku'ia Agricultural Education Center (KAEC): With funding from Kamehameha Schools, KAEC educates students and community members in the Hawaiian agricultural traditions and history of the Lahaina area of Maui Island. Its ultimate goal is the restoration of the Lahaina ulu (breadfruit) forest and ecosystem. Website. Award: 2019 Best of Lahaina Awards - School
Increasing the Competitiveness of Hawaii's Avocado Industry through Coordinated Supply and Marketing Strategies. With funding from Hawaii Department of Agriculture, in partnership with the Hawaii Avocado Association (HAA), HFUF is leading a strategic approach to increasing the cultivation and marketing of Sharwill avocados on Hawaii Island. 
Growing Family Agriculture: With the generous funding of the Botton's Foundation, The goal of the project is to improve the economic and productive performance of farmers on Hawaii resulting in increased income and production of food by existing farmers through small grants provided to HFUU Chapters on Hawaii Island, Oahu and Kauai.
Examples of Completed Programs:
Farm Apprentice Mentoring (FAM) Program: Funded by Maui County and in cooperation with the University of Hawaii and mentor farmers, the FAM Program provides the education, skills and supporting network beginning farmers need to be successful in their agricultural enterprises. FAM Webpage
Kauai Flood Relief and Reconstruction Project: Funded by the Hawaii Department of Agriculture, this Project aided East Kauai Island farmers devastated by the 2018 Kauai floods to restore their lands and farming operations with direct grants, training workshops and a tool lending facility.
Waianae Food Hub Project:  This Project used a Grant in Aid from the Hawaii Legislature to establish and operate a food hub where local, mostly Native Hawaiian farmers, could take their crops for sale and value-added processing on West Oahu Island.
Rat Lungworm Prevention Project:  This Project provided funds to educate residents of a remote community on Maui Island in the procedures to be followed to prevent human exposure to the debilitating rat lungworm parasite.
Food Safety Training Project:  This Project provides training at various sites throughout Hawaii in Federal Food Safety requirements and steps farmers can take to comply with those requirements.