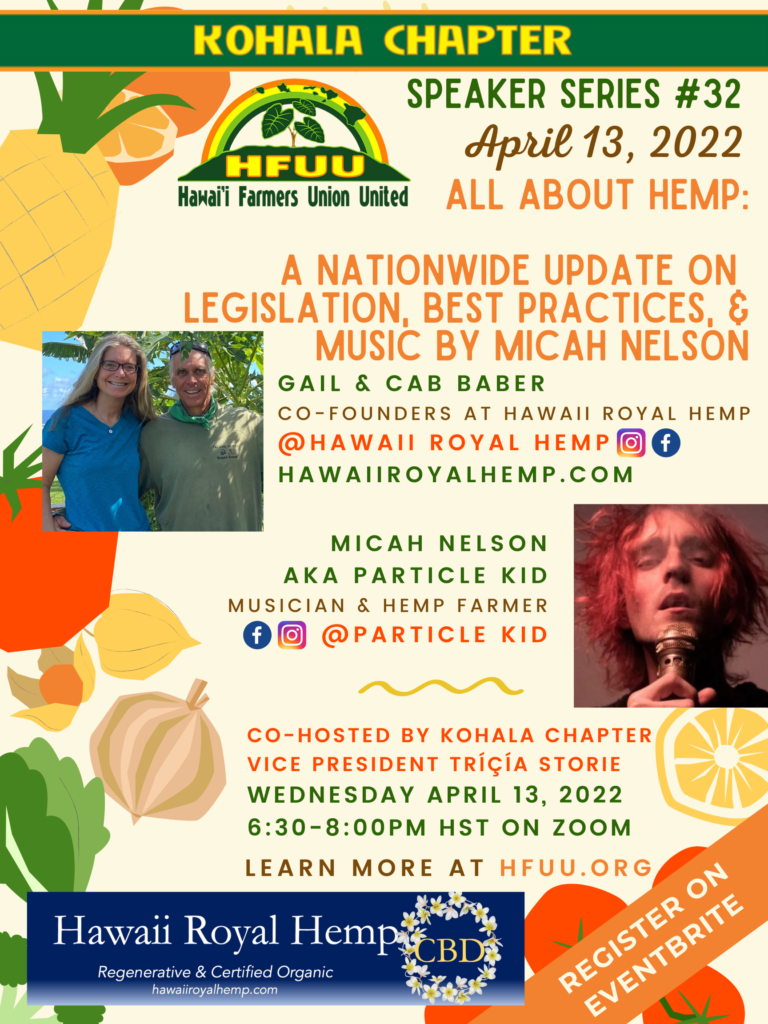 Speaker Series #32 with Kohala Chapter | All About Hemp: A Nationwide Update on Legislation, Best Practices, & More! | Featuring Gail & Cab Baber of Hawaii Royal Hemp Music by Micah Nelson aka Particle Kid
Gail Bryne Baber is co-founder of Hawaii Royal Hemp boutique hemp farm with her husband Cab Baber, growing and manufacturing high quality, top shelf CBD products. Gail has been instrumental in passing hemp legislation in Hawaii for the last 8 years and secured the first license to grow hemp with her farmer husband. She is on the Hawaii Hemp Farmers Association Board of Directors as well as the Hawaii Farmers Union Foundation and a founding member of the Kohala Hawaii Farmers Union chapter. Gail is intimately familiar with the unique programmatic and regulatory opportunities and challenges of growing hemp in Hawaii, having navigated the most stringent hemp growing program in the country.
She has also volunteered 8,000 hours of her time to preserve Hawaii coastal and agricultural land and Hawaiian archeological and cultural sites as well as developing a framework for a community agricultural land trust that includes affordable housing for family farmers. Gail has a background in civil engineering with 30 years of project management experience and owns a farm with her husband in Kohala on Hawaii Island.
Clarence Baber (Cab to those that know him) has been practicing regenerative farming in Hawaii for 40+ years. He co-founded the Hawaii Hemp Council in 1992 and the Hawaii Organic Farming Association and had the first CSA on the island in the early 1990s, which fed 50 families. Cab was the first regenerative farmer in the Waimea Lalamilo farm lots, operating the largest organic tomato operation in the state. He's been a pioneer in the modern use of microorganisms and fermentations in regenerative agriculture, making a soil probiotic, Bokashi, for 25+ years.
Cab has enjoyed mentoring dozens of young farmers over the decades and his Kohala farm was awarded the first hemp license in the state, integrating poly cropping of food into the hemp crops. He's a passionate believer in food sovereignty and, whenever possible, encourages people to grow their own food and is a founding board member of the Kohala Chapter of the Hawaii Farmers Union United.
Micah Nelson is a Singer-songwriter, multi-instrumentalist, visual artist, and activist Micah Nelson has a remarkable output that spans the creative spectrum unlike few others. The Los-Angeles based visionary has released five albums as Particle Kid, including his March 2020 live concert recording, Live! Underground. As an activist, Nelson has served on the National Hemp Association's Board of Directors, participates in Farm Aid events and their annual music festival, and combined the missions of both organizations by spearheaded a Change.org petition championing the Industrial Hemp Farming Act which became law in December 2018. Rolling Stone magazine hailed Micah as one of their "New Classics" – "The creative visionaries celebrated here come from the worlds of music, acting, comedy, sports and more. …they share a refusal to be contained by the rules of the past as they define the territory of the future."
Nelson is currently working on several projects, including a new Particle Kid album and music videos, as well as working with Young on an animated short film adaptation of Neil's 1982 dystopian sci-fi concept album, TRANS. When he isn't on tour or in the studio, Nelson is working to apply regenerative farming practices to both his family's LUCK Ranch outside of Austin, TX and his own backyard hemp and vegetable farm in Los Angeles, CA, to build future community food resilience while helping to mitigate climate change.