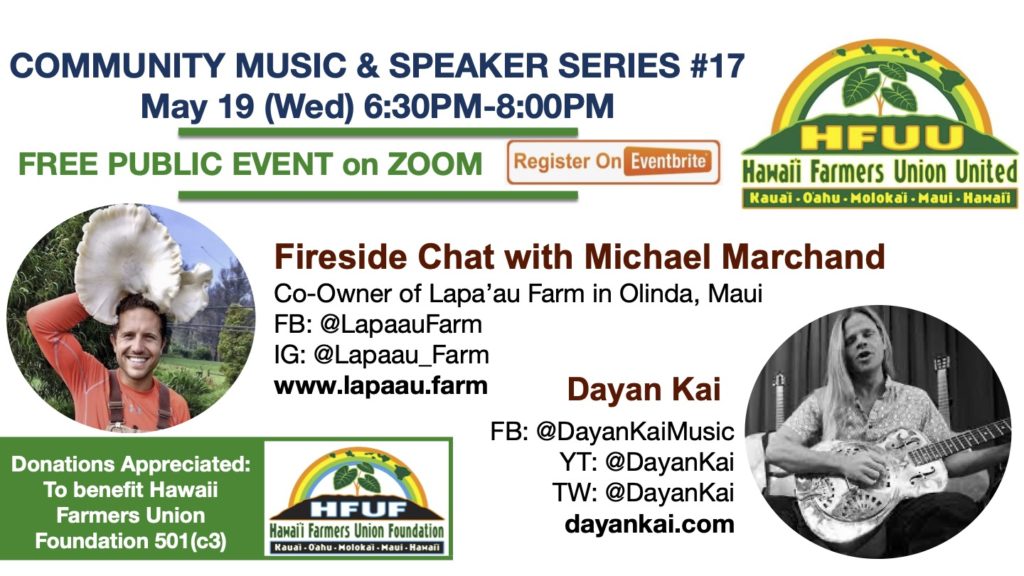 HFUU Community Series Music & Speaker Series #17: Vegetable Farmer Michael Marchand with Music by Dayan Kai
We are excited to have Maui farmer and expert on soil health & biodiversity Michael Marchand and Dayan Kai in a Fireside chat at out 17th Music & Speaker evening.
Michael Marchand is the owner of Lapa'au farm, which is an organic bio intensive farm focused on large production in small spaces. Lapa'au Farm is a 2 acre farm in central Maui. They practice "beyond organic" methods, which means they forgo modern organic methods that allow a long list of pesticides to still be used. Instead, they focus on biodiversity and seasonal crops, with a strong focus on building organic matter in our soil.
Dayan Kai is a true force of musical nature. Dayan's blindness has never held him back from pursuing music professionally and loving what he does. He has marveled at and studied every instrument he could find from a very young age. Since then, his classical and jazz training on various instruments, combined with a penchant for exploration, has led him to study and master a vast array of music over the past decades including blues, jazz, Americana, Hawaiian, bluegrass, Latin, reggae, world, funk, and much more.