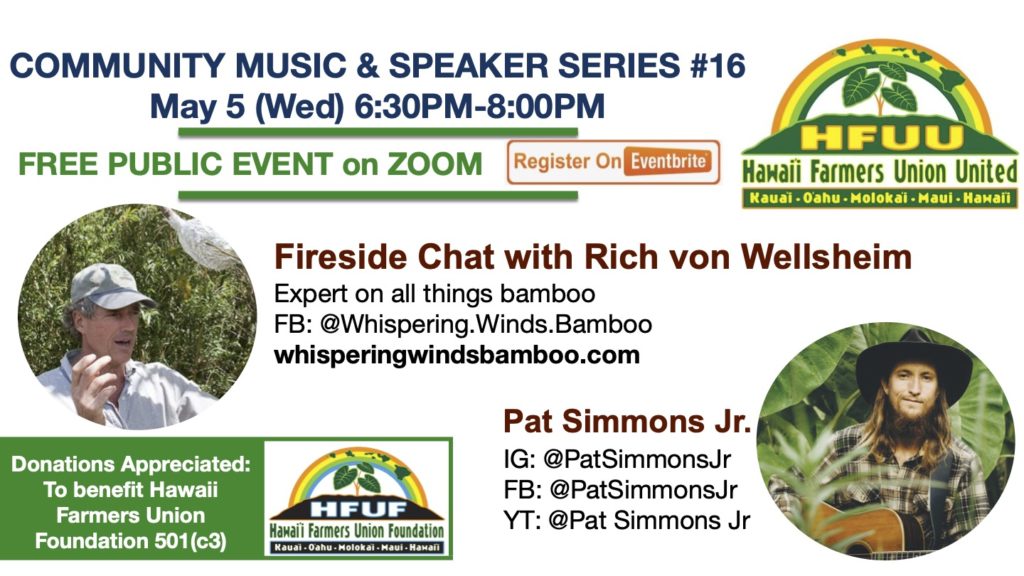 HFUU Community Series Music & Speaker Series #16: Bamboo Farmer Rich von Wellsheim with Music by Pat Simmons Jr.
Pat Simmons Jr. is a north shore Maui local and musical contributor to HFUU conventions. His music reflects a life growing up on the island, as well as on tour with his fathers band, The Doobie Brothers. Pat's 2017 debut E.P. "This Mountain", featured Keali'i Reichel on the title track Mauna Mele, written about the sacredness of these islands & their precious natural resources; a tribute to the Kānaka Maoli, the original stewards of the lands. Pat's life has currently evolved from full time Musician to Kalo farmer & father of 3 boys. He & his epic wife live on the family farm where Pat practices Permaculture & regenerative farming. While his musical progression has slowed since choosing to raise country kids & fruit trees, his passion for sharing the message of aloha 'āina has only just begun.
Whispering Winds Bamboo Cooperative Corporation in Kipahulu, Maui is an employee owned business and Rich von Wellsheim is one of the co-owners and founders. He loves his life and enjoys creating sustainable agricultural models as an engineer and lover of bamboo. His favorite timber species of bamboo is Guadua angustafolia and landscaping species is Sacred Bali bamboo. Rich moved to Maui 24 years ago to follow Virginia, and after starting Laulima Farms in Kipahulu with her, ended up taking over the bamboo business.