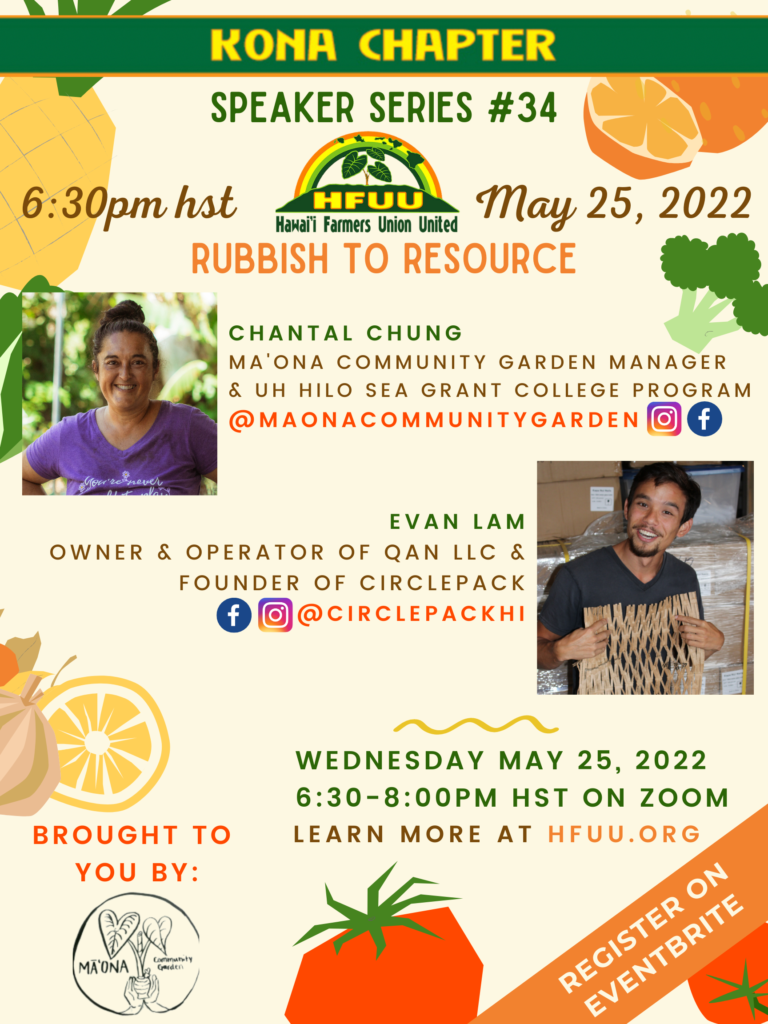 Speaker & Music Series #34 | Hosted by Kona Chapter | Rubbish to Resource with Chantal Chung of Mā'ona Community Gardens & Evan Lam of Circlepack
We can create healthier soil by better managing our waste stream. Join us to learn how several proof of concept projects on Hawaii Island are developing methods to move away from the linear extract-process-consume-dispose model of agriculture into a circular model that retains agricultural biomass and food processing waste as renewable resources strengthens our food systems and makes them more resilient to natural hazards, environmental and climate changes, and shifts in global economies.
Chantal Chung is one of the founders of Mā'ona Community Garden, which works to support and create community food systems, integrating food production, processing, distribution, and consumption to improve the environmental, social, and economic health of South Kona on Hawai`i Island. Ms. Chung has been working on this project since 2007, creating a 5.54 acre demonstration site for various agricultural techniques, providing growing space for individuals, families and partner organizations, and conducting workshops and outreach sessions which provide resources and hands on experience to increase the capacity of gardeners and farmers.
She has worked with the University of Hawai`i Sea Grant College Program (Hawai`i Sea Grant) since January 2009 where she collaborates with extension faculty in the development, implementation, and evaluation of community-based outreach and educational programming. Hawai`i Sea Grant supports an innovative program of research, extension, education, and communication services to improve the understanding and stewardship of coastal and marine resources. Ms. Chung has 2 children, Lauryn (22) and Xavier (20) "We want to give people permission to look around at their community and ask, 'How can we do better with what we have?' Because no one is more powerful than you and I."
@MaonaCommunityGarden
Evan Lam was raised in an entrepreneurial family on Hawaii Island. He's previously worked as a professional chef, a cannabis entrepreneur, and a freelance consultant. After working in and opening restaurants in Australia and the San Francisco Bay Area, Evan opened an R&D cannabis cultivation facility with a focus on eliminating waste streams and lowering the energy impact of indoor, medical cannabis cultivation. He then began a journey into the sustainability space working in various freelance roles as a consultant, systemic change agent, and communicator.
His firm – Qan LLC. – was contracted to design and implement a waste stream profile for District 7 in 2021. It also runs Circlepack, a local business building processing capacity and flow for localized cardboard recycling including composting and upcycling into packaging materials. To date, Circlepack has shredded over 23,000 lb of cardboard for local recycling and engaged a network of 12 strategic partnerships with small businesses, institutions and non-profits to host localized recycling events. He also works as a freelance consultant with projects relating to global carbon emissions, public services consulting and systemic change interventions.
@CirclePackHi
To become a member of Hawaii Farmers Union United, please visit hfuu.org. Donations appreciated, supporting family farms in Hawaii via Hawaii Farmers Union Foundation.