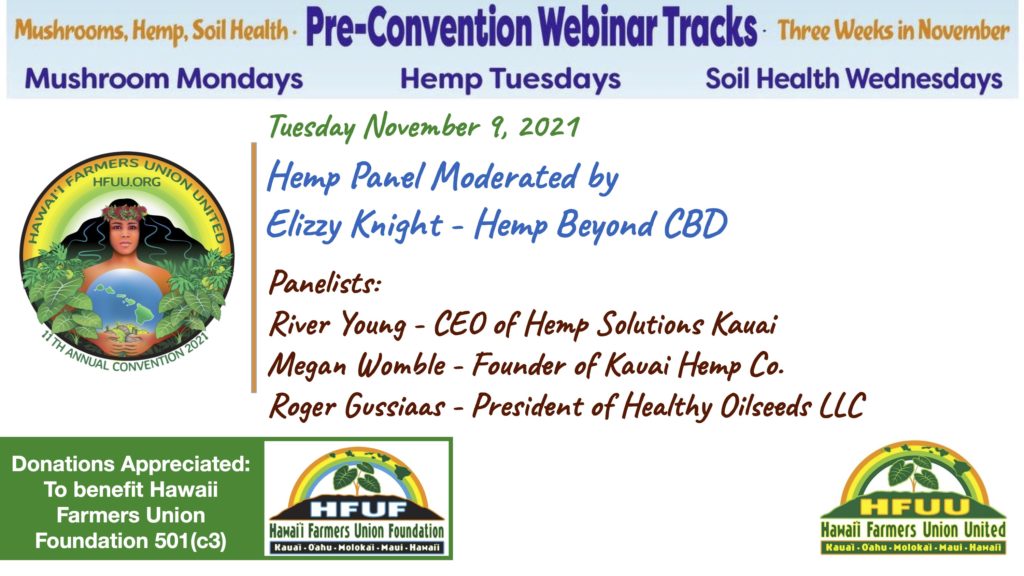 Pre-Convention Webinar #2: Hemp Panel Moderated by Elizzy Knight – Hemp Beyond CBD | Panelists: River Young, Megan Womble, and Roger Gussiaas
Hemp Panel #1 ~ Moderated by Elizzy Knight – Hemp Beyond CBD
Elizabeth 'Elizzy' Knight is the VP and co-founder of WAFBA (We Are for Better Alternatives). WAFBA is an umbrella of brands, conceived to co-create an industry built on transparency, authenticity, innovation, diversity, collaboration, and cooperation. WAFBA is a globally established and recognized organization with the largest attended hemp-centered events including NoCo Hemp Expo and the Southern Hemp Expo. She is the co-producer of the Hemp industries leading news & media platform @LetsTalkHemp.
Elizzy has studied holistic and traditional nursing, aromatherapy, and a variety of natural-healing modalities. Advocating with cannabis-hemp, she encourages others to choose more sustainable, regenerative, and alternative products for their daily lifestyles. Constantly chasing the sun, Elizzy started the Sun Chaser Farm in 2018, a solar-powered hemp farm that is now the home of Colorado Hemp Company and the WAFBA family brands.
Panelist #1: River Young was a founder of Kauai Hemp Company Farms, Nalu Botanicals Lab, and Abide Kauai Sports CBD Brand, a completed vertical seed to sale hemp operation on the island of Kauai, HI. This USDA certified organic operation provides consulting, hemp services, processing services, and CBD/CBG end products. These products include THC free water-soluble solutions for large volume clients.
Panelist #2: Megan Womble is currently working as a consultant and coach within the alternative plant health and wellness sector. As a founder and former Operations and Compliance Officer for Kauai Hemp Co., Megan helped to build Kauai's first and only vertically integrated, "off the grid," organic hemp farm and CBD processing facility. Also, an owner of Hawaiian Seed Company, Megan successfully secured and maintains an OLCC marijuana producer license for a cannabis production facility in Oregon.
Panelist #3: Roger Gussiaas is the President and Owner of Healthy Oilseeds, LLC in Carrington, ND which he started in 2002. Healthy Oilseeds processes specialty oilseeds including flaxseed, hempseed and borage. This includes cold press expelling, milling, sifting and roasting. Healthy Oilseeds has done business in 22 countries and 49 states. Roger started farming in 1979 and in later years farmed more than 5000 acres. Throughout those years he raised 24 different crops including growing hempseed for grain and CBD.