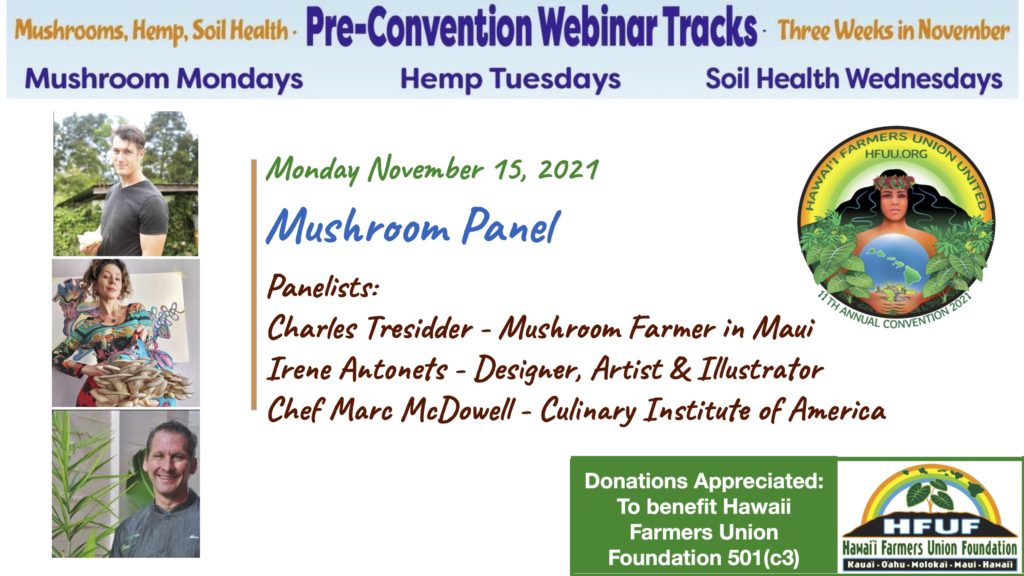 Pre-Convention Webinar #4: Mushroom Panel with Charles Tresidder, Irene Antonets & Chef Marc McDowell
Charles Tresidder is a self-taught mushroom farmer on the island of Maui. He specializes in the production of oyster and shiitake mushrooms. The crowning achievement of his farming career is his custom laboratory, the finest mushroom production facility in the state of Hawaii.
Irene Antonets is a designer, artist and illustrator. In autumn of 2019 she had her first personal exhibition where she presented her artworks – the result of her research of small and unique organisms under the microscope. Irina's aiming to share Humanum Lignum platform with bigger and wider audience to make the humanity care about natural environment, reconnect to own roots, rethink its role and place in Nature.
Chef Marc McDowell trained at the prestigious Culinary Institute of America in Hyde Park, New York. He has a special treat for you and will be cooking a mushroom dish on screen. Chef Marc McDowell has a background in French cooking, specializing in a fusion of exotic herbs and spices with fresh Hawaiian ingredients to create new flavor profiles for the palette. Chef Marc is also a Certified Master Gardner who understands intimately how to maximize the organic seasonal offerings that are grown by local farms.