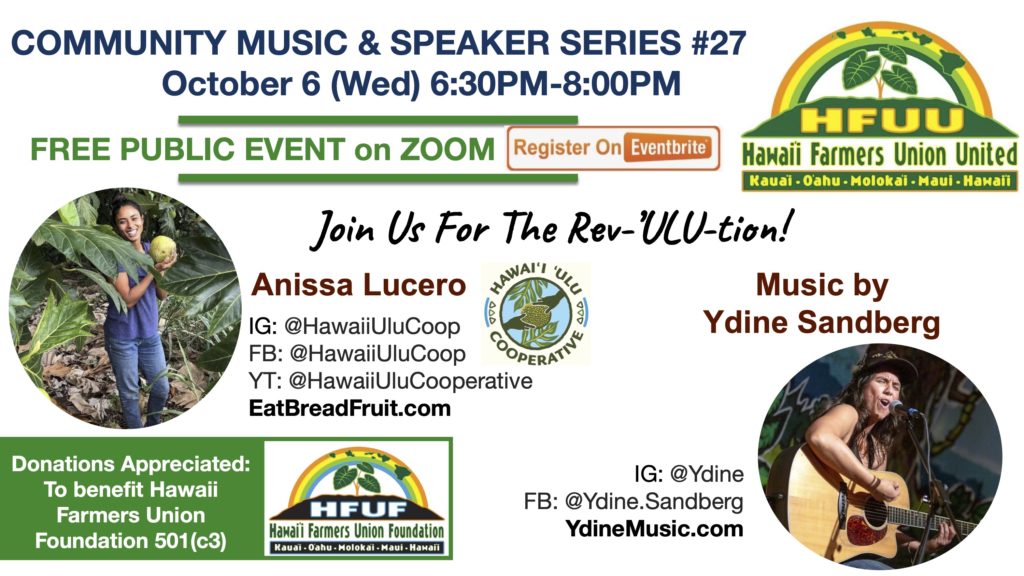 Music & Speaker #27: Ulu Expert Anissa Lucero with Music by Ydine Sandberg
We are pleased to announce that for our 27thMusic & Speaker Series event we have Ulu EXPERT Anissa Lucero of Hawaii Ulu Coopeartive, with music by the amazing Ydine Sandberg. 
Anissa Lucero has over 11 years experience in agriculture on Hawaiʻi Island and has been with Hawaiʻi ʻUlu Co-op since itsʻ inception in 2016 playing an integral role at the co-op and in revitalizing ʻulu in Hawaiʻi. She has held many positions at the co-op from production, food safety, operations management, farmer technical support, and now digital marketing, and has traveled to Samoa to study ʻulu in a culture that utilizes it as a regular staple. Her mission is to advocate for its use in Hawaiʻi and beyond.
Ydine is a Big Island musician who learned to play music while sailing the Pacific. She honed her craft traveling around farm communities in Hawaii with a joyful crew of friends, who enjoyed creating community around growing food. Ydine's songs speak of healing our relationship with the Earth and each other so our future generations can thrive.