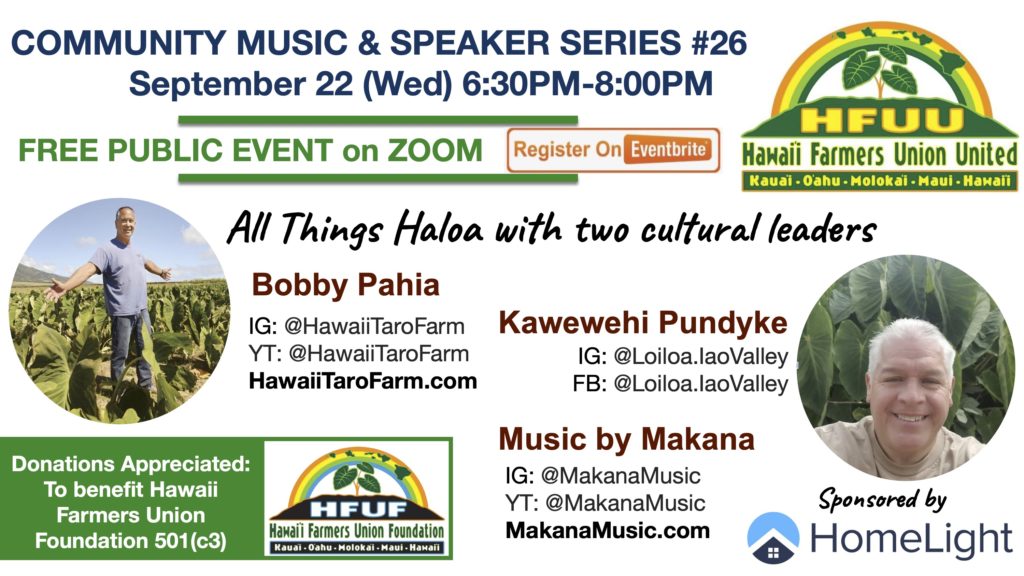 Music & Speaker #26: All Things Haloa with Bobby Pahia & Kawewehi Pundyke – Sponsored by HomeLight
We are pleased to announce that for our 26th Music & Speaker Series event we have 'All Things Haloa' featuring two cultural leaders: Bobby Pahia of Hawai'i Taro Farm and Kawewehi Pundyke of Loiloa in I'ao Valley.
Bobby Pahia is the farm manager of Hawaii Taro Farm. The farm supplies dozens of restaurants on island with several varieties of kalo and other crops. Raised in rural O'ahu, the green-thumbed Hawaiian moved to Maui in the 1980s to work for the University of Hawai'i's College of Tropical Agriculture and Human Resources. Today Bobby grows two-dozen heirloom kalo varieties on his Waikapū farm, including mana 'ulu, the popular Maui lehua, and the rare ele'ele naioea. Bobby is also the interim-president of our Mauna Kahalawai Chapter of HFUU.
Kawewehi Pundyke has been the Project Director at LOILOA (Non-Profit 501 C-3) for the past 11 years, where he oversees all programs, education, projects and operations.
The mission of LOILOA is to revitalize and reinforce the holistic connection between land, spirit, and body. They accomplish this by offering educational experiences for participants through the use of Native Hawaiian Practices; this approach provides an opportunity for kama'aina and malihini to learn first hand the importance of mālama (care), Kako'o (support), and lōkahi (balance).
LOILOA cares for an 'ili in 'Iao valley by the name of Lo'iloa. Kawewehi has worked with youth, adults, and families for 15 years in various ways using the Hawaiian cultural as a means of educating. Currently, his primary function is providing papa ku'i 'ai and pohaku ku'i 'ai workshops to our community, supporting the growing of kalo and other food crops, and encouraging the relationship to these crops and the 'aina.
Kawewehi has a desire to have more kalo being grown by individuals within or community. to build a relationship with Haloa, and to hear the sound of kalo being pounded on a regular basis. 
Sponsored by HomeLight