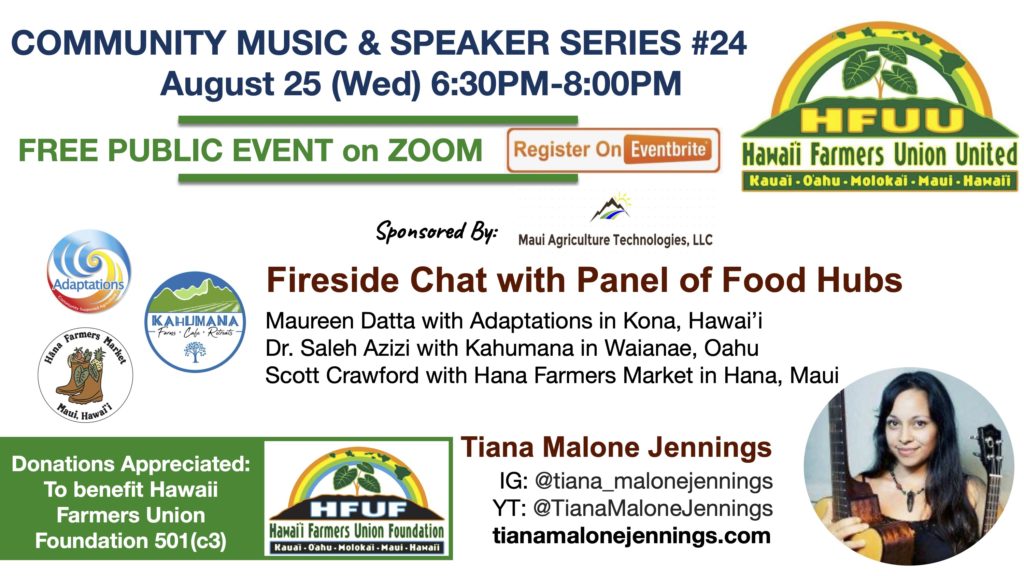 Music & Speaker #24: Food Hub/CSA Panel with Music by Tiana Malone Jennings
We are pleased to announce that for our 24th Music & Speaker Series event we had a Food Hub Panel feauturing: Maureen Datta with Adaptations CSA, Dr. Saleh Azizi with Kahumana CSA, and Scott Crawford with Hana Farmers Market & Online Market. The Musician for this evening was the incredible Tiana Malone Jennings of Puna, Hawai'i.
Secretary of HFUU & co-owner of Adaptations, Inc., a regional food hub in Kealakekua. Maureen Datta oversees the consolidation of the harvests from about 90 Hawai'i island family farms and distributes the produce to more than 40 restaurants, 7 local processors, 17 natural food stores and 450 families through their CSA, Fresh Feast. Maureen lives with her husband Tane in Honaunau on their 7-acre diversified, certified organic, farm.
Policy and Legislative Chair of HFUU and Community Development Coordinator at Kahumana Organic Farms. Dr. Saleh Azizi is a farmer, earned his PhD at UH Manoa, and works at Kahumana Organic Farms with the farm hub. He is passionate about listening to family farmers trials and tribulations and grassroots advocacy. Saleh was born and grew up in Sweden with Persian ethnicity and has lived in Hawaii since 2006.
Treasurer HFUU Hana and Coordinator of the weekly Hana Farmers Market & online market. Scott Crawford has worked as the Executive Director since 2002 for the Kipahulu Ohana, a Hawaiian nonprofit which operates Kapahu Living Farm, a traditional wetland taro farm managed through a partnership agreement with Haleakala National Park; and also operates Kipahulu Kitchen, the only shared-use (and off-grid) certified commercial kitchen in East Maui. Scott also serves on several other boards including the Hana Cultural Center and Museum, Na Mamo O Mu'olea and Ke Ao Hali'i.
Mother, farmer, voice teacher, chorus director, singer songwriter, Tiana Malone Jennings is also a multi award winning and Hoku Nominee with an incredible vocal range singing soulful, original progressive songs from the heart.