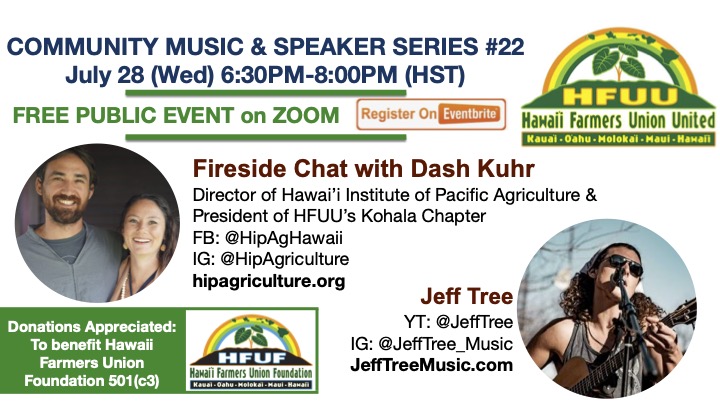 Music & Speaker #22: Kohala Chapter President Dash Kuhr with music by Jeff Tree
We are pleased to announce that for our 22nd Music & Speaker Series event we had Co-Founder and Executive Director of HIP Agriculture Dash Kuhr along with Big Island Musician Jeff Tree.
Jeff Tree is a musician based on the Big Island of Hawaii. Jeff is a member of the HFUU Kohala branch and has experience working on farms utilizing permaculture practices and has studied environmental sustainability at CU Boulder. His music is inspiring and uplifting, with a wide variety of originals and covers ranging from reggae to rock and country.
Dashiell (Dash) Kuhr, Co-Founder and Executive Director of Hawai'i Institute of Pacific Agriculture (HIP Agriculture), is personally dedicated to the restoration of human and environmental health. Using his family farm, Starseed Ranch as a living classroom Dash with his wife Erika are working to inspire youth and adults to connect with the land and foods that nourish them. Dash has educated and mentored hundreds of youth and young adults on the benefits of healthy eating and hands-on gardening skills. Dash serves as President for Kohala- Hawaii Farmers Union united chapter, works with other food cooperatives and farms and has developed and lead numerous gardening and sustainability initiatives. He is also the current and long-time president of our Kohala Chapter of HFUU; it is an honor to have him on board. Dash apprenticed under permaculture designer Tom Baldwin (who studied directly with Bill Mollison, Geoff Lawton, and Bullock brothers) for three years, as a farm manager. Dash received his Permaculture Design Certificate from Geoff Lawton. Rooted in North Kohala, Hawai'i, Dash is dedicated to developing and supporting healthy, resilient food systems. Dash is thoroughly committed to youth and ensuring they have access to fresh food and land, food sovereignty, Earth justice, and a localized economy that creates peaceful and happy communities. Dash, with his wife Erika and three beautiful children Cyrus, Jyoti and Kumari are advocates of healthy eating, exercise, and Ayurvedic medicine. He enjoys gardening, swimming, surfing, yoga, and family time.