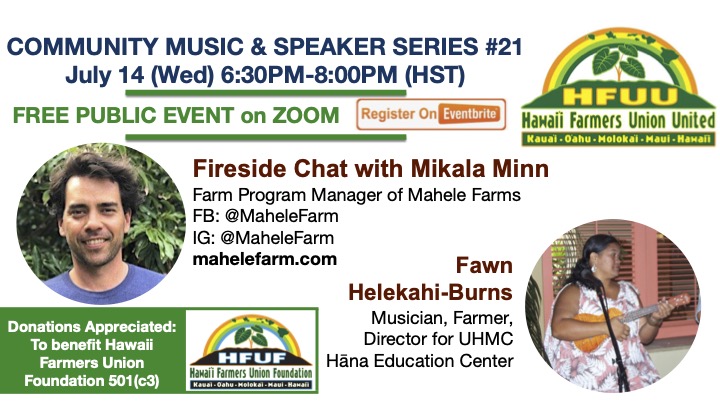 Music & Speaker #21: Former HFUU Hana Chapter President Mikala Minn with Music by Fawn Helekahi-Burns
Music & Speaker Series Event #21: Manager of Mahale Farms in Hana, Maui Mikala Minn; Music by Fawn Helekahi-Burns. Presented by Hawai'i Farmers Union United.
Mikala is born and raised in Hāna, now raising his family and a prominent person in the community. His paternal grandfather and grandmother came from Korea to Hana to work the sugar cane industry in the late 1800's. His father co-founded the Kipahulu Ohana, restoring lo'i Kalo since 1992. He studied writing in college at Southern Oregon University, and then moved back home in 2010 to start a community farm, Mahele Farm. Past president of HFUU's Hāna Chapter, Mikala now focuses on Mahele's future as well as his two kids.
Fawn Helekahi-Burns is a talented musician, farmer, and Director for UHMC Hāna Education Center. Her farm Koali Kine began in 2004 on her family's land, and provides fresh fruit, plants and flowers to the Hāna community every Friday at the farmers market. Fawn also enjoys playing music and sharing her beautiful voice for local businesses in East Maui, sometimes along with her family.