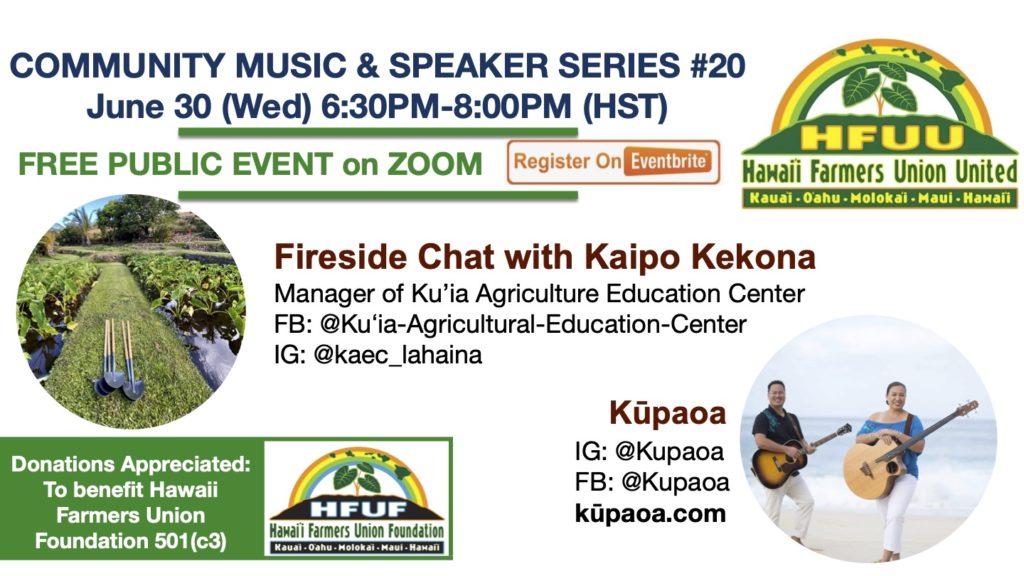 Music & Speaker #20: HFUU Lahaina Chapter President Kaipo Kekona with Music by Kūpaoa
Music & Speaker Series Event #20: Manager of Ku'ia Agriculture Education Center Kaipo Kekona; Music by Kūpaoa.
Presented by Hawai'i Farmers Union United.
Born and raised on the island of Maui, Kaipo is the Manager of Ku'ia Agriculture Education Center (K.A.E.C.) in Lahaina, Maui. K.A.E.C. specializes in traditional regional environmental Mahi'ai and restoring Ka Malu 'Ulu o Lele. KAEC continues to build participant's knowledge of culturally appropriate land stewardship practices. Kaipo currently serves as Vice chair on Na Leo Kalele, is on the board of Na Ai Kane O Maui Cultural Center, is President of HFUU's Lahaina Chapter, and is a father of four.
Kellen and Līhau Paik, known professionally as the duo, Kūpaoa, have performed together for 15 years. During that time, they have released 7 albums and received 6 Nā Hōkū Hanohano awards. Life-long students of Hawaiian language, they enjoy composing and performing their original songs, in addition to beloved, time-honored favorites. "Kūpaoa" describes a lasting fragrance and it's their hope that their music will linger, infusing both heart and mind, long after their performance is through.