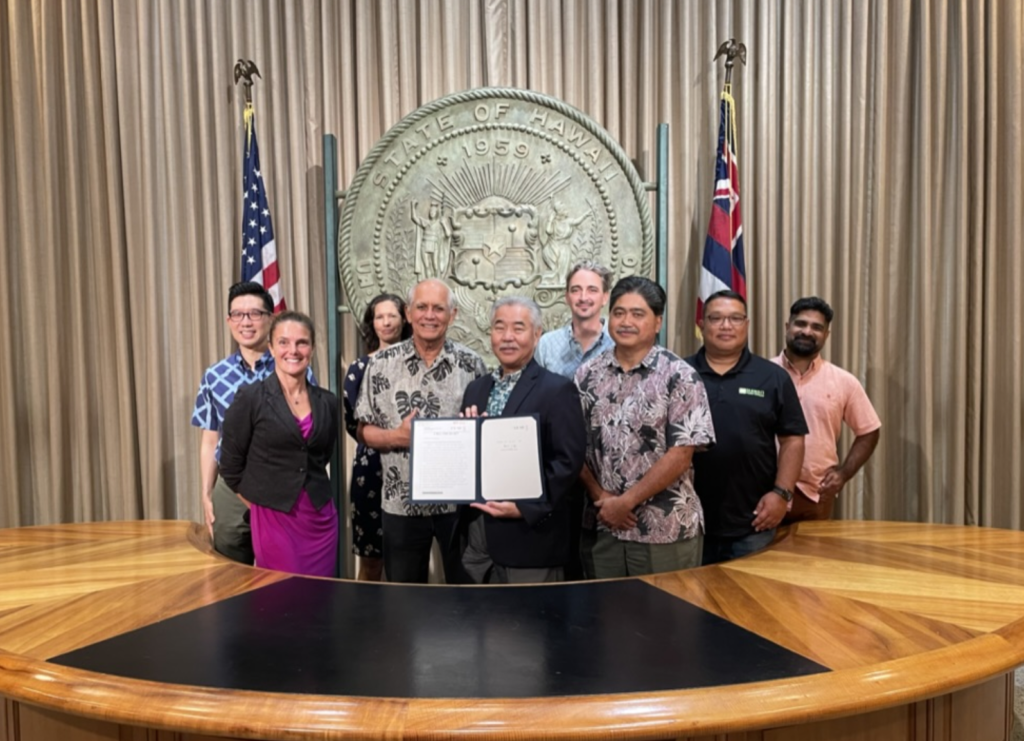 Legislative Season Update 2022
Aloha Hawai'i Farmers Union United (HFUU) members,
It is with great pleasure and gratitude that I present you with this update for the 2022 legislative session. Based on policy priorities voted in by HFUU's family farmers for strengthening the local food system, promoting soil health and building a stronger agricultural workforce, the Hawaii Legislature passed the following farmers union initiatives:
HFUU's legislative priorities are established through a bottom-up democratic process at our annual convention. Our grassroots structure empowers members' policy positions to be raised in our 15 regional chapters and to be adopted and processed into legislative advocacy on local, state and national levels.    
Pictured L-R: Sen. Stanley Chang, Rep. Amy Perruso, Rep. Lisa Marten, Sen. Gabbard, Gov. Ige, Hunter Heaivilin – Hawaii Farmers Union United, Morris Atta- HDOA, Brian Miyamoto – Hawaii, Farm Bureau Federation, Saleh Azizi – Hawaii Farmers Union United.
As shown in the picture, on Monday 7/18, Hunter Heaivilin and I joined Governor Ige to sign several HFUU legislative initiatives at the state level. I'd like to send out a big mahalo to our President Vincent Mina for his leadership and to our members for submitting over 500+ testimonies this session. Some of our initiatives that did not pass and that we will reintroduce next year included SB2989 Healthy Soils Program, vetoed by the Governor, and SB2986 Hemp. Other initiatives that were supported by HFUU testimonies and became law includes:
Act 222 – HB1517 Coffee Labeling Impact Study ($100K)
Act 189 – SB2056 Soil Classifications Study ($325K)
Act 185 – SB3325 Carbon Sequestration Incentives
Moreover, HFUU initiatives would not have been successful without the involvement of our new government representative Hunter Heaivilin (Supersistence LLC) and each of the HFUU chapters that allocated funding for this role at the 2021 strategic planning session. I also want to send gratitude to Senator Mike Gabbard, Senator Laura Acasio, Rep. Amy Perruso, Rep. Sylvia Luke, Rep. Lisa Marten, Rep. Nicole Lowen, Rep. Tina Wildberger, the members of the Local Food Coalition, and Hawaii Food Plus Policy Group for supporting Hawaii's family farmers.
We look forward to supporting the Hawaii Department of Agriculture on the effective implementation of the many new acts. Moving forward, HFUU will be soliciting members' priorities for 2023 legislation via a new membership survey and at the 2022 Annual Convention Policy Forum. The legislative committee is in the process of establishing a new budget for FY 22/23 for legislative efforts that will be shared with potential funders. For those interested in contributing to future legislative efforts, please send me an email and I will share more information.
Me Ke Aloha,
Saleh Azizi Fardkhales, PhD
Chair, Legislative Committee
Hawaii Farmers Union United
Other HFUU news stories to check-out: