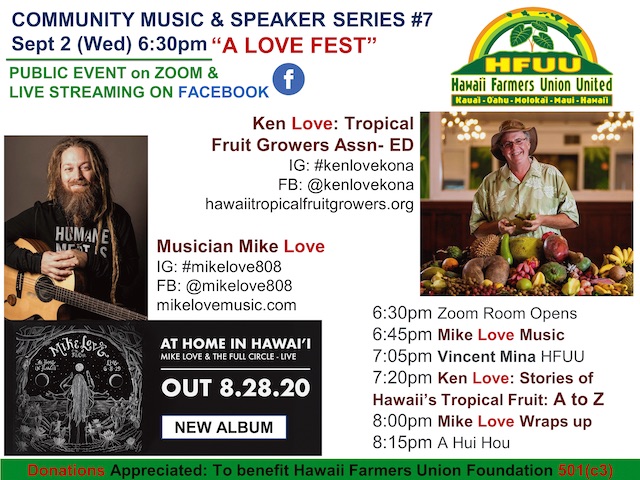 HFUU Together #7: Mike Love & Ken Love
HFUU Community Music & Speaker Series #7: Mike Love & Ken Love, Wednesday 9/2 6:30pm
A LOVE Fest: Musician Mike Love & Farmer, Author & Educator Ken Love
Aloha HFUU Ohana,
We hope you and your loved ones are safe and well!
HFUU is excited to announce #7 in our music & speaker series, "A Love Fest" with the talented Mike Love and tropical fruit grower and guru Ken Love, Executive Director of the Hawaii Tropical Fruit Growers Association. This is a PUBLIC event, please feel free to share with your family and friends!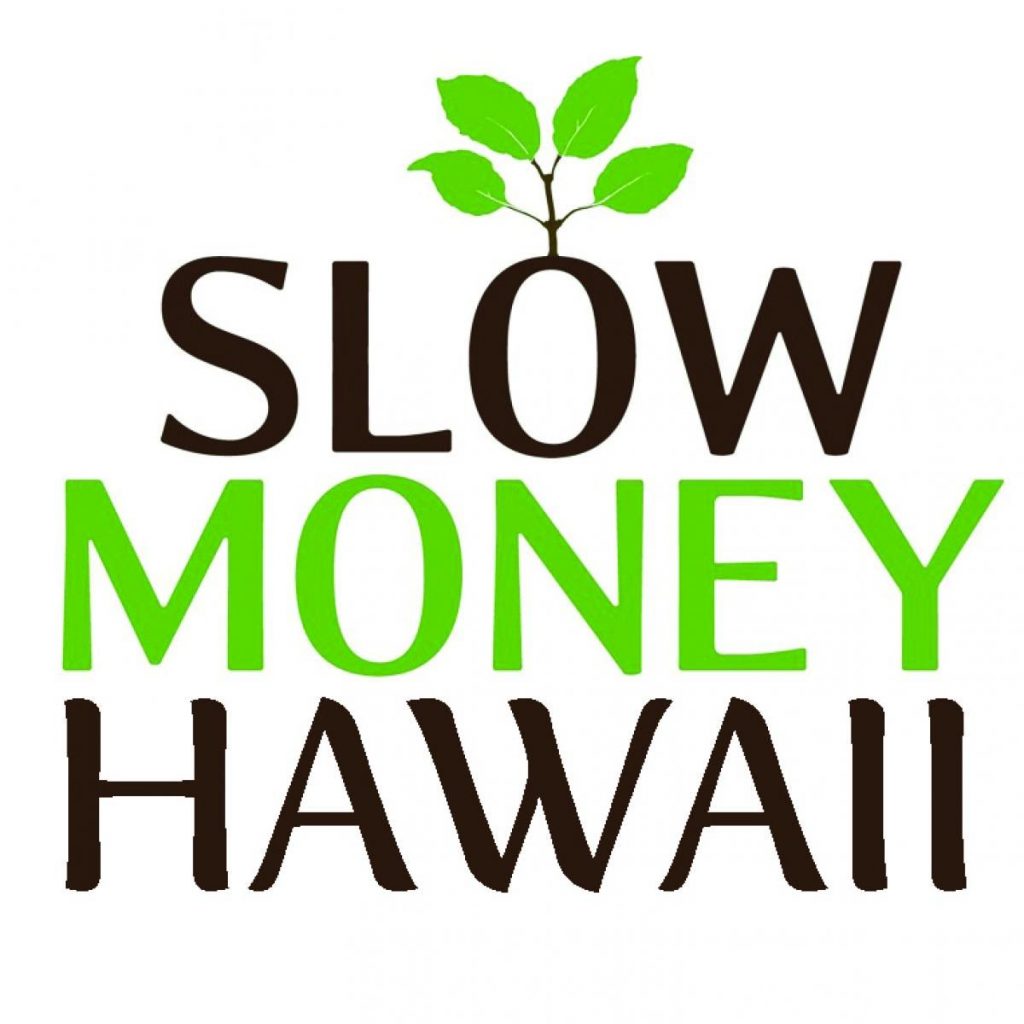 A big MAHALO to our SPONSOR, SLOW MONEY HAWAII who has a donation challenge: For every ZOOM participant who toasts an Ola Brewing beverage, Slow Money Hawaii will donate to the Farmers Union Foundation 501(c3).
Musician: Mike Love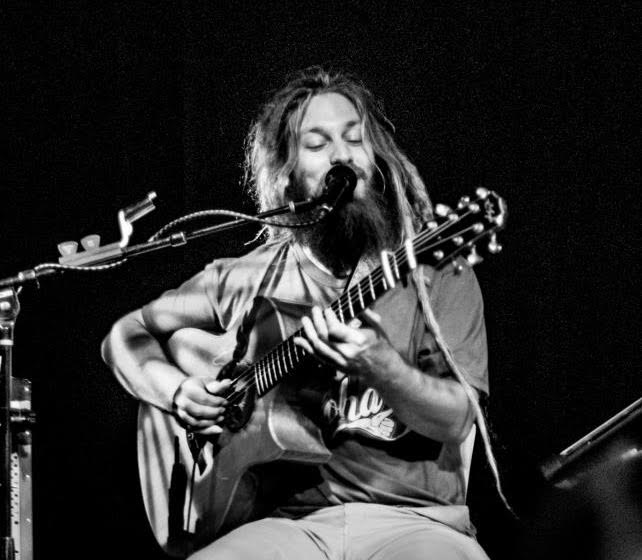 Mike Love has a foundation rooted in the spirituality and message-based music of Reggae and Rastafari, he blends the sounds of progressive and classic rock, pop, R & B, soul, blues, flamenco, jazz and so much more. Healing is at the core of his music. Born and raised on the island of O'ahu, Hawai'i, Love was brought up in an environment surrounded by musical influence and the inspiring natural landscape of his island home. Forging a deep connection with nature, his message of returning to a more natural and spiritually grounded way of living was solidified at an early age. Growing up under the musical guidance of his father and grandfather, both composers, as well as his steel pan instructor Frank Leto and piano teacher Beth Uale, Mike's natural musical instincts towards melody and harmony were shaped and deepened. Mike started playing the guitar at age 15 and played in multiple bands throughout his teenage years, playing his first live gig with a band at age 16.
It wasn't until he joined forces with local musicians Tavana, Brad Watanabe (currently of The Green) and longtime collaborator and current drummer Sam "Ites" Gonsalves to form the band Melodious Solutions, that his musical vision started to take shape. Furthering his talents as a composer/lyricist and arranger, Love subsequently fronted the 10-piece band Dubkonscious for a few years, entering into his first studio experience as a producer as well on the band's album "At the Foot of the Mountain".
He began touring that year with best friend and musical soul-mate Paula Fuga, playing shows to enthusiastic crowds in the western U.S. supporting bands like Groundation and Nahko and Medicine for the People. As the buzz spread, so did the reach of Mike and his band. The next year brought them all over the U.S. playing club shows and festivals alike. Love supported Trevor Hall and Xavier Rudd on major tours throughout the eastern U.S. and Canada, winning over many fans in the grassroots style he had become accustomed to. You'll often catch Mike saying "I just keep playing the music, and this thing just keeps growing. It has a life of its own and I'm just grateful for it." International touring soon followed, with warm and enthusiastic receptions across Europe, Central America, Australia, Polynesia, and more. Throughout it all, Love has remained humble, citing the healing power of the music that comes from a larger place as the sole reason this all has been possible.
Currently, he formed a super-band, hand-picked from all of the top musicians he's worked with over the years, dubbed aptly, Mike Love, and the Full Circle. They have honed their skills and come together as a tight unit at home on O'ahu and have now begun to tour, taking Love's music to even greater heights. In the years to come, we can only expect more growth, more innovation, and of course, more Love.
Mike & the Full Circle are excited to announce the release of their newest album "At Home in Hawai'i" which comes out this week!
FB: @MikeLove808
IG: #Mikelove808
Website: mikelovemusic.com
Ken Love: Farmer, Author, Educator.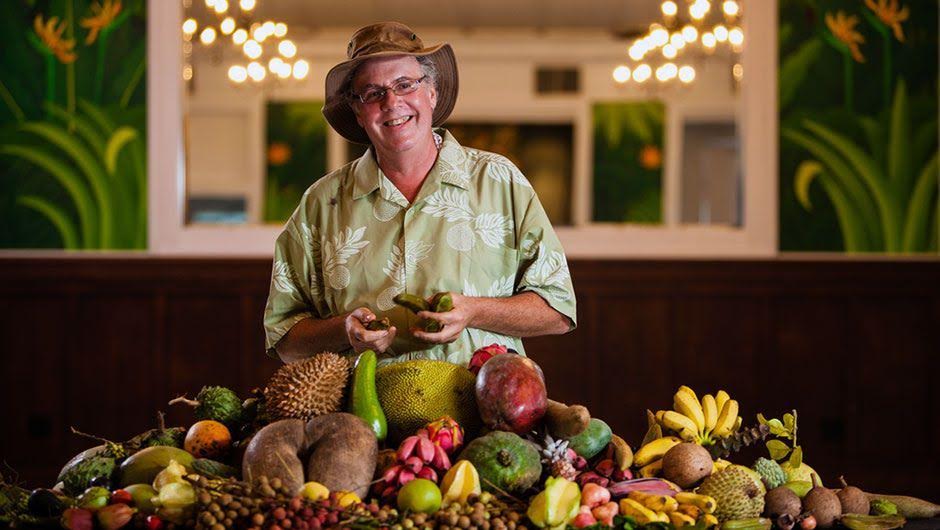 Hawaii Tropical Fruit Growers Association, Executive Director
Taken from Hana Hou 8/15 article: https://hanahou.com/18.4/the-orchard-of-love
Can you start a revolution with a bilimbi? A cherimoya? An abiu? You can and the revolution is already underway – ultra-exotic tropical fruits such as these have been quietly changing the face of Hawai`i farming and food for the past couple of decades. Leading the way is a charismatic fruit hunter named Ken Love – a visionary with a photographic memory and a titanium knee.
Ken Love, the executive director of Hawaii Tropical Fruit Growers. Ken and his wife Margi began living in Hawai'i part-time in the '80s, first drawn by the prospect of growing coffee. Today they live full time in a two-story house hugging a sun-drenched lava rock hillside in Kealakekua, a part of the world with relaxed, creative energy.

Fruit freak: Ken Love, seen above in his greenhouse in Kealakekua, first fell in love with exotic fruits as a boy in Chicago; ever since he arrived in Hawai'i three decades ago, he has promoted the wonders of exotic fruits — and in the process changed fruit farming in the Islands.
"The unique thing about Kona is that there are a lot of us '60s refugees here who really want to make a difference," says Love, "and we all work in different ways to do so." Margi's just returned from the local farmers market, where she sells the couple's fruits, homemade jams and gluten-free bread; she's wearing a red T-shirt emblazoned with the words "Still in love after all
these years." "Notice she doesn't say with who," jokes Ken.

Margi also sells Ken's famous fruit posters at the market, posters that can be found pinned to walls all over the Islands. Each is a highly detailed work of art devoted to the multitudinous varieties of a single fruit, be it the grape, banana, fig, mango or avocado. While Margi was at the market, Love was working next door with the fruits themselves in his new orchard. This morning he planted durian, mangosteen, kaffir lime, two varieties of mango, Australian finger lime and jackfruit as well as a few much rarer trees: kasturi, a relative of the mango; hindisii, a tiny kumquat good for flavoring oils; and kokum, a sweet, tart mangosteen that can be found only in India—and on Love's farm.

In from the orchard Love—dressed in floral shirt and floppy hat—plonks down in his office in front of a computer that keeps pinging to announce the arrival of new emails. The office is jam-packed: There are photographs of friends, souvenirs from travels and hundreds of books: Brazilian Trees, Japanese for Busy People, Explore Wild Australia with Bush Tucker, Malaysian Fruits in Color, Abu Dhabi: Live, Work, Explore. Scattered about the room there's also a stack of Murakami novels, a glossy calendar of sumo wrestlers, a box full of exotic spices Love is considering cultivating, a fluffy toy shaped like an orange, '60s comics, sci-fi novels, and stacks of magazines Love writes for. He thumbs through one of them, an issue of India's Civil Society magazine until he finds his article, which is titled "Insights: Unusual Fruits for India." This piece is accompanied by color photos of the abiu, a yellow orb that tastes like sweet vanilla pudding…. Read Full Story: LINK
IG: #kenlovekona
FB: @kenlovekona
Website: hawaiitropicalfruitgrowers.org
Topic: HFUU Community Music & Speaker #7 – A LOVE FEST: Mike Love & Ken Love
Time: Sep 2, 2020 06:30 PM Hawaii