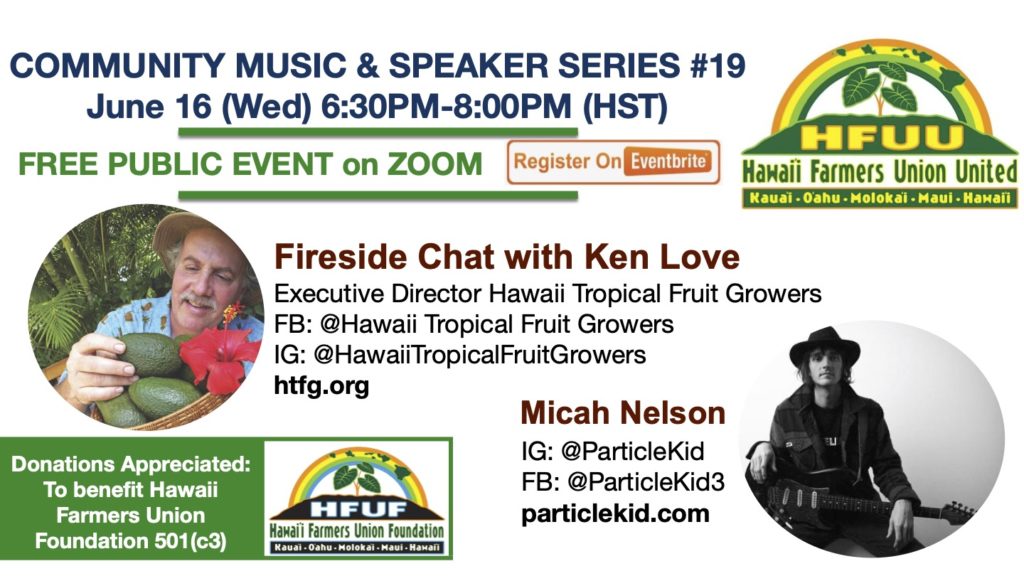 HFUU Community Music & Speaker Series #19: Ken Love with Music by Micah Nelson
Ken Love first fell in love with exotic fruits growing up in Chicago. Ever since he arrived in Hawai'i thirty years ago, he has become enthralled with the wonders of exotic fruits and made it his goal for tropical fruit to be more accessible to everyone. Ken regularly works in Hawai'i and abroad, planting gardens, supporting farmers and talking to large groups in workshops with titles like "The A-Z of Bizarre Tropical Fruits"
Singer-songwriter, multi-instrumentalist, visual artist, and activist Micah Nelson has a remarkable output that spans the creative spectrum unlike few others. The Los-Angeles based visionary has released five albums as Particle Kid, including his March 2020 live concert recording, Live! Underground.
His fourth Particle Kid studio album, Window Rock (OAR), was released July 2019 and contains nine original songs. His previous albums – self-titled debut Particle Kid, Everything Is Bullshit, Particle War – are just part of the catalog of work Nelson has amassed with other artists and musicians. He is featured on his dad's (Willie Nelson) latest studio album Ride Me Back Home. He is an active member of his brother's band, Lukas Nelson & Promise of the Real, as well as part of Neil Young's band, touring and recording with Young as well as part of his full-length film Paradox. On tour year round, Particle Kid has headlined shows around the world. He has opened for Sheryl Crow, and provided support on tour for The Flaming Lips, Tinariwen, Margo Price, and The Meat Puppets. Nelson has been part of the line up for Luck Reunion, UTOPiAfest, and the Outlaw Music Festival. Many of his music videos also feature his work as a visual artists in painting and animation.
As an activist, Nelson has served on the National Hemp Association's Board of Directors, participates in Farm Aid events and their annual music festival, and combined the missions of both organizations by spearheaded a Change.org petition championing the Industrial Hemp Farming Act which became law in December 2018. Rolling Stone magazine hailed Micah as one of their "New Classics" – "The creative visionaries celebrated here come from the worlds of music, acting, comedy, sports and more. …they share a refusal to be contained by the rules of the past as they define the territory of the future." Nelson is currently working on several projects, including a new Particle Kid album and music videos, as well as working with Young on an animated short film adaptation of Neil's 1982 dystopian sci-fi concept album, TRANS. When he isn't on tour or in the studio, Nelson is working to apply regenerative farming practices to both his family's LUCK Ranch outside of Austin, TX and his own backyard hemp and vegetable farm in Los Angeles, CA, to build future community food resilience while helping to mitigate climate change.