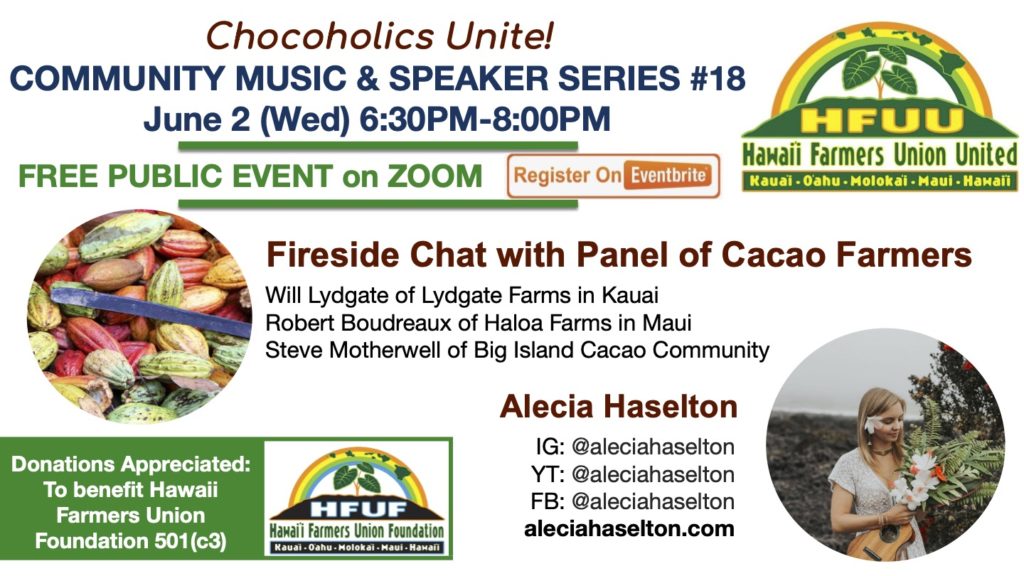 HFUU Community Music & Speaker Series #18: Cacao Farmers Panel with Music by Alecia Haselton
Music & Speaker Series Event #18: Cacao Panel with Will Lydgate of Lydgate Farms, Robert Boudreaux of Haloa Farms & Steve Motherwell of Big Island Cacao Community. Music by Alecia Haselton. Presented by Hawai'i Farmers Union United. Will Lydgate co-owns Lydgate farms with Emily Lydgate, the great-great-grandchildren of William Ludgate who arrived in Hawaii in the 1860s. The farm began to produce chocolate, vanilla, and honey in the late 1800s and conduct some of the first farm tours in Hawaii. Now Lydgate farms is known as Kauai's premiere chocolate farm and is known for their fantastic tours and chocolate tastings.
Founder and President of Big Island Cacao Community, cacao farmer Steve Motherwell works in the spirit of aloha to connect, grow and share Big Island cacao brands and products with global markets, making them quick and easy to find. Steve is working to transform a 6-acre homestead into his ohana's home and a productive cacao farm. Active in the emerging Big Island cacao industry, Steve has contributed to the creation, development, and management of three Big Island cacao organizations and two local cacao festivals. He also passionately serves as Vice President of HFUU Puna Chapter.
Robert Boudreaux is Owner of Haloa Farms in Hana, Maui, with a primary crop of cacao and 15 varieties of tropical fruit trees. He grew up on a farm in California's Sonoma County, and learned regenerative agricultural practices from his grandfather. He purchased land in Hawaii in 2000, and his product line of Hana grown and processed chocolate debuted in 2018. He also proudly serves as President of Hana's HFUU Chapter.
Alecia Haselton is a vegan alternative folk musician with a unique voice living on Hawai'i Island. She performs beautiful originals and unique covers on ukulele and guitar. Check out her new EP 'Rebirth' out on Spotify, iTunes & Soundcloud and at the Kohala Farmers Market.