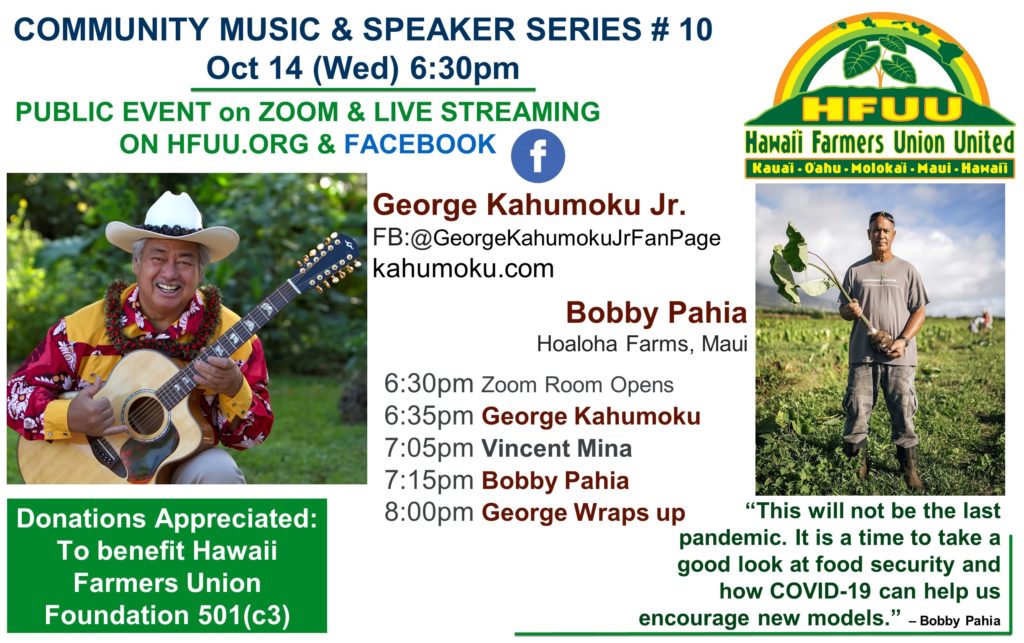 HFUU Community Music & Speaker Series #10: Grammy award winning George Kahumoku Jr. & Bobby Pahia
Aloha HFUU Ohana,
We are excited to have Grammy & Na Hoku Hanohano award-winning artist George Kahumoku Jr. and Maui farmer Bobby Pahia (Hoaloha Farm) join us for this week's Music & Speaker evening. This is a public event, please feel free to invite your friends and family.
Wednesday, 10/14: Agenda: 6:30PM – Zoom Room Opens
6:35PM – George Kahumoku Jr. Music
7:05PM – Vincent Mina, HFUU / HFUF President
7:15PM – Bobby Pahia Presentation
8:00PM – George Wraps Up
George Kahumoku Jr.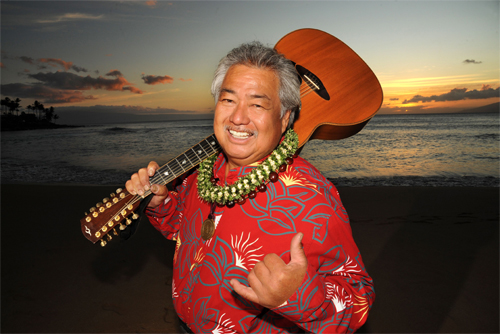 George Kahumoku Jr. is a multiple Grammy Award & Na Hoku Hanohano Award-winning master slack key guitarist, songwriter, world-traveling performer, high school teacher, artist and sculptor, story-teller and writer, farmer and entrepreneur.
In February of 2006, George, fellow artist and producer, Daniel Ho and others were thrilled to receive the 48th Grammy Award for Best Hawaiian Album for their compilation recording, Masters of Hawaiian Slack Key Guitar, Vol. 1: Live in Concert from Maui. But George's Grammy fame doesn't stop there: The sequels to this recording, Legends of Hawaiian Slack Key Guitar: Live from Maui won the 49th Grammy and then in 2008, Treasures of Hawaiian Slack Key Guitar won the 50th Grammy Award. Two years later, Masters of Hawaiian Slack Key Guitar, Vol. 2: Live in Concert from Maui won again. All four recordings are compilations from George's weekly Slack Key Show: Masters of Hawaiian Music located at the beautiful Napili Kai Beach Resort on Maui, (www.slackkeyshow.com). George is the musical host to a different Hawaiian music artist each week. Started in 2003, his show is the first long-running weekly concert series featuring the great slack key and Hawaiian musicians of today.
George is currently living on Maui with his wife, Nancy, at a beautiful upland farm on the pristine north side of the West Maui Mountains. He recently retired from 40 years of teaching at risk kids, art, ceramics, guitar & ukulele at private and public schools over the years including the historic Lahainaluna High School and directing the inception of the Institute of Hawaiian Music at UH Maui College.
Farming being in his blood, George now spends much of his time maintaining his 3-acre farm growing fruit and vegetables, dry-land taro (for his famous home-made poi) and tending his sheep, chickens, and miniature horses. True to his Hawaiian heritage, wherever he goes George always brings bundles of fresh produce to share with friends and students. Every summer in June, George Kahumoku Jr.'s Annual Maui Slack Key Guitar and Ukulele Workshop takes place featuring George and other stellar musicians and instructors such as Led Kaapana, Jeff Peterson, and Herb Ohta Jr. This workshop is one of the great musical experiences in the Islands today, and the result of George's belief in sharing, celebrating and perpetuating the unique musical genre of Hawaiian Slack Key Guitar. (www.kahumoku.com/workshops.htm ) (from artist website)
Bobby Pahia: Hoaloha Farms, Waikapu, Maui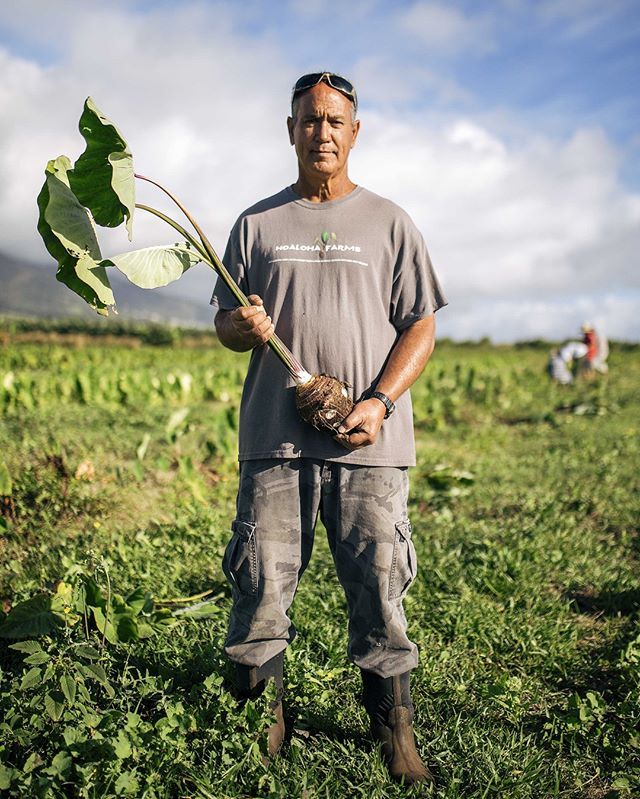 Bobby Pahia has 34 years of farming experience: from the University College of Tropical Agriculture & Human Resources to managing 310-acre Hoaloha Farms in Waikapu. Hoaloha Farms produces dozens of kalo varietals, a myriad of crops, pigs, and supplies to establishments such as Star Noodle, Leoda's Pie Shop, and Old Lahaina Lu'au. Bobby has become a profound mentor for farmers and others all across Hawai'i. We were able to catch up with Bobby in May 2020.
"The goal of our farm is to feed a nation." 
What changes have you made in your business/lifestyle/platform to adapt to our current situation?
It was interesting. Prior to COVID my market was mostly servicing the hospitality industry. I just never had the capacity to fulfill the need out in the community. So when this happened, I pivoted away from the hospitality industry, and now I can adjust to the needs of all the people here. I'm kind of happy about that. I'm really fortunate, because there always seems to be a shortage of the crops I grow. I don't have trouble getting rid of my Hawaiian taro, because the need was always there. I just didn't have the capacity to address both the hospitality and all the needs of the community.
I lost some of the labor, but I'm creating a new model here. I just put together something with my former laborers, because those guys are on the front lines. They are the real hammers that do the day-to-day work. They know the whole operation. Due to COVID, I don't have the finances to pay out unemployment, so we created a sharecropping model. I'll be providing the land, the water and the finances up front so we get some crops in the ground. Then we can move forward, the guys can continue work and when we harvest, everyone gets a share of those profits. It was a big decision for them to make, but we came to an agreement. That's what I'm going to be doing moving forward. Starting tomorrow we will be working as a collective.
"We're finding that the food exists but the distribution is broken." What food system vulnerabilities have been exposed in this crisis?
We're finding that the food exists, but the distribution is broken. For example, the hogs and other crops that were being grown for the lu'au: that's about one hog per day, 400 hogs every year that are no longer being purchased. We had to pivot to a whole different ball game. So now we are cutting up our hogs into a quarter, half, three quarter. Then we needed to find a butcher who could butcher the certified hogs and get [the meat] out to the community. The Millhouse was cutting up and selling pork in boxes. So now we are having to take a different approach. But you know, we're just trying different solutions. All the restaurants are closed. Everybody's closed. So who is your customer? Who is the consumer?
The bottleneck right now is trying to find a butcher that wants to work with us so we can make cuts that are more affordable for the common family.
(Taken from feedinghawaii.org interview, to read the full article LINK, Photographer: Cadencia Photography)
Time: Oct 14, 2020 06:30 PM Hawaii
Join Zoom Meeting
https://us02web.zoom.us/j/4506916693
Meeting ID: 450 691 6693
One tap mobile
+16699006833,,4506916693# US (San Jose)
+12532158782,,4506916693# US (Tacoma)