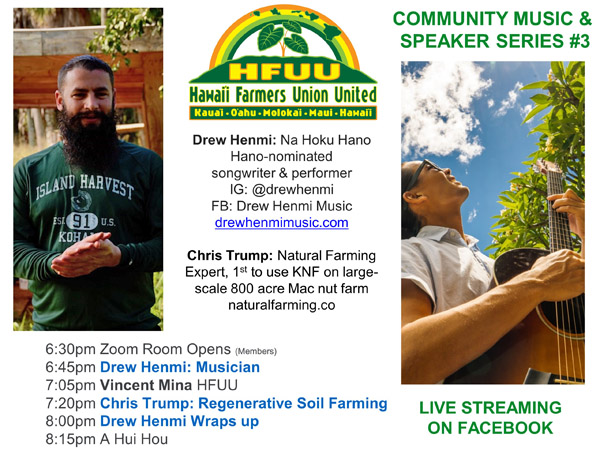 HFUU Together: #3 Chris Trump Korean Natural Farming, Drew Henmi performing
HFUU announces our next Community Music & Speaker Series with Na Hoku Hano Hano-nominated songwriter & performer Drew Henmi and world-renowned natural farming expert Chris Trump.
6:30pm: Zoom Room Opens (Members)
6:45pm: Drew Henmi: Musician
7:05pm: Vincent Mina HFUU
7:20pm: Chris Trump: Regenerative Soil Farming
8:00pm: Drew Henmi Wraps up
8:15pm: A Hui Hou
Drew Henmi: Na Hoku Hano Hano-nominated songwriter and performer
IG: @drewhenmi
FB: Drew Henmi Music
"Finding My Way" EP Nominated for a 2019 NA HOKU HANO HANO Award- "EP OF THE YEAR" Drew's debut release, "Finding My Way EP" was announced as a nominee in the "EP of the Year" category for the 2019 Na Hoku Hano Hano Awards. Listen to the EP at the link. Drew's the new single by was released on all digital platforms on June 26. The song will be repped by licensing powerhouse Catch the Moon Music.

Originally from the San Francisco Bay Area, Drew Henmi is a multi-instrumentalist singer-songwriter now based out of Honolulu, HI. His style blends elements of indie, pop, soul and rock. Henmi has performed on stages from the San Francisco Bay Area and Japan to Hawaii.
Chris Trump is a world-renown Korean Natural Farmer (KNF) and the first to use KNF on a large-scale farm.
Chris Trump grew up farming a variety of different crops and livestock using conventional and organic farming methods. In 1988, his family took over a 800-acre macadamia nut farm in Hawaii and they are still farming it today. One of the biggest obstacles in their macadamia nut farm was the cost of importing herbicides, pesticides, and fertilizers all the way to Hawaii. This sparked Chris Trump's search for a solution that not only would be cost-effective but would increase production and profits so they could continue to pay their employees a living wage. In 2005, the Trump farm had an infestation of green stink bug that led to an 80% crop failure. The Trumps were desperate for a solution to save their family farm and recoup their losses. They had to sell all of their farm equipment, they were going to lose their house as collateral and had to lay off all of their employees.
Then Chris heard about a Korean Natural Farming seminar held in Hawaii, so he went. The Korean Natural Farming (KNF) techniques were completely opposite to conventional methods. The KNF premise seemed radical, but Chris had noticed from observing nature that it just might work. Chris started on his journey in Korean Natural Farming. Chris experimented using KNF inputs and solutions on a small portion of the diseased trees in his families orchard. The results were astounding. The trees could not be revived by any conventional or organic method, but they not only revived but thrived with KNF.
Korean Natural Farming has enabled the Trump macadamia nut farm to become certified organic, for about half the price of traditional organic inputs. Chris Trump is passionate about sharing how Korean Natural Farming has transformed his farm and how it is a game-changer for producing crops that are incredibly nutrient-dense and sustainable.