2021 HFUU Annual Convention
December 9-12, 2021
VIRTUAL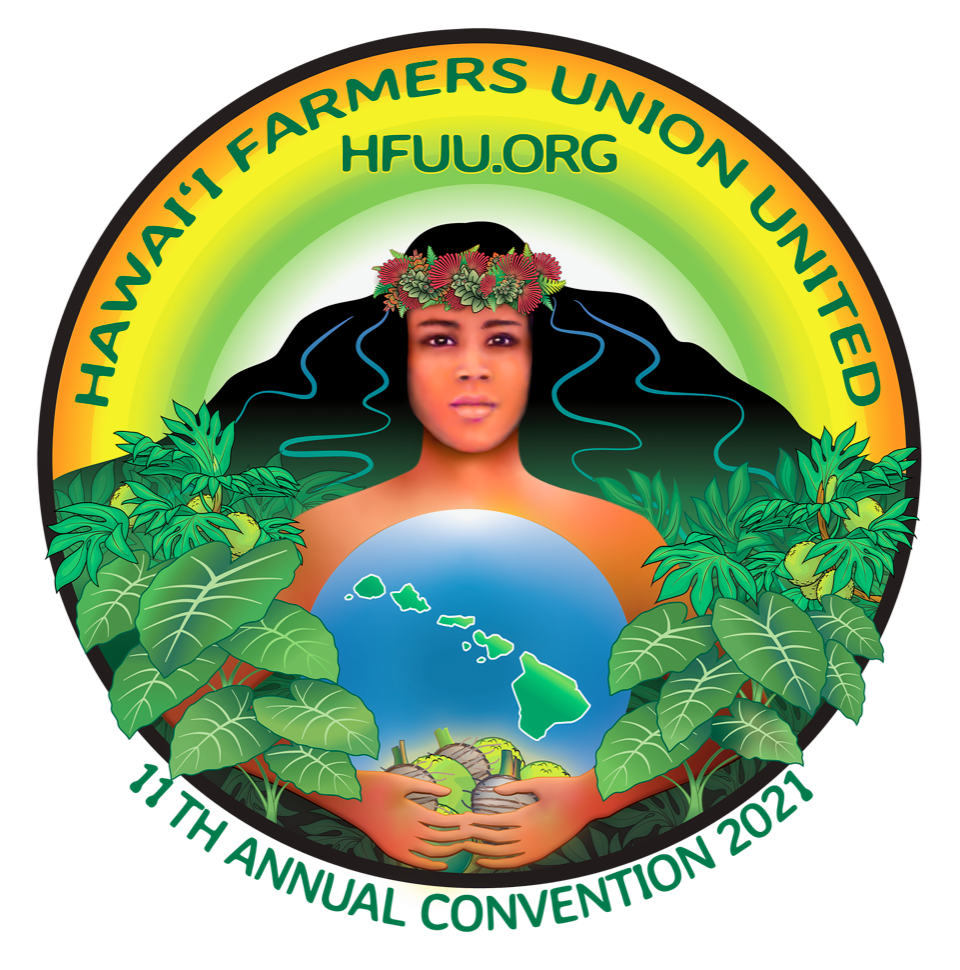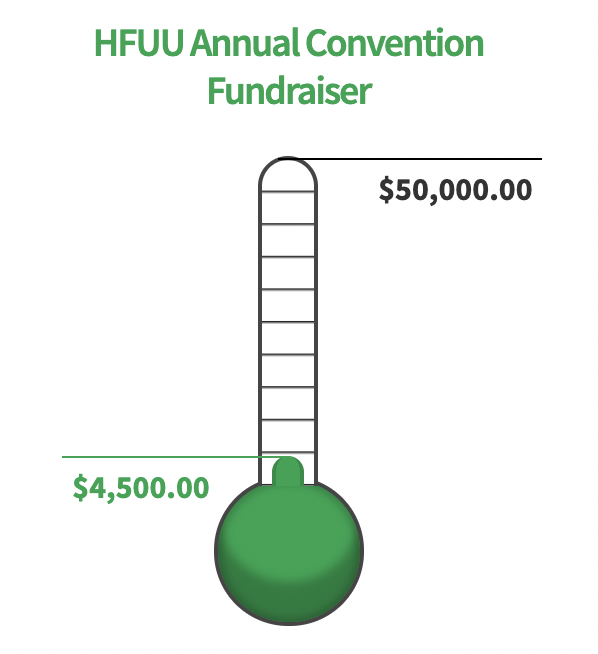 A Message from the HFUU President:
Our executive board has decided to not charge a fee for our convention this year, making it a donation only event. We want to outreach all of this valued information and training to as many as possible.
With that said our annual convention has historically been our main fundraiser for the operations of our organization throughout the year. What we will do is place donate buttons throughout the convention time and would encourage all that have the wherewithal to donate to do so as generously as you can.
As farmers and leaders we value and appreciate our ability to bring these presentations and programs to our community, and look forward when we can all meet physically once again. Mahalo Nui for your continued support of our efforts.
Be well. Stay positive and test negative.
Aloha, Vincent Mina | President HFUU/HFUF
JOIN US for our pre-convention hemp & mushroom panels and soil health presentations!
Weekly throughout the month of November at 6pm HST, join us on Zoom by clicking on the link below. We have an abundance of incredible and inspirational speakers joining us on these important topics. See you there!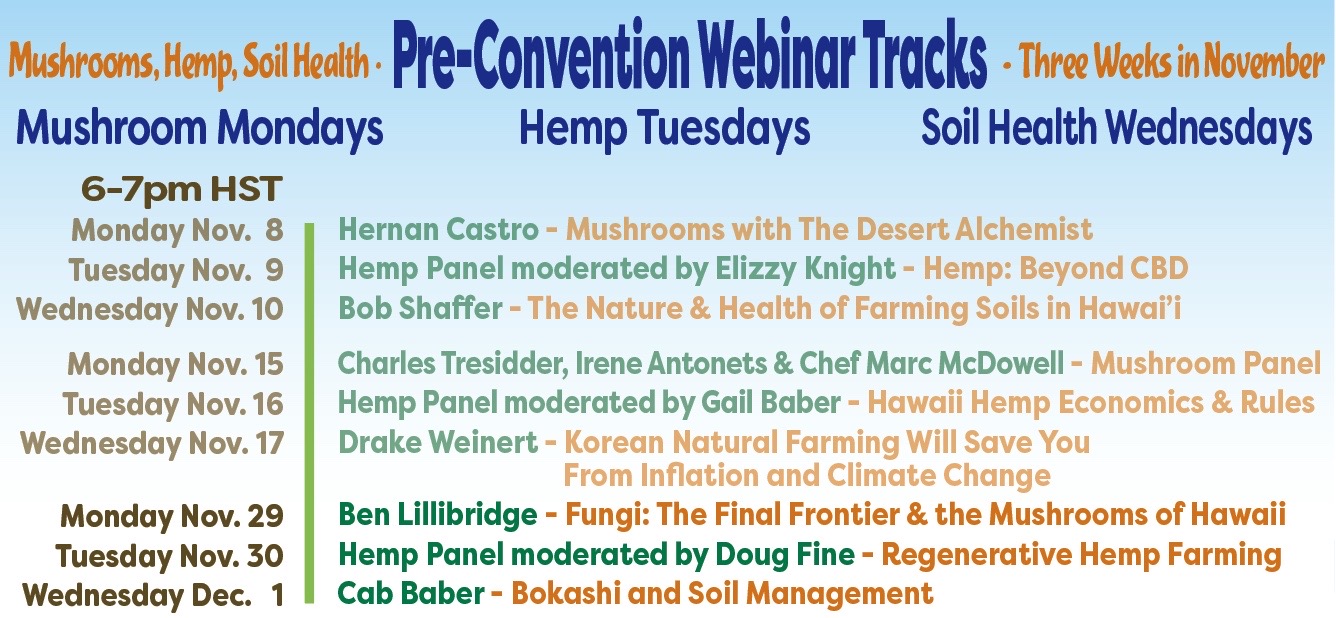 2022 Oahu Mini-Convention
Waianae, Oahu | Friday January 7th
*Date & schedule subject to change. 
MAHALO NUI to our sponsors!
2020 HFUU Annual Convention
Still Available for Purchase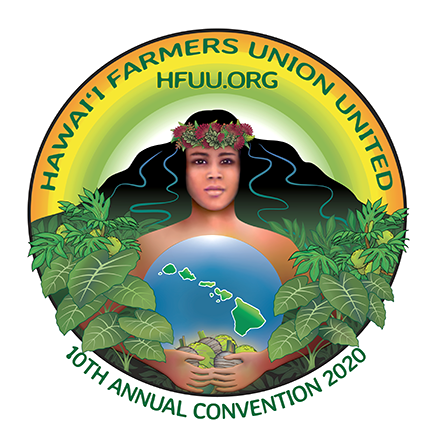 Click the 2020 HFUU Convention Members Business Meeting and Election Minutes ~ Draft link below to view and download a pdf.
HFUU Music & Speaker Series
The Hawaii Farmers Union United has been putting together some of the best musical artists and expert speakers in a variety of agricultural related talks.
Aloha and welcome to the official web portal for Hawai'i Farmers Union United (HFUU) now representing 13 regional chapters. HFUU (est. 2010) is the fastest growing state chapter within the National Farmers Union (est. 1902). Meet our Leadership, review our bylaws, policies, or Contact Us.
Under the Member menu discover our generous member benefits, join or renew your membership.
Use the pulldown under chapters to learn more Hawai'i's unique agricultural regions and see if there is a chapter in your area.
Add our Events to your calendar and register for upcoming workshops and educational opportunities.
You can find press releases along with HFUU presidents and committee reports on our blog. To control your profile and preferences and subscribe to newsletters create an account, Login.
Creating a local food movement for now and future generations requires participation as a producer and consumer in making Hawai'i food secure and self sustaining. If you value our mission, tax deductible donations are accepted through the HFU Foundation. Mahalo nui loa.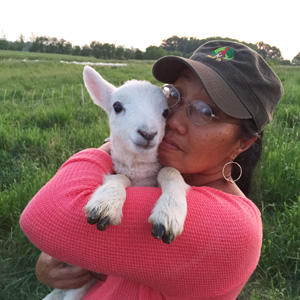 Cooperation
HFUU represents and advocates for family farmers and ranchers on all of the Hawaiian Islands. Our members represent: Farm Owners/Operators, Foodies, Ranchers, Gardeners, Perma-culturalists, Cultural practitioners, Landscapers, and Suppliers & Businesses that are part of the local food chain.
Education
HFUU and NFU (National Farmers Union) membership offers educational opportunities for youth and adults at local, state and national levels; an On-Farm Mentoring (FAM) Program in Hawaii, Internship Program in Washington, D.C., and many others.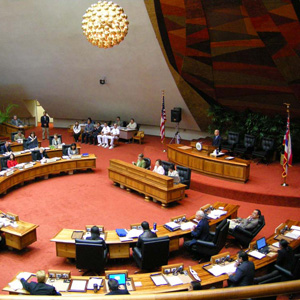 Legislation
The HFUU Legislative Committee participates collaboratively with the Policy Committee, coalitions, organizations, and agencies to articulate, promote and work to establish legislation and policies that align with the mission and vision of HFUU.
Blog: Union Statewide News and Updates
Job Opening – Farm Apprentice Mentoring (FAM) Program Hawaii Farmers Union United  Assistant Program Director FAM Assistant Program Director would have experience as a farmer on Maui, and have excellent writing and communication skills, extensive computer and social media skills, strong knowledge of the Hawaii Farmers Union and how to connect FAM program apprentices with…