Standing Strong with Maui: HFUU's Commitment to Maui's Recovery
The Hawaiʻi Farmers Union United (HFUU) encourages all food producers impacted by fire, severe winds, and loss of markets due to the 2023 Maui fire and disaster to complete the Maui Producer Impact & Support Survey. This survey will help HFUU and partners identify potential federal and private funding resources and provide direct support specific to your needs to aid in recovery.
This survey will take 5-10 minutes to complete. Please share this survey with all impacted food producers you know.
Questions? Contact Hunter Heaivilin, HFUU Advocacy Director: (808) 391-8687 or mauiresponse@hfuu.org. To complete the survey via phone, please contact Amanda Shaw, Oʻahu Agriculture and Conservation Association: (808) 429-5310.
Note to producers: This survey is for all impacted producers, whether or not you are an HFUU member. Our team will be in contact with you within a week, once you complete the survey. As soon as it is safe to do so, please document and take clear photos of any damage.
Hawaiʻi Farmers Union United stands with our Maui Ohana. Wildfires and hurricane-strength winds have devastated Maui. We grieve the loss of lives, the devastation of our communities, and the irreplaceable cultural and historical artifacts that have been lost. These events underscore the preciousness of life and the significance of unity and the aloha spirit during challenging times.
In the wake of this disaster, HFUU has been collaborating with community groups and organizations to provide immediate relief. As of August 15th, with the invaluable support of Common Ground Collective and dedicated community volunteers, HFUU ensured the delivery of over 5000 lbs. of fresh produce to families around Lāhainā.
Our State Chapter President, Kaipo Kekona has established a resource distribution point in Napili. His unwavering commitment to the Lāhainā community has been pivotal during these trying times. Our Maui Response Fund has been established to support our immediate emergency relief, market restoration, mental health support, and land access initiatives.
Maui's resilience is unwavering, but the need for support is paramount. Please donate here to help us support our Maui ʻOhana.
Mahalo for standing with us. Together, we shall persevere.
Hawaiʻi Farmers Union United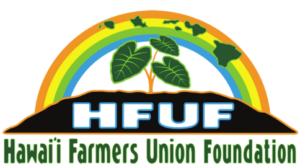 Support Maui's farmers as we rebuild after the devastating wildfires. Donate to drive our immediate initiatives: emergency relief, market restoration, mental health support, and land connections.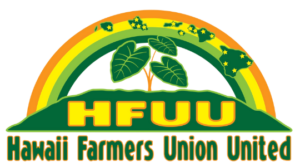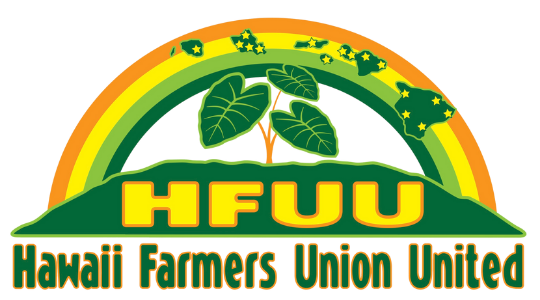 Our mission is to advocate for the sovereign right of farmers, ranchers, and fishers to create and sustain vibrant and prosperous agricultural communities for the benefit of all Hawai'i through cooperation, education and legislation.
The Hawaiʻi Farmers Union United (HFUU.org) is excited to announce the launch of the USDA Transition to Organic Partnership Program (TOPP) in Hawaiʻi. The HFUU, along with other Hawaii collaborating organizations including the University of Hawaiʻi, is partnering with California Certified Organic Farmers (CCOF) to help Hawaiʻi farmers who are interested in exploring transitioning to a certified organic farming operation!
Are you interested in exploring how to transition to organic farming? As a farmer considering beginning the journey of transitioning to certified organic, it can be a daunting undertaking. The goal of this program is to help make the transition as smooth as possible by providing resources and easy to follow steps to becoming certified organic, one-on-one mentoring and guidance of the certification process, and assistance in sourcing and switching to approved farm inputs. Our program will start-off on the islands of Oʻahu and Kauaʻi and will begin outreach to the other islands as well. As the program gains momentum, we will be adding participants from all islands to the program! If you are interested please contact Christian Zuckerman, Project Coordinator at OrganicTransitions@hfuu.org.
Are you interested in being a mentor for farmers interested in organic farming? We are not only looking for farm partners for this program but also individuals who wish to become a mentor. Mentors should have three-years of experience operating a certified organic farm and have a passion for expanding organic farming in Hawaiʻi. Mentors will be working closely with the farm participants and HFUU to support them in the transition to organic.
We respect that farming is difficult work no matter what your management practices are, and we will work to meet farmers where they are to assuage their fears and get them the necessary tools, resources, and markets to succeed in the transition.
Can't wait for your island to be eligible? Are you ready to start the transition now? Feel free to reach out and we can see if we can work with you!
Beginning Agriculture Workshop Series
Hawaiʻi Farmers Union United is thrilled to collaborate with the University of Hawaiʻi Hilo and the Marine and Environmental Research Institute of the Pacific to bring you a series of workshops this summer. The free workshop series will cover a range of topics including Soil Fertility, Agroforestry, Vermiculture & Composting, Aquaculture & Production, and Water Rights. With support from the USDA Socially Disadvantaged Farmers and Ranchers Program, our goal is to make these workshops accessible to anyone interested in learning about these subjects.
Vermicomposting and Composting Workshop - Part II
Wednesday, August 9th - 6pm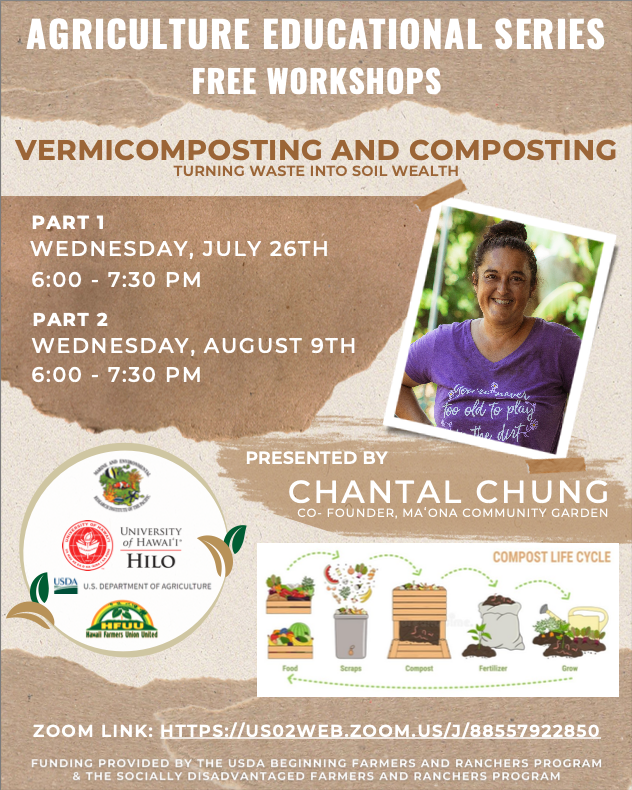 Learn about how to use various composting methods to turn waste into soil wealth.
"We want to give people permission to look around at their community and ask, 'How can we do better with what we have?' Because no one is more powerful than you and I."
ZOOM INFO: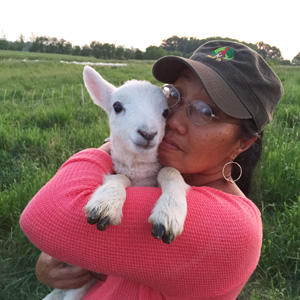 Cooperation
HFUU represents and advocates for family farmers and ranchers on all of the Hawaiian Islands. Our members represent: Farm Owners/Operators, Foodies, Ranchers, Gardeners, Perma-culturalists, Cultural practitioners, Landscapers, and Suppliers & Businesses that are part of the local food chain.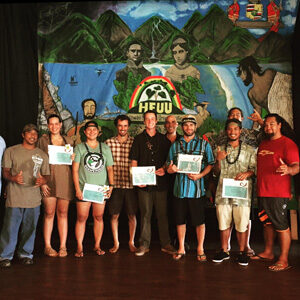 Education
HFUU and NFU (National Farmers Union) membership offers educational opportunities for youth and adults at local, state and national levels; an On-Farm Mentoring (FAM) Program in Hawaii, Internship Program in Washington, D.C., and many others.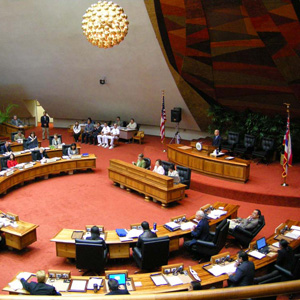 Legislation
The HFUU Legislative Committee participates collaboratively with the Policy Committee, coalitions, organizations, and agencies to articulate, promote and work to establish legislation and policies that align with the mission and vision of HFUU.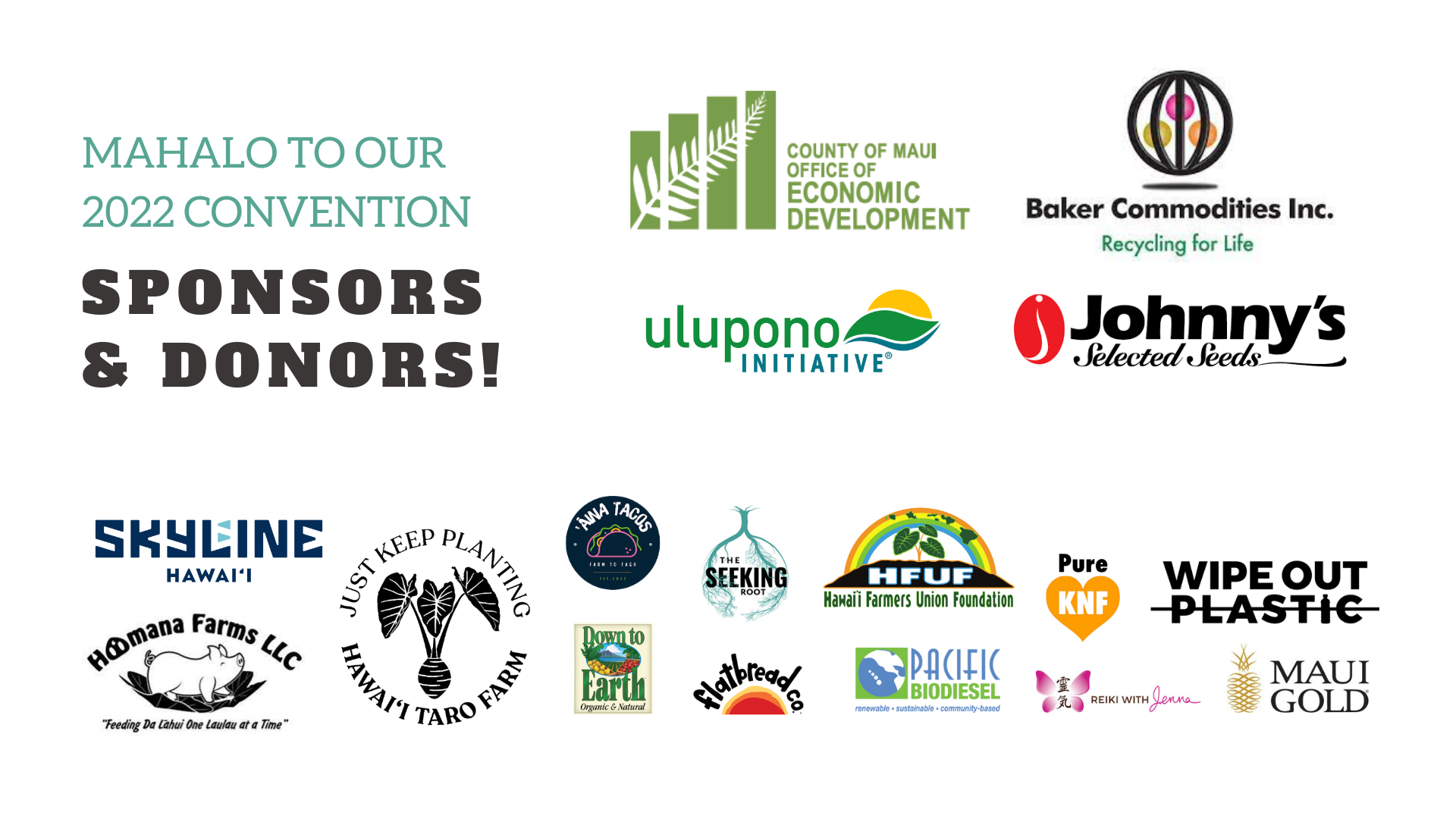 Blog: Union Statewide News and Updates
Follow us on social media to stay updated