Honolulu Chapter Meeting: Living Healthier and Longer
Jul 11, 2023 6:00PM—8:00PM
Location
KALIHI BEER: 740 Moowaa St. Honolulu, HI 96817
Cost $10 - Presentation or $40 - Presentation with Dinner + Drink
Event Contact HFUU Honolulu Chapter | Email
Categories Chapter Meeting, Workshop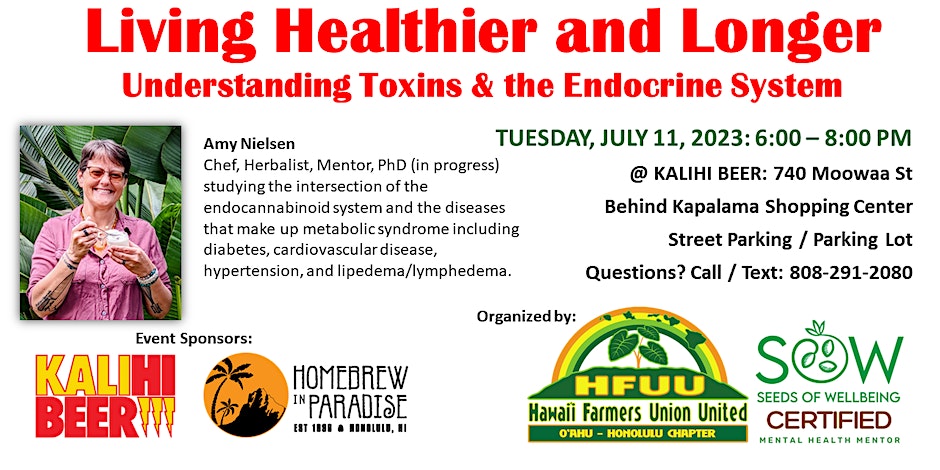 Join the Kalihi Homebrewers Club, and the Hawaiʻi Farmers Union Honolulu Chapter in an in-depth presentation and conversation around detoxifying your life, living healthier and longer.
The human body is designed to live in an environment where 80% is nontoxic while 20% is problematic. We have skin, gastric tract, lungs, liver, kidneys, and all sorts of redundant metabolic pathways that help identify, neutralize, and excrete these damaging compounds. Global rates of endocrine related diseases, seen as cardiovascular disease, diabetes, and increased adiposity – have risen following the increase in production and release of endocrine disruptors into the environment. Join us for a lively dinner presentation followed by Q&A.
Seating is Limited, dinner includes :
Choice of (1): Gourmet Sandwich or Southwest Chicken Chop Salad or Quesadilla and (1) Beverage of your choice. To see the menu please visit www.kalihibeer.com
About Amy R Nielsen INHC, Chef, Herbalist, PhD (in progress)
Amy has been working with clients for over 20 years managing complex health concerns using diet, herbs, and cannabis to support endocannabinoid system resilience. Their personalized lifestyle programs are designed to reach the root concern and develop a strategy for lasting health. Amy is an avid researcher using science-backed information coupled with clinical experience to formulate theories and guiding principles around an individual goal oriented approach. They enjoy parsing complex medical information in a way that helps people understand from the most basic level. Amy is a classically trained Chef and Herbalist pursuing their Doctoral degree studying the intersection of the endocannabinoid system and the diseases that make up metabolic syndrome including diabetes, cardiovascular disease/hypertension, and lipedema/lymphedema.