SUPPORT A FAM APPRENTICE!
In Hawai'i, we are proud to be the most isolated archipelago in the world. Our ancestors cultivated lush gardens that supported a population of 1 million people at its peak long before shipping containers were invented. But today much of that legacy is lost and in fact 90% of all food is imported!!!
One day the shipping containers will stop coming.
That's why support for growing more farmers is so urgent!
Hawai'i Farmers Union United supports the growth of a new generation of young farmers by pairing them with experienced Kupuna's and hands-on experience on existing commercial farms. We believe it takes a village of farmers to support a new farmer! In the last 4-years HFUU has operated the Farm Apprentice Mentoring (FAM) Program on Maui Island. Eventually, the program will be offered on all Hawaiian Islands. The cohort has grown from 7 apprentices and 2 mentors in the first year to 30 apprentices and 30 farm mentors - including 8 Native Hawaiians in 2018.
Matching funds allocated to the first $5,000 in tax deductible donations
Hawai'i Farmers Union United supports the State of Hawai'i's strategy of greater food security and agricultural self-sufficiency through increased local food production. Hawaii regional food production helps reconnect people to the 'āina— the source of the food they eat— and the people who grow it. Increased consumption of locally grown foods results in opportunities to employ more people in agriculture, the ability of farmers to capture a larger share of the retail market, and keeps consumer dollars circulating in each local economy. But all those benefits start with growing more farmers.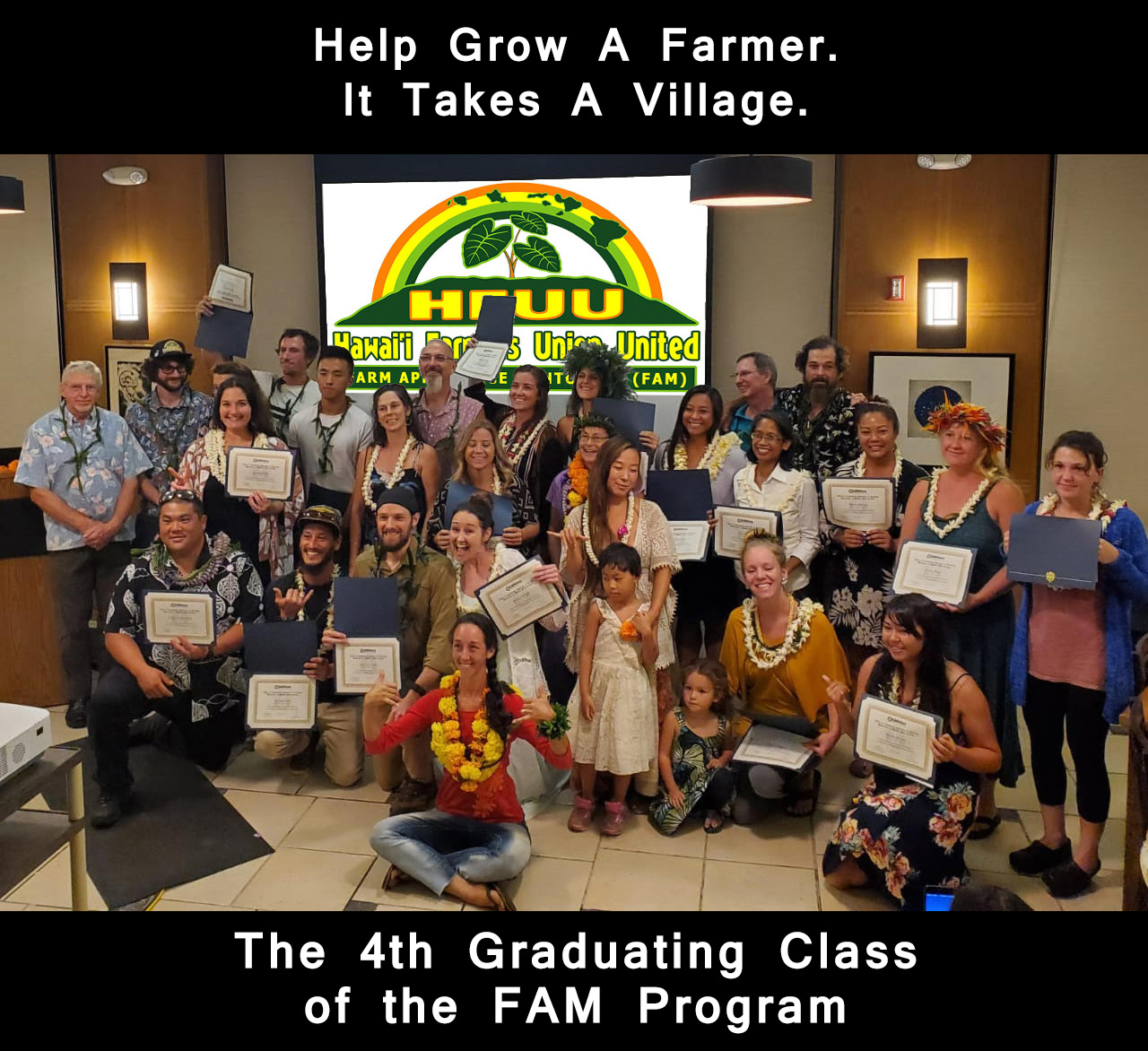 As a cohort (a FAMily), HFUU farmer apprentices learn from their instructors, their mentors and each other. They are gaining enough hands on experience to get them started on their own farms. With the closing of 37,000 acre sugar cane plantation in 2016, there is plenty of land to farm, but there are not enough new farmers to farm the land. In addition, the condition of the land that has been deteriorated from 145 years of industrial agriculture. Our apprentices are becoming the solution by establishing new farms through methods of regenerative agriculture that could nurture both the soil and the bodies of Hawaii's people.
HFUU's FAM program is different from others programs because of the opportunity to build relationships with an extensive network of small farmers. HFUU represents about 1,000 family farms and farmers. While almost 1,350 (90%) HFUU members grow food as a hobby or subsistence practice, approximately 60-70% members grow food on a property that they own or lease.
When FAM began four years ago. Maui County have funded the program in 2018/2019 for 20 apprentices, but 10 extra additional qualified applicants are on the wait list. They have gotten halfway through the program but we do not have stipends to support their farm immersion and specialization. We do not want to let them go. Please donate and help sponsor our 10 extra apprentice farmers.
Be part of our village of support, no matter how far away. We need to give these 10 extra committed farmer apprentice candidates the chance to realize their dream of becoming successful farmers on Maui. Mahalo for supporting our efforts in Hawaii to reach our goal to become more food self-sufficient and improve the health of our population and visitors with delicious healthy foods, while caring deeply for the aina.