Vision
Empower the next generation of farmers with the knowledge,
skills and abilities to be successful farmers here in Hawai'i.
Program History
The Farm Apprentice Mentoring (FAM) program was created in 2015 by the board and members of all 3 Maui chapters of the Hawaii Farmers Union United (HFUU).
The first year's participants consisted of 10 farm apprentices and 2 mentors. FAM was born to meet a clear need, the need for new farmers.
Early in 2016, The Maui County Office of Economic Development funded a 5-month FAM planning process. Hawaii Farmers Union United board members and staff, guided by evaluation data from administration, apprentices and mentors from the 1st year of the program, hatched a new FAM program that included a 10-module curriculum.
Using this design, the second cohort of FAM consisted of 15 apprentices and 10 mentors.  Fourteen Apprentices graduated Phase 1 in June 2017.
Program Structure
The Farm Apprentice Mentoring (FAM) program is a signature program of HFUU and HFUF, its Foundation, a 501 (c) 3.
FAM integrates Hawaiian cultural practices of sustainability and land management with a whole systems approach to agriculture.
FAM program modules are delivered by certified instructors from the UH Maui College Office of Continuing Education (OCET), and the Sustainable Living Institute of Maui (SLIM). Each of the classes are followed by an on-farm immersion as information learned in the classroom is applied on a working farm. Upon completion of Phase 1, apprentices who have satisfied levels of attendance and learner outcomes receive a Certificate of Professional Development from the UH-Maui College OCET.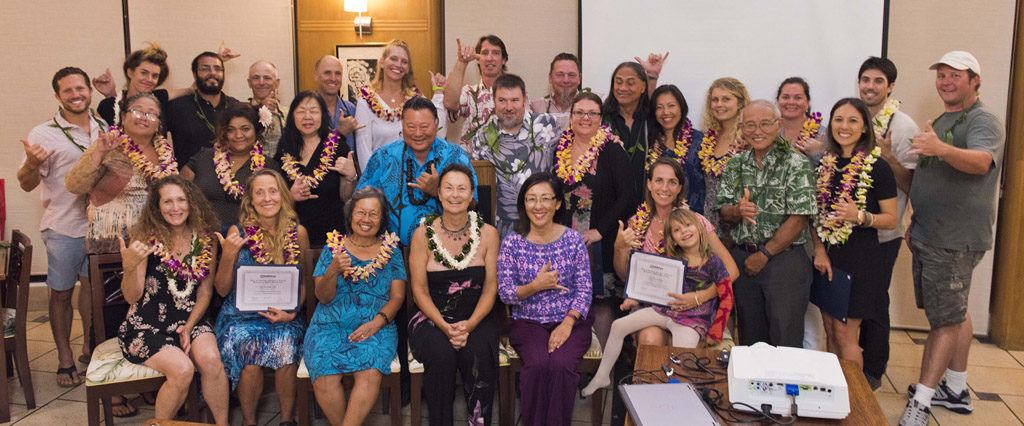 FAM Graduation Ceremony, 2018
PHASE 1: Through class work and on-farm immersion activities with experienced mentors, participants acquire and hone the skills and techniques of organic and regenerative agriculture.
There are 10 modules in Phase 1:
The Farmer – Program orientation: Introduction to HFUU Policy, personal commitments - goal setting – time lines for accomplishment
The Aina – Learning the power of raw land observation and techniques for applying it to a whole-systems farm plan, integrating the factors of the wind, sun, rain, and soil quality. Hawaiian principles and practices of sustainable land and resource management inform and are infused into overall farm planning process
The Water - Basic history and politics of water in Hawaii, understanding water sources and getting that water onto the farm land. Choosing irrigation and water storage systems planning and construction. Water treatment and disposal options to meet safety standards.
The Soil – Understanding soil, its make-up and microbiology, enhancing its quality and vitality, while minimizing erosion - how to take soil samples, and read soil analysis
Fertility – Using cultural regenerative and organic methods, what should be applied to your soil and crops to maximize nutritional uptake, reduce water use, and strengthen defenses against pests
Propagation – Choosing seeds and seed companies, starting your seeds in trays or in the ground - air layering, grafting, and cloning
Weeds – Identification, what to do about them, ways to minimize labor input
The Pests- Identifying pests and using Integrated Pest Management - (IPM) principles and methods which carefully take into account all available pest control techniques. Integration of appropriate measures that discourage the development of pest populations, eg. crop rotations and insectary hedges and minimization of chemical product use.
Harvest/Post Harvest – Time and methods of harvest, and techniques to maximize quantity of saleable product handling, sorting, cooling and packing procedures, and certifications.
The Business of Farming – As an introduction to Phase 2, learning basic principles of farming as a business; organizational structures, including cooperatives. Farm crop planning and bookkeeping, basic spreadsheets, identifying costs, cash flow projections and profit margins. Decisions are made whether to continue to Phase 2.
*Phase 1 and Phase 2 run consecutively and can be completed in either order
PHASE 2: Optional to Phase 1 apprentices and open to the public, Phase 2 offers an in-depth farm business planning course, product and value-added product retail and wholesale marketing classes, guidance in land acquisition and leasing, all to help beginning farmers launch into a commercial and/or subsistence operation.
The Cohort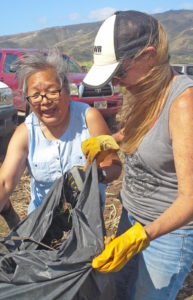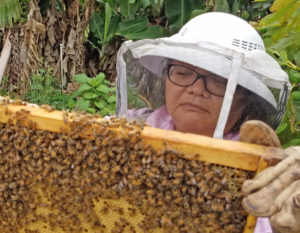 Within the realm of education, the Cohort system has proven itself to be effective for creating a mutual support system among peers. The FAM program utilizes this system, and it has proven to be a success. Apprentices exchange information, and they go to each others farms and pitch in. They share ideas about sales and marketing, and they share food, laughter, and knowledge together. They are in essence, a FAMily.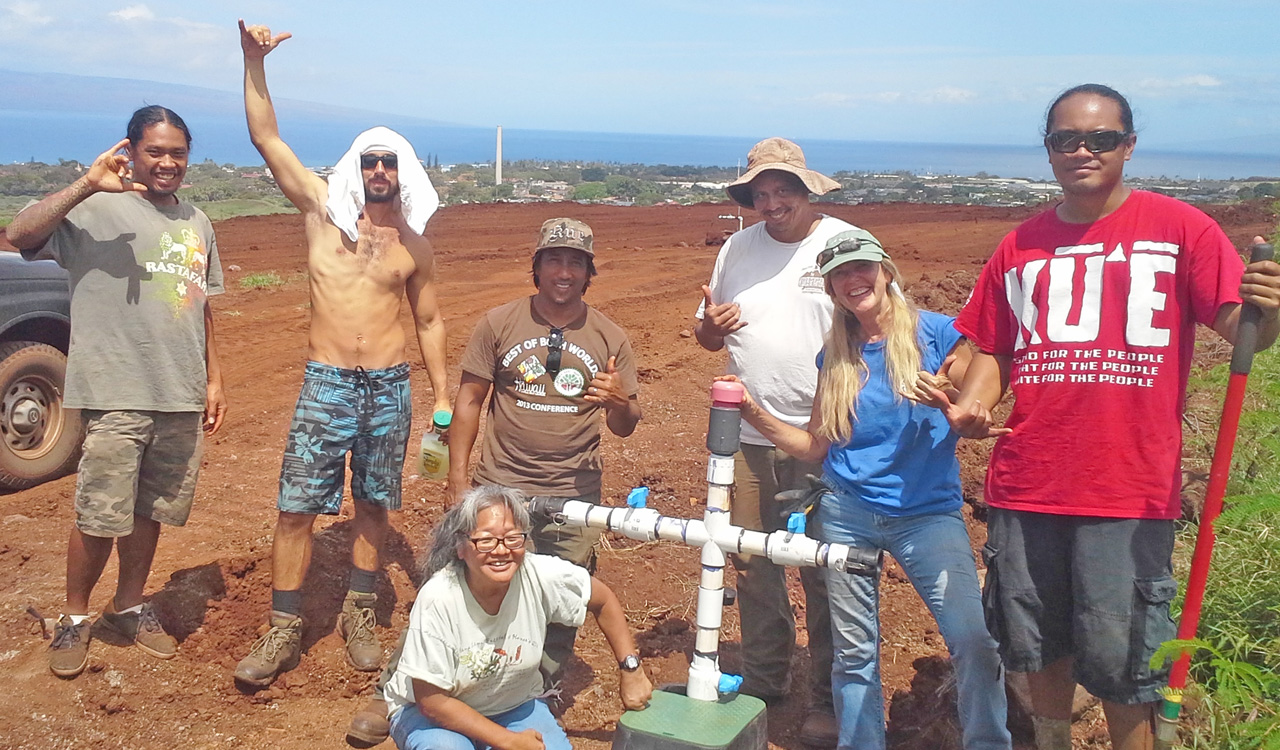 The Reason and Inspiration
On Thursday August 24, 2017, the Maui Farmers' Cooperative closed its doors after 74 years. The reason: aging membership, with younger generation having little to no interest in continuing "the family farm." The average age of farmers in Hawaii is over 60, and it is the same across the nation.
The vision began when, at Hawaii Farmers Union chapters monthly meetings, the board members would look around the room and see a passionate new generation interested in farming. Every month there are more new faces attracted to the values and efforts of HFUU. Because the HFUU policy is to educate on regenerative and organic farming methods, we are attracting a membership that wants to protect the planet.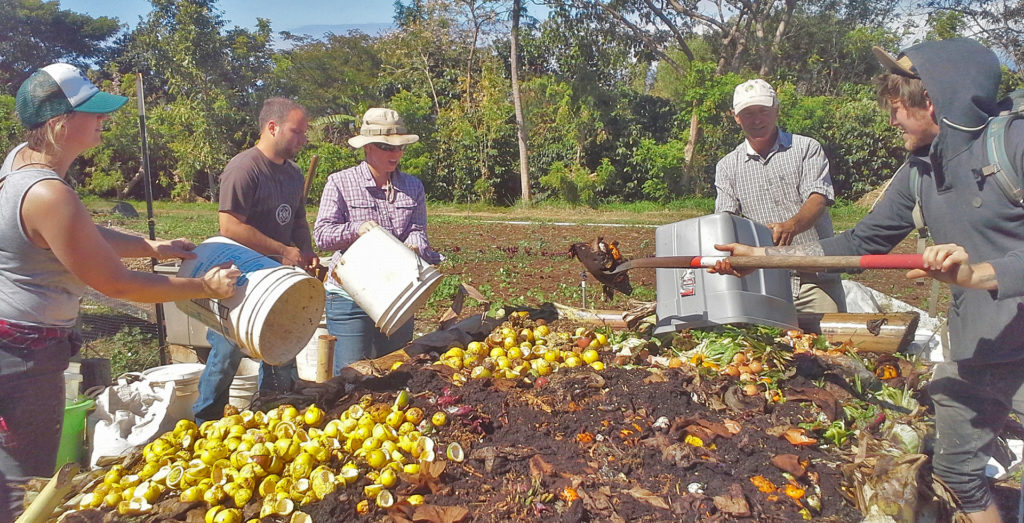 It is the perfect alignment of values. These folks want to grow food in healthy ways, and HFUU is focused on meeting the need for increasing the food self - sufficiency of our island state.
That is the context for the FAM program. There's a new generation of people that are interested in farming. And they are not the sons and daughters of farmers. They are the generation that has grown up wanting to protect the planet. And they can see that the way we grow our food integral to saving the planet. So, people who are attracted to farming these days, are idealistic. This isn't always a good thing when it comes to farming. The challenging reality of farming hits quick, but that doesn't mean that we should discourage the inspiration. We need to support it, and make it more possible. And the way that we make it more possible is through programs like FAM.
Administrative Contact & Biographies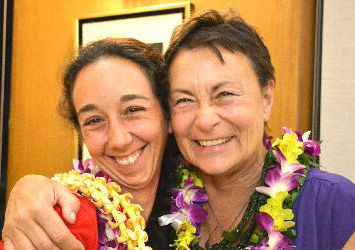 FAM Project Director Phyllis Robinson, Ed.D, Courageous Crossings - is the former President of the Haleakala Chapter of HFUU and serves on the state HFUU Education, Policy and Coop-building Committees. Former Chair of the Maui County Board of Water Supply (2007-2012), Dr. Robinson has a 30-year history as an organizational development consultant and an educational/curriculum specialist in her business called Courageous Crossings. Courageous Crossings has facilitated stakeholder and focus groups on Maui in a variety of community-wide initiatives related to sustainability. Robinson's doctorate is in International Adult Education and Training with a specialty in working with adults across cultures. From 2012-2014 she was a curriculum specialist and course coordinator at UH-Maui College under the Office of Continuing Education and Training (OCET) - C3T Grant (U.S. Department of Labor) where she helped coordinate certificate courses related to Sustainable Agriculture with economically disadvantaged populations. In 2012, she founded an Axis Deer Harvesting Cooperative on Maui Island and served on the County's Axis Deer Working Group. As Co-creator of the FAM program with fellow HFUU members, Phyllis has worked closely with the County of Maui, the University of Hawaii Maui College and a wide network of community organizations in bringing farmer education to the forefront of the agenda for the County and for the State of Hawaii. As FAM's Program Manager in 2016-17, she followed the progress of FAM's 1st and 2nd cohorts, listening to their issues, creating tools for reflection and evaluation of their learning goals, guiding their next steps and helping to create opportunities for their success.
FAM Assistant Program Director, Georgia Pinsky has her Bachelor's Degree in Communication from UH-Hilo and grew up on Maui and returned after college. For two years during college, she was active in student government serving as treasurer and Legislative Delegation Chair, representing the UH-Hilo student body at the state capital. She did office and grant management for the Hilo Downtown Improvement Association for 4 years. She is the owner/operator of It Takes a Village, helping Maui farmers and land owners to be more self-reliant on their land. She installs fences, gardens, catchment systems, outdoor showers, and sheds. She was the Office Manager of Maui Coconut Care Platform Palm Trimming and is currently a Resident Farmer living on Wailele Farm-Twin Falls.
Supporter/Funders
Many of these classes were provided in partnership with the UH Maui College Office of Continuing Education (OCET), and the Sustainable Living Institute of Maui. Without their support, this program is not possible.
This year, the FAM program was funded by the County of Maui, the Atherton Family Foundation, Lahania Sunrise Rotary Club, the Hawaii Workforce Development - Employment and Training Fund and the Kamehameha Schools 'Aina Engagement Program.
FAM program was founded by the Haleakala chapter and the Mauna Kahalawai Chapter, and is open to all Maui residents.
The GOAL of the FAM program is to empower people who want to farm with the skills and abilities to be successful farmers here in Hawaii.
Sponsor A FAM Apprentice
There are TWO WAYS:
Tuition and Mentorship Scholarship: Help offset tuition costs with individual participant scholarship.

A $,2500 Full Scholarship covers the whole program, both Phase 1 and Phase 2
There are partial Scholarships options as well, starting at $500

Completion Stipend: We reward our participants after the completion of Phase 1 with a STIPEND to support their farming efforts. These stipends are used in various ways, such as buying new farm tools that they learned about in the FAM program. Amount: $1,000
Let's Grow Farmers!
FAM Program Invites Wanna-Be Farmers to become FAM Apprentices
Our programming begins in December for Phase 1 with our annual "Am I Ready To Be A Farmer" event (10/4/2018) and July for Phase 2. You can participate in the two phases of the program in either order.
Please contact Program Director, Phyllis Robinson if you would like to learn more about becoming a FAM Apprentice or RSVP for the event by September 25th. pfierrorob@aol.com.
Vision for the Future
The average age of farmers in Hawaii is the lowest in the nation.
That we have 60 new farmers on Maui by 2020 and who, along with existing farmers increase the availability of organically and regeneratively grown local food by 50%.
We expand FAM program to Hana and Moloka'i.
FAM becomes state-wide signature program of the Hawaii Farmers Union Foundation.
These are the visions and goals of the Farm Apprentice Mentoring program.
Let's Grow Food Maui!