Application and Contact Information
Farm Apprentice Mentoring Program Information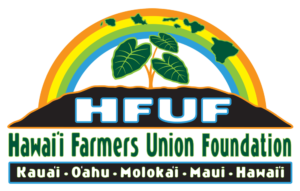 Program Structure:
The Farm Apprentice Mentoring (FAM) program is a signature program of HFUU and HFUF, its Foundation, a 501 (c) 3. FAM integrates Hawaiian cultural practices of sustainability and land management with a whole systems approach to agriculture. FAM program modules are delivered by certified instructors from the UH Maui College Office of Continuing Education (OCET), and the Sustainable Living Institute of Maui (SLIM). Each of the classes are followed by an on-farm immersion as information learned in the classroom is applied on a working farm. Upon completion of Phase 1, apprentices who have satisfied levels of attendance and learner outcomes receive a Certificate of Professional Development from the UH-Maui College OCET.  The program is designed to be taken in two phases. The first phase involves class work and on-farm immersion with mentors to help build farmers skillsets and knowledge. The second phase requires farmers to complete the first phase, and then helps with more specialized and hands on training.This program also utilizes a cohort system to ensure there is peer support and a collaborative atmosphere!
The Cohort
Within the realm of education, the Cohort system has proven itself to be effective for creating a mutual support system among peers. The FAM program utilizes this system, and it has proven to be a success. Apprentices exchange information, pitch in at each other's farms, share ideas about sales and marketing, and they share food, laughter, and knowledge together. They are, in essence, a FAMily. Cohorts size continue to grow annually, but do not exceed 25 to ensure highly engaged apprentices. 
Detailed Phases Information:
PHASE 1: Through class work and on-farm immersion activities with experienced mentors, participants acquire and hone the skills and techniques of organic and regenerative agriculture.
There are 10 modules in Phase 1:
The Farmer

– Program orientation: Introduction to HFUU Policy, personal commitments, goal setting, & time-lines for accomplishment

The Aina

– Learning the power of raw land observation and techniques for applying it to a whole-systems farm plan, integrating the factors of the wind, sun, rain, and soil quality. Hawaiian principles and practices of sustainable land and resource management inform and are infused into overall farm planning process

Introduction to the Business of Farming-

As an introduction to Phase 2, learning basic principles of farming as a business; organizational structures, including cooperatives. Farm crop planning and bookkeeping, basic spreadsheets, identifying costs, cash flow projections and profit margins

The Water

- Basic history and politics of water in Hawaii, understanding water sources and getting that water onto the farm land. Choosing irrigation and water storage systems planning and construction. Water treatment and disposal options to meet safety

The Soil and Fertility

– Understanding soil, its make-up and microbiology, enhancing its quality and vitality, while minimizing erosion - how to take soil samples, and read soil analysis. Using cultural regenerative and organic methods, what should be applied to your soil and crops to maximize nutritional uptake, reduce water use, and strengthen defenses against pests

Propagation

– Choosing seeds and seed companies, starting your seeds in trays or in the ground - air layering, grafting, and cloning

Weeds

– Identification, what to do about them, ways to minimize labor input

The Pests and Integrated Pest Management (IPM)-

Identifying pests and using Integrated Pest Management - (IPM) principles and methods which carefully take into account all available pest control Integration of appropriate measures that discourage the development of pest populations, eg. Crop rotations and insectary hedges and minimization of chemical product use. (https://hfuuhi.org/)

Harvest/Post Harvest

– Time and methods of harvest, and techniques to maximize quantity of saleable product handling, sorting, cooling and packing procedures, and certifications.

Agriculture Specialties-

Beekeeping, mushrooms and animal husbandry, aqua-ponics, wet and dryland kalo, small farm machinery maintenance.
PHASE 2: Specialized training for FAM graduates, mentors and family farmers tailored to meet their specific needs. Individualized training, coaching and specialized classes in area(s) of interest, completion of a business plan and presentation to stakeholders, assessment of current farm enterprise and development of plan for improvement. Participation in Phase 2 requires an application and is determined on a case-by-case basis.
What participants are saying
"FAM is a really well thought-out, intentional regenerative farming education experience. It allows for someone who may have no background in farming the support and practical knowledge through mentorship and curriculum to really aid in making informed decisions about a realistic business in farming future on Maui and in Hawaii in general. This program has pivoted me to consider growing crops I originally would not have any idea of its value and how much growing a diverse array of crops would mean by adding to the food systems in this state." - Deidra Moore
"The FAM program helped me, and is still actively helping me, to find my path in the farming world. Because of the FAM program I know what direction to go in, I found funding for an internship I did, I have mentors, peers and an understanding of the principles of sustainable agriculture." - Madelyn Desjardins
"Using the soil building strategies I learned while attending FAM Phase 2 my farm is seeing positive results. Utilizing green waste from the farm that's broken down to compost, as well as water cabbage that grows abundantly, we are layering this in raised beds creating healthy soil without a need to purchase topsoil.   I'm working on creating a Permaculture design similar to those of our mentors. Although I'm not farming full time our farm income has doubled in the past two years vs previous years as a direct result of techniques passed on from the amazing FAM Mentor farmers. Can't thank them enough!" - Vicky Shortell
Let's Grow Farmers!
FAM Program Invites Anyone interested in becoming Farmers to Apply!
If you would like more information about our next annual "So..You Want to be a Farmer?" event please contact the Program Director with the form below. You can participate in the two phases of the program in either order.