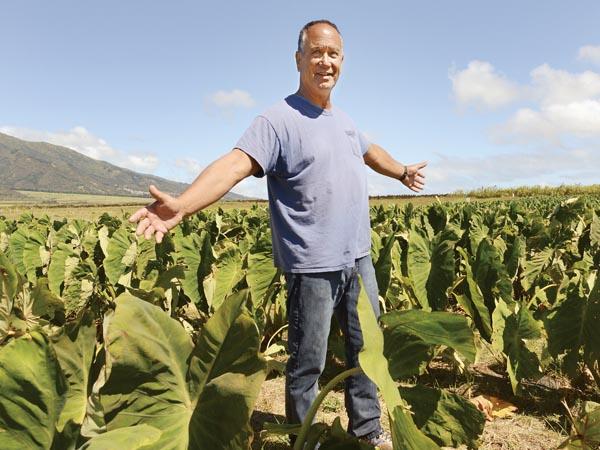 FAM Funding At Risk, Bobby Pahia to Lead Program
The Farm Apprentice Mentoring (FAM) program is a signature program of HFUU. HFUU is proud to have selected Bobby Pahia as the new FAM Director, to be assisted by David Fisher. There is also now a public announcement to transfer HFUU's County funding for FAM to another entity. Public hearings to start tomorrow 4/9/20. We are therefore writing to all of HFUU's Members and Newsletter Subscribers regarding the illegal attempt to remove HFUU's ownership and operation of the FAM Program to another organization.
Bobby Pahia most likely needs no introduction on Maui. He has 34 years of farming experience, and 5 years mentoring with FAM.  Raised in rural O'ahu, Bobby moved to Maui in the '80's to work for UH College of Tropical Ag & Human Resources. Today Pahia manages Hoaloha Farms, a 310-acre farm and grows 24 heirloom kalo varieties. He also mentors a dozen small farmers, manages a piggery, hosts a demonstration site for V-trellis fruit tree growing, and facilitates a hale kuʻi where students learn traditional Hawaiian food preparation practices.
"FAM was born to meet a clear need, the need for new farmers by empowering the next generation with the knowledge, skills, and abilities to be successful here in Hawai'i nei. We were so honored that the Maui County Office of Economic Development funded FAM in 2016 and I've enjoyed mentoring since its birth and through its growth. I'm excited about the next 5 years, FAM is not just about farmers in Maui, it's about empowering farmers statewide." – Bobby Pahia, President Mauna Kahalawai Chapter. 
Bobby is joined by David Fisher who opened and operated the Maui Small Business Development Center at the Maui Tech Park for 19 years and has recently been working in  helping food system businesses including farmers, value-added producers and service providers. He has also been working on the bigger picture to develop projects supporting collaboration and integrating value-added products and services – including innovations around labor, housing, finance and the use of data.   
"The FAM program has always been strong on community and growing methods, farming is a business and creating viable economics is as important to ensure financial resilience.  Assisting the mentors, apprentices and other community partners will strengthen their economic position as well as ensuring the program's self-sufficiency."  – David Fisher – Haleakela Chapter Member and small business consultant.
There's been much discussion among HFUU membership with regard to the dismissal of FAMs director and assistant director. Their termination was an extended and difficult process.  Discussions with Dr. Robinson, the previously contracted FAM Director, began in February 2019 in meetings with Maui Chapter Presidents and the Mayor's office. This resulted in the FAM program being incorporated into a broader "HFUU" county budget line item. 
In early 2020 the HFUU Executive Committee requested that Vincent Kimura, Oahu – Waimanalo Chapter President & Executive Committee member, initiate a conversation with Dr. Robinson. As a result of that conversation, the HFUU Executive Committee realized that Dr. Robinson wanted to take the FAM program out of HFUU and transfer it to another organization along with our trade name and other intellectual property.
It saddened us all when we discovered that our previous program contractor and employee were actively working to illegally acquire our intellectual property and set themselves up in a new organization. This is in direct competition with our efforts to develop and maintain FAM as a program by farmers and for farmers. There have been long standing differences of opinion about the program's direction, but the actions of two of our previous program administrators left the HFUU Statewide Board with no choice but their termination. There is no justification for taking a farm mentoring program away from farmers.
Specifically the scheme was to move FAM to a nonprofit called "BioBamboo" (dba Food Security Hawaii).
Documents linked below confirm the details of this scheme:
Dr. Phyllis Robinson / BioBamboo dba Food Security Hawaii Plan: LINK
Dr. Phyllis Robinson / BioBamboo dba Food Security Hawaii Proposed Timeline: LINK
Proposed nonprofit entity: BioBamboo dba Food Security Hawaii 2018 990: LINK
Maui County Proposed Budget FY2021: LINK
Here are some highlights of our findings:
1) Registration of the "Farm Apprentice Mentoring" Trademark as the property of Amber Venture Hawaii LLC. Georgia Pinsky, previous FAM Assistant Director, is the sole member and manager of Amber Venture Hawaii LLC, which claims ownership of the FAM trademark. LINK to documentation. Registered September 2019.
2) BioBamboo dba Food Security Hawaii ("FSH") Funding. According to their 2018 Form 990 federal tax return, the organization raised $355,045, with $350,000 from one private donor, and paid Maui Aina First $334,500 for "Agricultural acctg." (2018 BioBamboo dba Food Security Hawaii) LINK Page 8-10 Form 990.
3) FSH Governance. The FSH website and Form 990 (Page 7-8) show the following:
FSH website shows a four-member board, however none are listed in the IRS Form 990.
FSH is a 501(c)(3) and does not show any membership
Dr. Robinson is listed as one of it's "Advisors."
4) HFUU Governance.
Over 1,000 members.
Members elect the HFUU President and Vice-President.
13 Chapters located in all Hawaii Counties– 4 on Maui.
16-Member Board composed of 13 Chapter presidents and the HFUU Officers.
To date the FAM Program has included 62+ apprentices and mentors.
5) Council Member Kelly King's Budget Proposal. On April 3, 2020 Maui County Council Member, Kelly King, introduced a budget proposal to do the following:
"Decrease HFUU funding by $225,000. Create new line item FOOD SECURITY HAWAII. Move FAM from HFUU and put under this new line item as a proviso increasing the amount by $45,000 and back to the FY20 total. Amount also includes $75,000 to be used for the Ohana Garden Project. Food Security Hawaii 1) $75,000 shall be for the Ohana Garden Project. 2) $270,000 shall be for the Farm Apprentice Mentoring (FAM) Program, including Molokai and Lanai." LINK Maui Council Budget proposal FY2021 (Page 2)
6) FAMs Future. FAM was always intended to be a HFUU statewide program, with Maui County as its core. HFUU was in the process of expanding the program legislatively (SB2709 SD1/HB1894/SB2723) in ways that will broaden the Program and make it more intensely focused on sustainable, commercial agriculture. Dr. Robinson's activities threaten to derail these efforts.
7) FAM for Farmers. FSH's advisors include a journalist and a list of international, academic experts. (https://foodsecurityhawaii.org/advisors-1). These include Bill Moomaw, headquartered in London, and other European experts and activists. What do these people really know about farming in Hawai'i? Under HFUU's statewide leadership, FAM will continue to be managed by Hawai'i farmers for Hawai'i farmers.
In summary, our mission is to advocate for the sovereign right of farmers, ranchers and fishers to create and sustain vibrant and prosperous agricultural communities for the benefit of all Hawai'i through cooperation, education, and legislation. Our vision is to assert that a multitude of smallholder diversified family farms that implement regenerative eco-logical techniques, in growing and raising our food, will create a resilient, vital and productive agricultural system to better feed the people of Hawai'i
As farmers and farmer advocates we recognize that farming is an essential service in support of a healthy community. We respect all those who are working to be in relationship with the Aina, for the sole purpose to grow and raise food in alignment with our mission, to create vibrant and prosperous agricultural communities for the people of Hawaii Nei.
We hope you will remain dedicated to our mission and vision. Please feel free to communicate with us any questions or concerns through your Chapter Presidents or by emailing hfuu@hfuuhi.org.
With Aloha,
HAWAII FARMERS UNION UNITED